What's the deal with Gemmayzeh and Mar Mikhaël?
On Wednesdays at Riwaq, a cozy backstreet cafe in Beirut's Mar Mikhaël neighborhood, locals and expats gather around a small stage for the city's first and only weekly open mic. An Almaza beer or arak in hand, they encounter a diverse array of talent — from traditional oud players to young slam poets to storytellers in their 60s, performing in Arabic, English, and French. The scene embodies the spirit of Mar Mikhaël and the adjacent area of Gemmayzeh.
Extending along Armenia Street and Rue Gouraud through northeast Beirut, the corridor is lined with bars, cafes, restaurants, and galleries, and has become a locus of art, youth culture, and nightlife in Lebanon's vibrant capital. Its streets dotted with low-slung Art Deco buildings, it offers a glimpse of a bygone Beirut. At the same time, the area's trendy eateries and galleries highlight the capital's contemporary creatives.
RECOMMENDED: Full guide to the 50 coolest neighbourhoods in the world
If you only do one thing…
Sun or rain, take a self-guided tour of the local arts scene. Start at galleries like Artlab, Art on 56th, and 392rmeil393, which showcase various media by Middle Eastern artists. Then check out Plan BEY and Papercup for their prints, posters, zines, and crafty souvenirs.
Soak up the sun
Enjoy a coffee or cocktail and an argileh (Arabic for "hookah") on one of the stairways connecting the area with Beirut's higher neighborhoods. Don't miss the St. Nicholas Stairs, also known as the Stairs of Art, where you can wander past chic stores and cafes up to the Sursock Museum's impressive art collection.
Go off the beaten track
Pop-up markets spring up throughout the year, peddling everything from vintage clothes to all-natural soaps. Peruse the social media accounts of neighborhood businesses to see what they're offering while you're in town. (Hint: Tota and Haven for Artists are two stalwarts.)
Eat here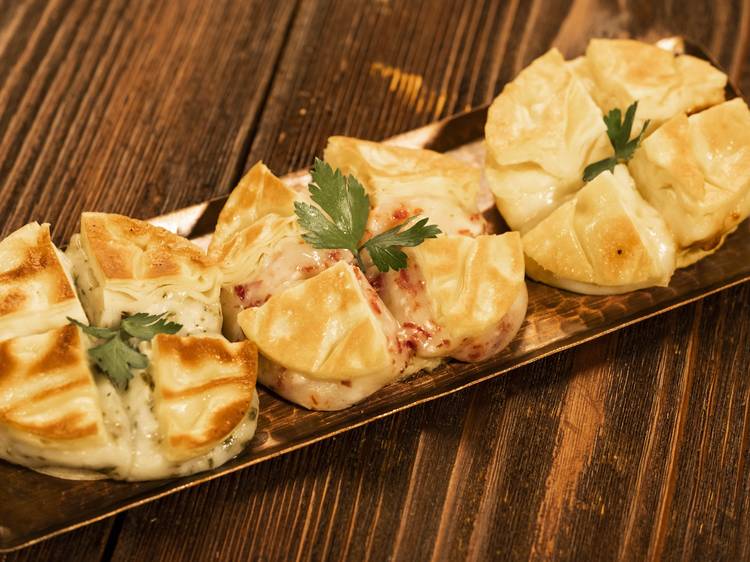 Mayrig. Photograph: Mayrig
If you're looking for traditional cooking that harkens back to Lebanese village life in an urban setting, try Enab ("grape"). Share small mezze plates with friends, and enjoy an after-meal argileh in the courtyard. If you're after a gluten-free take on the traditional Lebanese saj sandwich, head to breakfast spot Em Ali.
For some quick BBQ that won't break the bank, small haunt Mashawish is perfect for a kebab and a beer.
Ottoman-era themed Mayrig is known for its Amernian cuisine, especially the manti: meat or spinach dumplings served with a tomato sauce and yogurt.
Among the wide array of cafes in the area, Sip's courtyard is a great option. Also check out the easy-to-miss Bn and the hidden Kalei.
Drink here
One of Gemmayzeh's oldest bars, Dragonfly offers creative cocktails and small bites, served by waiters in lab coats.
If you feel like getting a little boozy, head to the very neon Electric Bing Sutt for Asian-Middle Eastern fusion cocktails and cuisine and, of course, the $2 happy-hour sake martinis. What more needs to be said?
With its plats du jour, homemade wine, and nice vantage point, Sole Insight is a small spot on the Vendome Stairs is great for meeting with friends, or just people watching.
Main-street dive Target Shot resists the pricier parts of the neighborhoods. Shots are only a few dollars, and the beer is even cheaper. Here you can also mingle with locals beginning a long night out.
How to get to Gemmayzeh and Mar Mikhaël
Souk Al Ahad. Photograph: © Patricio T. Demucho Suárez
Walking is the easiest option to access Gemmayzeh and Mar Mikhaël, as public transportation is tricky in Beirut. Simply head east from downtown, using the Beirut Souks and Mohammad al-Amin Mosque as reference points. Those coming from farther away can take a shared taxi to the area for less than $2 a person.
What else is nearby?
Gemmayzeh and Mar Mikhaël's accessibility is one of their selling points — they sit north of the trendy Ashrafieh district, east of the Armenian neighborhood of Burj Hammoud, and west of downtown.