Toronto 2013: Don Jon, Blue Is the Warmest Color, Jarmusch and sex
Our first day at the fest has sex on the brain, generously onscreen, and long after the love is gone.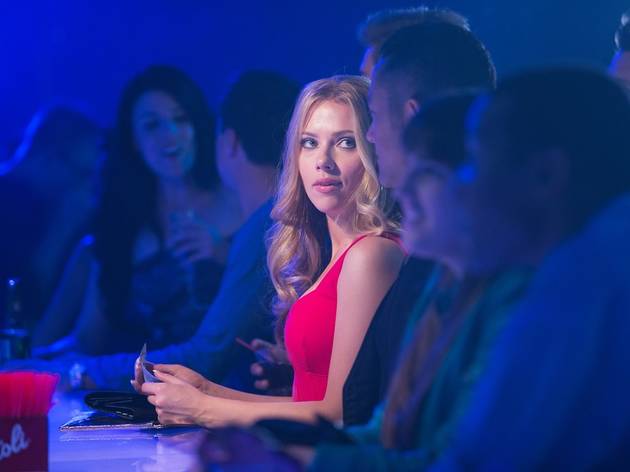 Film festivals, especially crammed-to-bursting ones like Toronto, give critics the chance to lob theories, try out first impressions and rethink movies from Cannes and elsewhere, long before they hit theaters. There's some major new work on deck here at TIFF in the coming 10 days, all of which we'll be weighing in on: much-buzzed titles like the Sandra Bullock-in-space misadventure Gravity, Steve McQueen's slavery drama 12 Years a Slave and a new Errol Morris documentary about Donald Rumsfeld, The Unknown Known. But as it happens, my first day coalesced into a four-film minicourse in sex and sadness. (I'd love to say that this was unintentional.)

RECOMMENDED: Full coverage of the Toronto Film Festival

I'd been meaning to see Don Jon—rechristened from Don Jon's Addiction at its Sundance debut—because it marks the writing-directing debut of Joseph Gordon-Levitt, a brainy actor with strong physicality. (The dude can really dance.) His main character's addiction is to porn and, to an unarticulated extent, freedom of choice: Jon (Gordon-Levitt) is cock of the walk in his ritualized Jersey poon paradise, so falling in love takes him by surprise. (Not us, though: She's played by Scarlett Johansson, somehow packing extra curves.) The movie isn't as Moonstruck-earthy as Silver Linings Playbook, but I loved its shift from comedy that's very broad—lots of pasta slurping and humping—to something unusually fine, a serious crisis of identity and rebirth. Gordon-Levitt could have played it a lot more safe, and I'm glad he didn't.

Catching up with the Cannes sensation Blue Is the Warmest Color—much tweeted about for its explicit lesbian sex—was a revelation after Don Jon, because, weirdly enough, they're basically the same movie, even down to that final let's-just-meet-for-coffee breakup. Before the hate comments come in, let me add that Abdellatif Kechiche's ambitious French romance is very much superior, especially in the raw emotions of its lead actresses, budding artist Léa Seydoux and younger high-school student Adèle Exarchopoulos. (Also, the overheated reaction to the physical couplings hides a thoroughly well-conceived three-hour film.) But as with Don Jon, this is a story about indoctrination, behavior change and abandonment. Sex isn't enough, both films say, and with actors as flexible as these, that's a tough truth to swallow.

Jim Jarmusch's Only Lovers Left Alive, a vampire film suffused with hipster detritus and vinyl-era tech, worked for me like Ghost Dog did, as a mood to groove on. (The movie is also a welcome return to humor after Jarmusch's painfully pretentious The Limits of Control.) But no one told me how sexy it was—not most of the first responders out of Cannes, who failed to mention the swoon that happens with every blood sip, the camera reclining with the actors as they fall to their pillows. Tilda Swinton is watchable in anything, and she's well paired with the slightly neurotic Tom Hiddleston as a centuries-old couple bonded by ennui and survival instincts. They're the same instincts behind All Cheerleaders Die, the fest's first midnight film, which played to a increasingly restless house. Honestly, the bitchy killer-cheerleader comedy is a mess, made for ADD audiences who think The Conjuring is a bit too old-school. But teen sexuality—mostly vanilla and femme-on-femme experimental—takes the mayhem in unusual directions. Expect less foreplay as the fest stretches on.

Follow Joshua Rothkopf on Twitter: @joshrothkopf
Missing Time Out magazine?
You can still read our latest issue from the comfort of your couch
Read online