High-design hotels in Accra
Hotels are being built all over Accra - and with every new opening, hotels are raising the design stakes higher. Great news for visitors...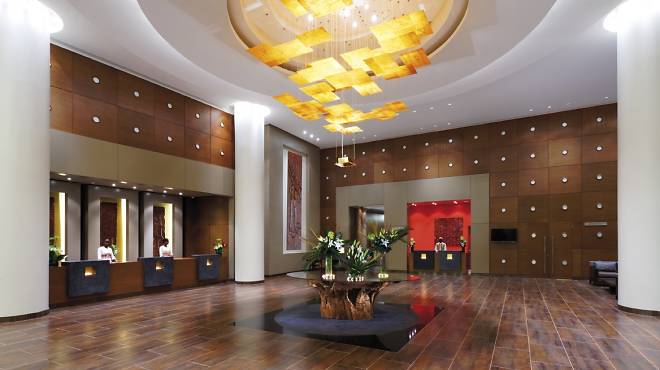 Mövenpick Ambassador Hotel © Daniel Neilson

No matter how impressive a hotel looks from the outside, it's the details that really matter. Was the check in and out fast? Was the concierge as helpful as he or she could have been? Were the food hours convenient? But also, was the room comfortable? Were the light switches easy to use (it sounds banal, but it can be infuriating)?

It's an area hotels in Accra have suffered with in the past, particularly the service - something that should be spot on given the price that many hotels are charging. Yet there are a few hotels that are concentrating on the details, and a stay making homely, but doing it with panache.

All eyes at the moment are on the Kempinski, due to open in the first quarter of 2014. The building itself is based on the Compound houses, commonly built by tribal chiefs across West Africa, with the residences built around a central courtyard with shaded seating areas and a performance pavilion. US architects PageSoutherlandPage have built in 269 rooms, a retail space, lounges, restaurants, a large spa with ten treatment rooms, swimming room and tennis courts, among other facilities in the complex. Connecting the main lobby to the ballroom and function spaces is the 'Butterfly' building, named for its butterfly shaped roof. Inside, Looney & Associates have melded contemporary West African design with internationally recognisable amenities. All the lighting and furnishings are custom designed for the hotel.

Currently, however, it's the Mövenpick, which is getting most attention. After opening last year, it quickly become Accra's hotspot for the well-heeled. A large airy lobby, restaurant and bar, and that pool - unmmissable - make it a superb option. It should be said service here is among the best in Accra. Two other smaller hotels should also be mentioned for excellent design. La Villa Boutique should be celebrated for creating a gorgeous retreat among the bustle of Osu. Its rustic chic look, while not ground-breaking, is certainly a refreshing change from the 'could be anywhere' style of many hotels. Similarly, Villa Monticello has looked long and hard at the design of rooms and succeeded brilliantly in creating a series of interesting rooms that don't sacrifice style over substance.

As we hear reports of new openings by Radisson Blu, Hyatt, Marriott, Hilton and Hotel Sun by the Villagio group - the standard and design of hotels in Accra is only going to get better...
Accra's best designer hotels
---