Things to Do
Your comprehensive guide to the best things to do in Accra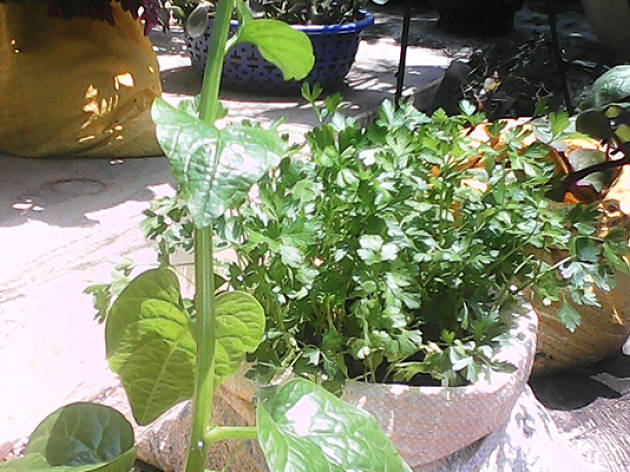 Grow your own groceries in Accra
It doesn't take much time living in Accra to learn that you need to be diligent about washing your fresh veg. or fruit if you'd like to avoid a grim case of gastro. But, watching my salad ingredients bobbing about in their salt and vinegar rinse one day, I pondered, "Why is this the case? What makes veggies so dirty here in Accra compared to elsewhere?"  Then, I read an article in a local newspaper recounting the results of a scientific study that had tested vegetable samples from a number of major vegetable markets in Ghana (the markets that typically supply your local roadside veggie stand). Nearly 80% of the samples were "fecally contaminated and carried fecal coliform populations." Yuck! To add to that, another study had found that, "vegetables consumed in Accra had more than a dozen chemicals, all above tolerable percentages, and these have serious health consequences for consumers." With that information and the rising prices of imported veg combined, I didn't need much more convincing… it was time to start growing our own!  But, where to start? Well, as Angeli Olorunsogo of Fat & Flourishing Botanic Organic Farmacy explains, "No space is too small. You can plant in the ground or in containers, in your yard or on your balcony, horizontally or vertically… the options are endless!" Driven by her passion for healthy living, author and raw food and vegan lifestyle advocate, Angeli teaches beginner and experienced gardeners alike how to grow their own organic (clean, toxic-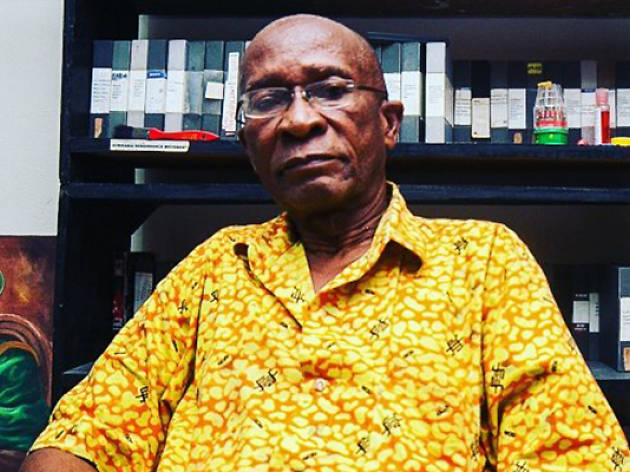 Classics in the Park with Nii Kwate Owoo
Africa Film Society's free outdoor film showcase 'Classics In The Park' will feature legendary Ghanaian Filmmaker, Nii Kwate Owoo for its 5th edition.   Slated for January 28th, 6pm at Akola Boni Park in Osu, Nyniba Estate, the award-winning director Nii Kwate Owoo will be available for a Q&A after the screening of his short film 'You Hide Me' (1971) and co-directed feature film 'Ama' (1991).   Nii Owoo is renowned for his rich narratives on African culture and spirituality. His short documentary 'You Hide Me' exposed the theft and concealment of African artefacts in the basement of the British Museum. The film garnered worldwide acclaim for its controversial subject matter and was subsequently banned in Ghana for fear of harming the relationship between Ghana and Britain.   Nii Owoo made his feature film debut with Ama: An African Voyage of Discovery, which he co-directed with Kwesi Owusu for Channel 4 television in 1991. Ama explored themes of African traditional storytelling in the context of contemporary Britain. It premiered in Ghana to a packed audience.   Africa Film Society seeks to preserve and promote Africa's rich cinematic legacy while cultivating new filmmakers and nurturing an audience for their work. Through our 'Classics In The Park' initiative, we are bringing free outdoor cinema to communities focusing on early African films (1950s - 1990s).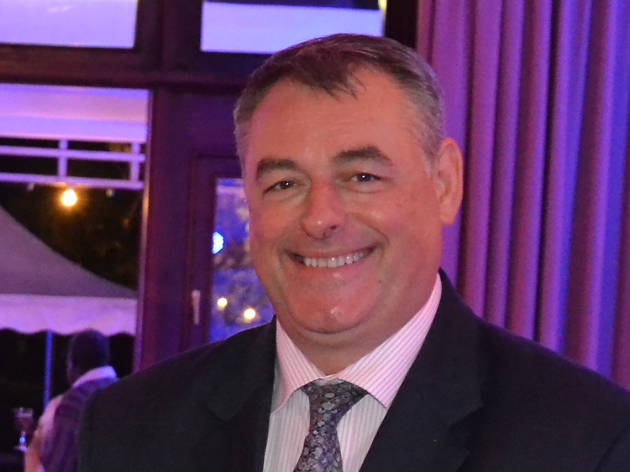 Time Out Meets: H.E. Francois Pujolas
 Why were you interested in working in Ghana? What were the cultural aspects you were looking forward to?  For me, Ghana has always been a fascinating country, a reference in Africa for democracy and economic development. As a diplomat, I wanted to work in Ghana to be a part of the process of regional integration in West Africa. Culture can and must play a major role in this regard, for instance on the linguistic side to bridge gaps between French speaking and English speaking countries in this region.   Has it lived up to expectations?  The Ghanaian people are friendly and welcoming; working in Ghana is therefore very interesting and rewarding in terms of interactions and positive thinking. Furthermore the Ghanaian society and economy are open, vibrant and dynamic, and offer many opportunities for partnerships and cooperation. Working and living here is simply great!  Where do you take people out to eat?  Accra is an international city. This reflects in its gastronomic offer: of course it won't come as a surprise that I like and support the French restaurants in Ghana such as Le Tandem or La Chaumière, and also all those which took part in the 'Goût/Good France' event last March. I must admit, I also like to invite my guests to various places and enjoy other cuisines as well: Indian, Japanese, Italian and Ghanaian of course. Some of my favorite restaurants: Urban grill, Santoku, Mamma Mia and the restaurant at the Lou Moon Lodge, Takoradi. We also like homemade Ghanaian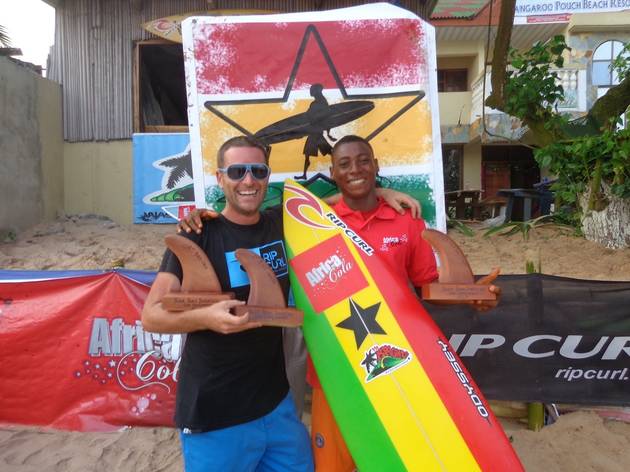 Surfing in Ghana
Over the Christmas Holidays 2013, Busua Beach hosted the Busua Beach Boardriders Surf Championships. Surfing in Ghana is still a young sport, but it's a sport that is growing fast. Busua Beach Boardriders Club is the only surf club in Ghana. It started to help the local surfers of Busua improve their skills of riding the waves, introduce the sport to the younger generation, raise money to buy equipment, and for the surfers to travel to foreign countries to compete. In Busua there are around 16 local surfers ranging from the age of 7 to 24. Some of the surfers have travelled to South Africa, and to Ghana's neighbouring country Cote d'Ivoire to compete in surfing competitions. The Busua Beach Boardriders Club hosts three events per year to decide the overall surfing champions. The final competition was held on the 27th, 28th and 29th of December 2013. This year we had surprise visitors, a Ghanaian surfer from Fete and two young surfers from Togo. The local surfers from Busua were surprised to see these young surfers, as far as they knew they were the only surfers in Ghana. Unfortunately the waves were small but big enough to hold the event. Due to the demand of up and coming youth surfers, during the contest we were able to hold three Categories - Under 16, Junior and Open. 2014 looks to be a big year for surfing in Africa, this September will see a historic surfing event being held in Sierra Leone. The Africa Surf Invitational surf contest will be held at
The best of Accra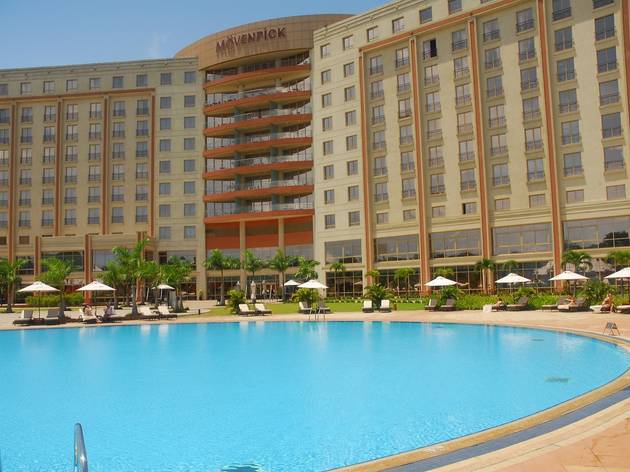 Accra's top 7 hotels with swimming pools
Deciding on a hotel in Accra? Bear in mind that the city can get hot. Really hot. And while exploring Ghana's capital is incredibly rewarding, sometimes all you'll want to do is laze by a pool in your swimsuit. Take a dip, keep the kids entertained and relax with Time Out's round up of the city's best hotels with pools. And if you're just looking for a place to visit for the day, these pools are available for the use of hotel guests and members of the public alike.