The best pizza in Accra
The top three restaurants in the Ghanaian capital for pizzas, pastas and all sorts of mamma mia!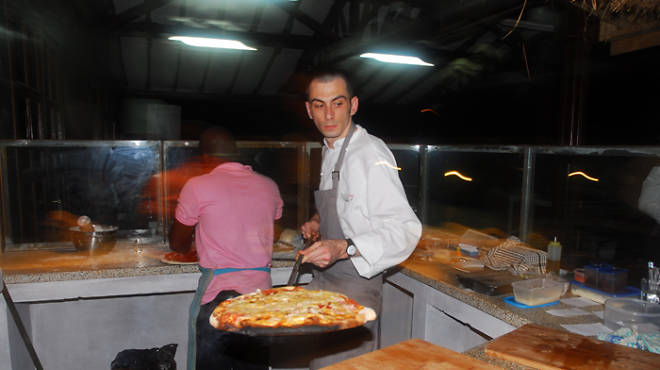 Nicolino's pizzeria © Daniel Neilson
Price band: 2/4
Critics choice
The best pizza in town? Despite stiff competition from Bella Roma and Mamma Mia, the wood burning pizza oven at Nicolino and a super tasty crust pip the other two. The set up is professional too, the staff are efficient and courteous, but it's the head chef Humberto Dettori that has come to Ghana with real provenance – his previous posting was under two Michelin-starred chef Douglas Santi in Rome. Nicolino couldn't have a better location – it's in the pleasant grounds of the Alliance Francaise, in a breezy, open-sided area. Pizzas such as a Libanese with halloumi and zaatar, or Toscana with spicy sausage arrive on an artfully rustic piece of wood, but if you're really hungry, try the Nicolino burger – a beef patty enveloped in pizza crust. Soon opening, is a small terrace bar with a barbecue. It's also open for breakfast, which is Lebanese style.
Alliance Francaise, Liberation Link, Airport Residential Area, behind Opeibia House
More info
2
Set around an agreeably rustic courtyard some five minutes' walk from Oxford Street, Mamma Mia combines quality thin-crust pizzas cooked in a wood oven with an attractive setting, making it one of Accra's best options for Italian food. The outside area has a trattoria-like feel, with rough-hewn paving and warm, simple decor, while inside dining is also available.
Price band: 2/4
Critics choice
Fresh and bold Mediterranean flavours reign at this friendly Italian eatery. It's recently been expanded, and diners have a choice between an indoor restaurant area, outdoor patio, or lounging on the banquettes in the bar area. Patrons devour Italian staples packed with triumphant combinations of smoky black olives, rich cheese, tender artichokes, full-bodied passatas and cured meats. Mains include tagliata with parmesan and rucola (GH¢45), but most people opt for the pizzas (GH¢28 on average), which are superb – giant bubbling disks liberally topped. For a loaded treat, the Quattro Stagioni has mushrooms and artichokes aplenty, and the piquant Diavolo is a simple pleasure of salami drizzled with chili oil. Those heroic enough to vanquish a whole pizza can revive with a espresso in stylish white cups.
Off Cantonments Road, (Oxford Street), behind Frankie's
More info
---