The best day trips from Accra – and perfect weekend escapes
Take a breather from life in the capital and discover the best resorts and attractions just an hour or two away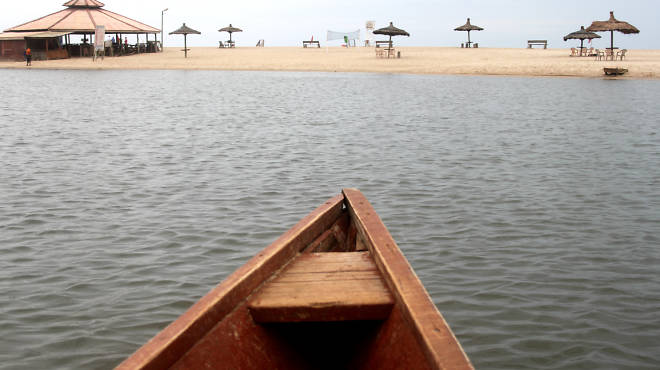 Bojo Beach © Daniel Neilson
From a sunset cruise on Lake Volta to kicking back at a relaxed beach resort, and from the colourful display of Elmina to the canopy of Kakum National Park, Time Out Accra presents the best ideas for a great weekend out of the capital...
The Royal Senchi Resort is a bold undertaking; a largely thatched 84-room complex with facilities for large conferences just west of the town of Akosombo. Its location by the river gives it a wild tropical feel, while being within a 90-minute drive from Accra. The four-star hotel is impressive. The rooms are broken into four blocks. The 74 standard rooms (called River View rooms, for obvious reasons) were sizable, with a private patio area and even a view from the bathtub. Ask for an upstairs room for the airy high ceilings. The nine suites are large too, and the presidential suite has a private plunge pool. Those not willing to splash out quite so much can splash around the lovely pool that also overlooks the river. There'll be all the usual amenities: spa, shop, business centre, restaurant, lounge bar, and the conference suite with two break out rooms and meeting areas is well equipped. There are canoes and launches for playing on the (crocodile-free) river. There are plans for a nine-hole golf course, a football pitch, basketball and kids' play area among other attractions.
© Daniel Neilson
Bojo Beach
First-time visitors pulling up to Bojo Beach's powdery sands are oft taken aback that this easily accessed beach, just 25 minutes' drive from the frantically beating and dusty heart of Accra, feels more like a remote stretch of the Caribbean.

After paying a small entrance fee, beachgoers hop into little boats that glide across a small and flat stretch of water to Bojo's gleaming strip of sugar-white sand. Thatched umbrellas stud the shoreline, looking out over the area's characteristically crashing waves. Rustic to say the least, Bojo is a delightfully simplistic set up of sand, water and seating. Weekends and holidays tend to see a transformation into a bustling hive of activity, with locals and visitors alike enjoying a festive atmosphere, and participating in the likes of jet skiing, football, volley ball, music (at times pretty loud) and dancing.
Elmina receives its fishermen © Daniel Neilson
Colour and culture in Cape Coast and Elmina
Elmina, we're reasonably confident saying, must be one of the most colourful places in the world. Everything about this town revolves around fishing and most of the town comes out twice a day to wish the fishermen and sailors a safe trip and greet them again as they return with their load. Brightly painted boats, everyone wearing football shirts, the flip-flopping catch being sold on the dockside: it's an overwhelming site.

See our 'Colours of Elmina' gallery
See our guide to nearby Cape Coast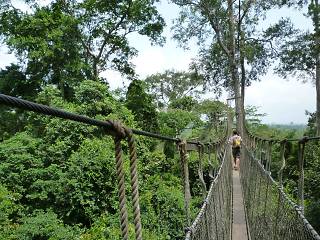 Canopy walkway © Daniel Neilson
Flora and fauna at Kakum
Kakum National Park is a hugely popular day trip from Accra. A short walk up from the visitors' centre and you start walking on a series of vertiginous walkways suspended high in the canopy. It offers a fabulous view of the park, and a bit of an adrenalin rush to boot – not bad for a short day out a couple of hours from Accra.

See more on Kakum National Park and the canopy walkway
Big Milly's, Kokrobite © Daniel Neilson
By the beach at Big Milly's
An hour or so out of Accra is Kokrobite. This small beach town has become a destination for sun seekers and pleasure seekers. The long-established Big Milly's has become somewhat of a backpackers classic – a laid back hostel with an open bar. Nearby is Bah'doosh, an Australian-owned bar and restaurant where there always seems to be someone strumming a guitar (Bob Marley is a favourite).
View of the Volta region from Mount Afadjato © Daniel Neilson
Discover the Volta region
Directly north of Accra is the southern end of Lake Volta, a popular weekend destination for city folk looking for respite from the fumes. The heel of the Lake and the town of Akosombo are a couple of hours from Accra and offer a multitude of water sports and activities such as birdwatching. From Akosombo ferries can be taken across the Volta. The Dodi Princess cruise goes to Dodi Island for an hour before returning. Longer trips can be taken on the Yapei Queen that runs the length of the Volta twice a week from Akosombo to Yeji in 24 hours.
Experience Ghana's wildlife and natural beauty
---