50 things to do in Barcelona in 2014: summer
Highlights of Barcelona's summer 2014 events
By Time Out in association with BarcelonaTurisme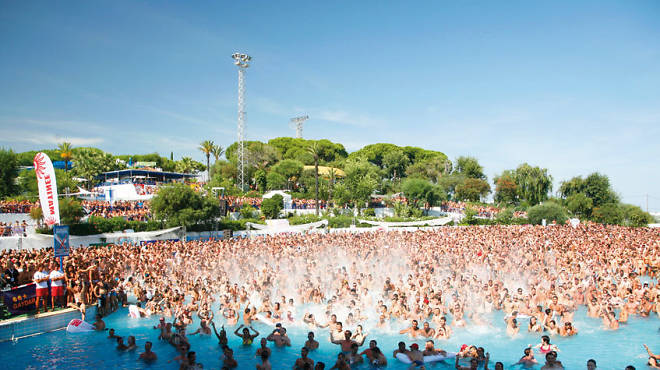 Which of Time Out's 50 great things to do in Barcelona in 2014 are on in summer? Music festivals for lovers of all genres, a month-long performing arts festival, an important world congress, week-long barrio parties, the basketball World Cup and more.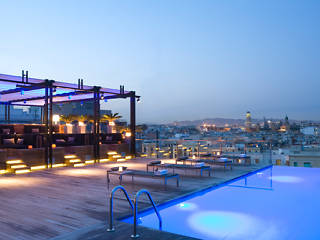 Grand Hotel Central
A Vista d'Hotel
For one week some of Barcelona's best hotels open their rooftop terraces to the public, serving special menus and hosting events just for the occasion. So it's a great opportunity to see Barcelona from a different angle, and, while enjoying the views, sample some of the activities on offer, which range from concerts, magic shows and chill-out sessions to cocktail workshops, wine tastings and cooking master classes.
Various venues
Coming in June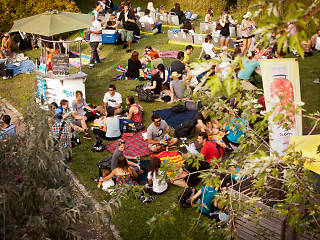 Festival Piknic Electronik
Family-friendly, open-air festival of electronic music on Montjuïc every Sunday afternoon in summer. Something more than just a picnic, Piknic Electronik aims at reconciling two apparently contradictory worlds and provide a way to bring family and friends together in a pleasantly green environment while enjoying electronic music. Activities designed specifically for kids can include anything from skateboarding lessons and inflatables to hip hop classes and recycling workshops.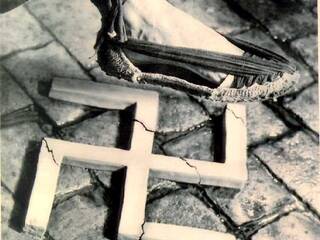 © Pere Català Pic
The Spanish Civil War through Art
This exhibition at the MNAC uses painting, sculpture and evidence of the huge explosion of different techniques in the fields of avant-garde photography, posters, photomontage to explain one of the most important episodes in contemporary history. Presenting the civil war in its social, historical and artistic context, it traces the web of relationships and connections between the work of artists such as Julio Gonzalez and Picasso and photographers like Augustí Centelles and Català Pic.
Catalan National Museum of Art (MNAC)
Coming in July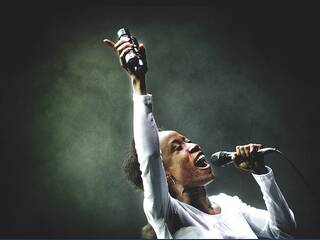 San Miguel Mas i Mas Festival
This tasteful music festival spans the summer months, and has gone from concentrating on Latin sounds to providing a bit of everything. Concerts take place at various venues, including the Palau de la Música Catalana, the Liceu Opera House, the Jamboree jazz club and even local art and history museums. Past acts have included Brazilian legend Hermeto Pascoal, Level 42, techno DJ Angel Molina, and some classical music. More of a musical marathon than a traditional-style festival and practically single-handedly responsible for revitalising the city's once spartan summer music agenda, especially during August, it's ideal for open-minded music fans willing and able to appreciate everything from jazz, techno and soul to world and classical music.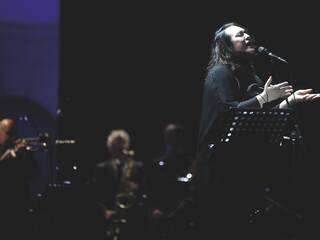 © Martí E. Berenguer
Festival Jardins de Pedralbes
Launched to great acclaim in 2013, when acts included Crosby, Stills & Nash; Antony & the Johnsons; Lana del Rey; Roger Hodgson, and Earth, wind & Fire, this new festival takes place al fresco, among the cedar and cypress trees of the gardens of the Palau Reial (Royal Palace) in Pedralbes. Look out for the pergola designed by Gaudí, parabolic in shape and covered with climbing plants, as well as the Hercules fountain, with a forged iron dragon head, which was also designed by Gaudí and was forgotten about until its rediscovery in 1984. So, it's a good idea to arrive before the concerts begin in order to enjoy in equal measure the music and the garden's treasures, among which are a collection of trees, including 23 Himalayan cedars, and the Royal Palace, which is the Spanish royal family's official residence for their trips to Barcelona.
Palau Reial de Pedralbes
Jun-Jul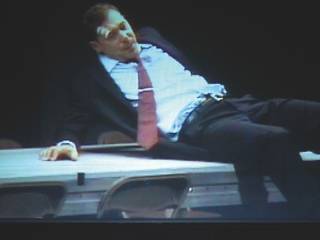 Grec 2014
Named after the Greek amphitheatre (Teatre Grec) that forms such an integral part of its programming, this is the major cultural festival of the year. It brings together dozens of shows from around the world, encompassing dance, music, theatre and circus. Increasingly there are performances in English, with Catalan surtitles. From its humble beginning, when the Greek Theatre (which was actually built especially for the 1929 World's Fair on the site of a disused quarry) was the only venue used, the festival has grown to become both a highlight of the Barcelona summer cultural calendar and a major event on the European performing arts scene. The festival now takes place at a number of venues in the city including the Mercat de les Flors for dance performances, the neo-classic TNC Catalan National Theatre and the Teatre Lliure, a bastion of independent theatre production in Catalonia.
Montjuïc (various venues)
All of July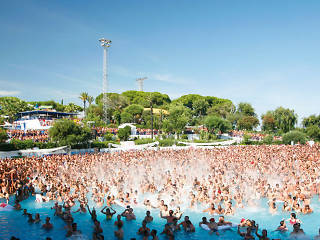 Circuit water
Circuit Festival
The Circuit Festival has grown so popular that it now stretches over 10 days and encompasses three festivals in one: Circuit for gay men, Girlie Circuit, and Circuit Bear. Each has its own specific programme of after-dark clubs, parties and shows but share many of the daytime events. Among them is Water Park Day, when some 10,000 participants take over the Illa Fantasia water park. Although the day out at the park and the frenetic schedule of nocturnal events inevitably get the most attention, the festival also offers a varied daytime agenda with over 30 activities designed to suit a wide range of needs and tastes, from workshops, lectures, debates and documentary screenings to sports events like football and beach volleyball tournaments, fitness workouts, and even open-air yoga and tai-chi sessions.
Various venues
Wed Aug 6 - Sun Aug 17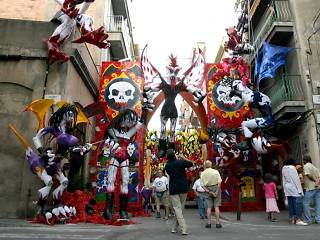 Festa Major de Gràcia
The main event at Gràcia's extravagant Festa Major is its street competition, where residents transform some 25 streets into pirate ships, rainforests and Jurassic landscapes. The festival opens with giants and castles in Plaça de la Vila de Gràcia, and climaxes with a correfoc (fire-running) and a castell de focs (castle of fireworks). In between, there are some 600 activities, from concerts to bouncy castles. And all of these events and activities see the neighbourhood taken over by an estimated 1.5 million revellers every August in an eclectically festive mix that includes everyone from local pensioners to inebriated air guitarists, all out to have a good time. While the daytime is packed with activities for kids and families, the real fun usually begins sometime in the early evening and doesn't start to wind down until the wee hours of the morning.
Various venues
A week in mid-August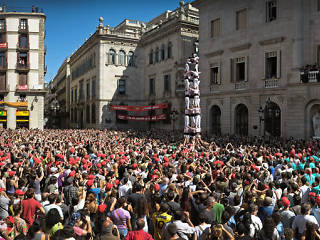 © Pep Herrero
Castellers and La Festa Catalana
The deeply loved local tradition of building human towers, in various formations, can be seen during festivals all over Catalonia. It consists of groups of enthusiasts, called colles, who team up on festival days to build and then dismantle human towers. This and other Catalan traditions, from papier-mâché giants to sardana dancing can also be seen every Saturday at 7.30pm in various Old City locations such as the square in front of the Cathedral.
Modernista architect Domènech i Montaner's hospital is made up of 20 pavilions, abundantly adorned with the flourishes that characterise the architect's style and set in peaceful gardens that spread over nine blocks in the north-east corner of the Eixample. It's set at a 45-degree angle from the rest of the Eixample's grid system, so that it catches more sun. The hour-long guided tour, in Catalan, Spanish, English or French, covers several major parts of the site and the gardens, offering details and curious facts about the building's history, an overview of the current renovation project and fascinating insights into early 20th-century Barcelona society. English language tours set off from the meeting point on the corner of C/Sant Antoni Maria Claret and C/Independència.
Sant Antoni Maria Claret, 167, Eixample
More info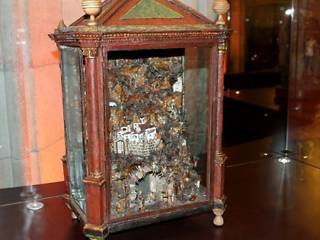 Tricentenari
This year sees the 300th anniversary of the fall of Barcelona to the Bourbon troops during the war of Spanish Succession and the consequent loss of Catalonia's traditional rights and liberties. Tricentenari BCN is a programme of events curated by Catalan journalist Toni Soler designed to commemorate and understand those events, creating a dialogue between the past and the present that will allow us to relate the history of Catalonia to its present and future aspirations.
Various venues
Until Wed Dec 31
Barcelona's history is closely linked to the sea and during its period of maximum splendour, ruled over a maritime empire that stretched from the Balearic Islands to Athens. The city's Maritime Museum, located in the old port area at the end of the Ramblas, in the old Drasannes shipyards, contains examples of old vessels, including a reproduction of a 16th-century galley, as well as scale models and naval artefacts. You can also visit the schooner Santa Eulàlia, moored in the nearby Port Vell.
Av. de les Drassanes s/n, El Raval, 08001
More info
---
50 things to do ... by season
---
---