Chicago Pride Month 2014 theater & performance
Gay and gay-friendly plays and comedy shows abound in conjunction with Chicago Pride
By Time Out editors Tue Jun 3 2014
Chicago stages never lack for gay-friendly theater and comedy, but June's Pride festivities bring a wealth of performances geared to gay themes. Find some of our recommendations below.
RECOMMENDED: Pride Parade and other events for Chicago Pride Month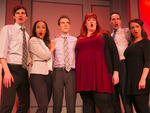 Rated as: 4/5
Price band: 2/4
Critics choice
You might think the Second City's excellent current mainstage revue, directed by Mick Napier, is notable for containing a large amount of gay-themed material. This is the big name-brand show aimed at the tourists, after all. But what's more notable is how casually it treats the same—a sketch about two dudes on a blind date is no more remarkable than one about an opposite-sex couple. As it should be. It's also the first Second City revue to feature two out cast members (the terrific Mike Kosinski and John Hartmann).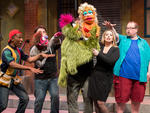 Rated as: 4/5
Price band: 2/4
Critics choice
Get felt up at the Mercury Theater's smashing production of the modern classic puppet musical, a Sesame Street for young adult problems with instructional tunes like "If You Were Gay," "My Girlfriend Who Lives in Canada" and "The Internet Is for Porn."
Things seem to be going well in the queer community, so what's next? Laugh along with pH ensemble members as they delve into a world of gay acceptance in everyday life in this new sketch show directed by Bev Bailey (Same Sex, Different Gays).
---
---