August bank holiday clubbing
Make the most of the long weekend and join in the fun at some of the capital's best parties
Take advantage of that extra day in bed this weekend and head to one of the capital's best bank holiday parties. From techno and underground house to bass nights, we've got it covered. Whether you're warming up for Notting Hill Carnival or simply looking for one epic night out, we've rounded up our top bank holiday clubbing picks. Check out our comprehensive list below, or browse the very best bank holiday clubs by music genre, from techno to funk to rock 'n' roll.
Top bank holiday clubs: highlights by genre
Drum 'n' bass
Jungle Mania Carnival Special
Jungle Mania may not be a diagnosable illness, but it is still seriously sick. This drum 'n' bass-loving crew celebrated 20 years in the biz this year, now they return for an eight-hour mash-up featuring veteran ragga toaster Top Cat. DJs like Randall, Brockie (pictured) and Mickey Finn bring the beats, while a bevy of MCs will also be on hand, collectively boasting some of the fastest tongues outside the adult entertainment industry.
---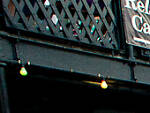 See bank holiday in London events
What's on in London this year?