Notting Hill Carnival guide
Dancing, music and masquerade – join the Carnival fun in Notting Hill next August bank holiday weekend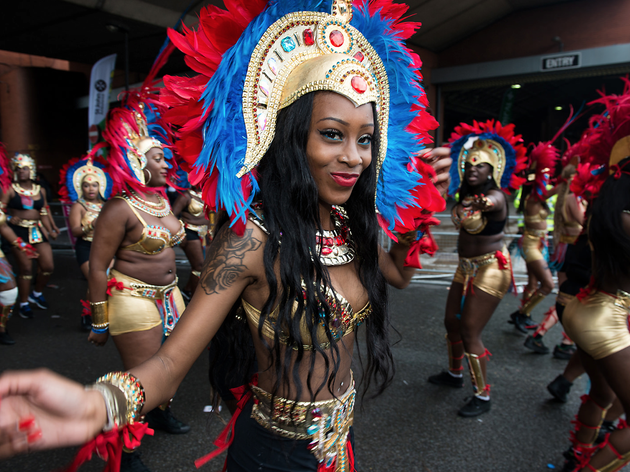 Notting Hill Carnival, Europe's biggest street festival, is a vivid spectacle representing London's multicultural past and present. It's also a vital date in any party-lover's diary. But, whatever you do, don't go anywhere without reading our guide, which includes invaluable information about Notting Hill Carnival. Looking for route details and tips on having fun, while staying safe? You've come to the right place. And for all the essential details you need for the big weekend, have a glance at these FAQs below:
Which weekend does Notting Hill Carnival take place?
Carnival traditionally takes place on the bank holiday weekend at the end of August.
Where does Notting Hill Carnival take place?
Spread throughout W10 in west London, the Carnival celebrations take over the areas of Notting Hill, Ladbroke Grove and Westbourne Park.
What's the best way to get there?
Take the tube to the outskirts and join the masses in walking towards the parade route. The nearest tube stations without disruptions are Holland Park, High Street Kensington, Queen's Park, Shepherd's Bush, Bayswater and Paddington, while Notting Hill Gate, Royal Oak and Westbourne Park usually have amended operating times.
For more in-depth travel info, read our round-up of everything you need to know about Notting Hill Carnival.
What time does everything kick off?
The Carnival floats and bands set off in the morning on both Sunday and Monday.
What is Notting Hill Carnival?
A celebration of the capital's Caribbean communities, their culture and traditions, which has been taking place since 1964, featuring two days of fantastic live music ranging from reggae to dub to salsa. The celebrations also include soca floats, steel bands and a whole lot of jerk chicken and fried plantain.
We'll be updating this page with details for 2017 as soon as they're announced.
RECOMMENDED: Top attractions and London events in August
Sponsored listing
Oslo
In case you didn't know, Scandinavia is cool right now. The food, the fashion, the facial hair – plus the Vikings have invaded the British Museum. All we need next is a healthy economy, a reliable public transport system and a sense of social justice, and London will be indistinguishable from Oslo. Meanwhile in Hackney, there's yet another Northern European-inspired incursion. Or apparently so: the website claims this bar-restaurant-club draws on 'a Nordic aesthetic', although it's not immediately obvious within. Oslo occupies the previously deserted old Hackney rail station and takes on a bit of a railway theme with its luggage-rack lighting, plus there are industrial stylings that give the whole place a Janet Jackson 'Rhythm Nation' video feel. The restaurant part is rather fancy, its food incorporating a few of the forages, pickles, jellies and marinations of New Nordic cooking. The kitchen is regularly given over to guest chefs, and you have to book – it's always heaving. Eat in the bar and the food is more straightforward. Where once the standard snack in pubs was a toastie, sausage roll or pork pie, now it's the slider or fried chicken. These are served alongside frankly obscene portions of chips, slathered with the likes of cured bacon fat and bacon salt, or braised oxtail, gravy and cheese. There's a commendable range of craft beers from the vicinity, including a couple from Five Points Brewing just five minutes up the road at the Downs.Head upstairs and you'll find a
Venue says: "Join us every Thursday night until late for Soul Soul Soul – a night of vinyl appreciation with DJs playing soul, funk, disco and more."