The 100 best romantic movies: 80s
Experts including Tom Hiddleston, Joan Collins and EL James vote for the best films about love and romance
Now we know which are the 100 best romantic movies of all time. But which are funny and which are heartbreaking? Which depict a dignified romance and which are saucy? Which are strictly arthouse and which are cheesy? We've applied 19 handy labels to the 100 films in our list. Here you'll find all the films which helped to define a decade. We've tagged them '80s'.
Got something to add? Tell us what you think in the comments below.
The 100 best romantic movies: 80s
25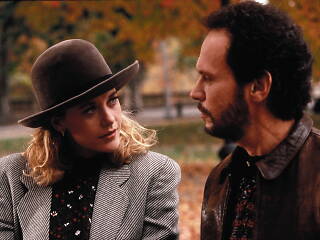 When Harry Met Sally... (1989)
Director: Rob Reiner
Cast: Meg Ryan, Billy Crystal, Carrie Fisher, Bruno Kirby
Best quote: 'When you realise you want to spend the rest of your life with somebody, you want the rest of your life to start as soon as possible.'
Defining moment: Too many to mention, but the orgasm scene in the diner has become something of a classic.
Friends with hissy fits
In 2012, the world lost a legend. True, Nora Ephron's work may have declined over the years, but her screenplay for 'When Harry Met Sally...' remains a masterpiece of romcom construction. Embracing, upending and inventing clichés left and right, crammed with one-liners, goofy asides and enough valid life lessons to rival the scriptures, it's one of the few movie scripts that works just as well on the page as it does on the screen.
And pretty much everything else about the film is perfect, too, from Crystal and Ryan's just-this-side-of-smug central couple to Fisher and Kirby as the petri-dish of marital dysfunction, from Harry Connick Jr's just-the-other-side-of-smug crooning to the gorgeous photography of New York through the changing seasons. Bliss. TH

Read the Time Out review of 'When Harry Met Sally...'
---
43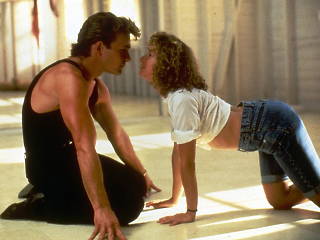 Dirty Dancing (1987)
Director: Emile Ardolino
Cast: Patrick Swayze, Jennifer Grey
Best quote: 'Come on, ladies. God wouldn't have given you maracas if He didn't want you to shake 'em.'
Defining moment: Nobody puts Baby in a corner. When even Ryan Gosling has scored using your defining moment (in 'Crazy, Stupid, Love'), you know it's a good 'un.
Sir Patrick of Swayz
She dreamt of studying the economics of underdeveloped countries and volunteering for the Peace Corps. He just wanted to dance the night away. Until one day she manhandles some watermelons into his backstage area (not a metaphor), and falls in love at first sight.
Filmed at the peak of Patrick Swayze's handsomeness, with a healthy dollop of none-more-'80s style and a cracking jukebox full of irresistibly catchy numbers, a thousand clip shows would have us remember 'Dirty Dancing' as something of a minor classic. And, for once, they would be right on the money. CB

Read the Time Out review of 'Dirty Dancing'
---
46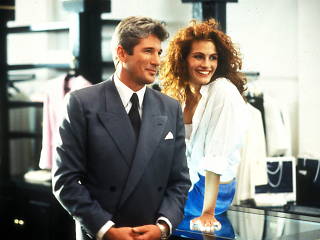 Pretty Woman (1990)
Director: Garry Marshall
Cast: Richard Gere, Julia Roberts
Best quote: 'You and I are such similar creatures Vivian. We both screw people for money.'
Defining moment: Gere and Roberts take a private jet from LA to San Francisco for a date at the opera.

Date with destiny
Roberts offered a very different shot in the arm to prostitutes everywhere with this ludicrous but undeniably charming romantic fantasy about a Hollywood streetwalker who falls for a stinking rich businessman (Gere) after he hires her for a week to be his companion at dinners and evening engagements, in between his epic workload of barking at lawyers.
Sure, the idea of a prostitute who's as beautiful, clean, happy and glamorous as Roberts is absurd, but then Gere's portrait of the archetypal 1980s business shark with a core of ice yearning to be melted is just as caricatured as her tart with a heart.
'Pretty Woman' is slushy, cheesy and so smoothly crafted that it succeeds as the very definition of romantic escapism. Roberts also has some winning comic moments, including her curtain-call quip to an elderly lady at the opera: 'It was so good I almost pee'd my pants.' DC

Read the Time Out review of 'Pretty Woman'
---
58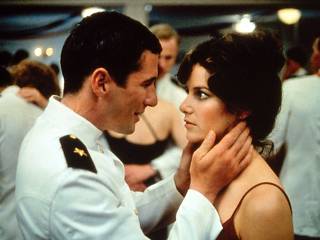 An Officer and a Gentleman (1982)
Director: Taylor Hackford
Cast: Richard Gere, Deborah Winger, Louis Gossett Jr
Best quote: 'I got nowhere else to go!'
Defining moment: That '80s-tastic finale, with Richard Gere in naval whites and 'Up Where We Belong' on the soundtrack.
Come on and join your fellow man
'Star Wars' showed the movie business that audiences were ready for old-fashioned stories in shiny new packaging, and this mega-hit melodrama took a not-dissimilar approach. Old Hollywood might have pictured the local girl trying to keep her honour yet win the heart of a dashing navy recruit. Here, Richard Gere hogs the limelight as the would-be flyboy learning to love someone other than himself – while Debra Winger alternates good-girl and bad-girl moves.
It's far from subtle, but certainly delivers more grit than a payload of weepy master Nicholas Sparks' adaptations. And the big hit single made the image of uniformed Gere ubiquitous for a while – provided you could get goggle-eyed, windmill-armed vocalist Joe Cocker out of your mind. TJ

Read the Time Out review of 'An Officer and a Gentleman'
---
62
Gregory's Girl (1981)
Director: Bill Forsyth
Cast: John Gordon Sinclair, Dee Hepburn, Clare Grogan
Best quote: 'Hard work being in love, eh?'
Defining moment: Gregory (Sinclair) realises that the women in his life have all ganged up to get him into the 'wrong' girl's clutches.
The beautiful game
Figuring out who we're in love with is, of course, a key part of the romantic process. Too many films feature lightning-bolt moments, where the rightness of a match is obvious and irrevocable – cue happy ending. So it's nice that there are a few movies out there saying, well, hang on a minute. Love at first sight is all very well, but isn't that a rather shallow and reckless way to select a mate?
'Gregory's Girl' starts with the lightning bolt – gangly Glaswegian Gregory spots leggy keepy-uppy expert Dorothy (Hepburn) – then patiently explains why, for someone as irrational and irregular as Gregory, that kind of perfect love probably won't work. So why not try someone a little closer to home? The result is pragmatic, sure, but that doesn't make it any less romantic. TH

Read the Time Out review of 'Gregory's Girl'
---
66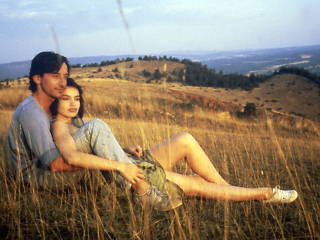 Betty Blue (1986)
Director: Jean-Jacques Beneix
Cast: Béatrice Dalle, Jean-Hugues Anglade, Gérard Darmon
Best quote: 'There comes a moment when the silence between two people can have the purity of a diamond.'
Defining moment: The single-take opening, a full-on naked shagfest, sets the tone of uninhibited passion.
Vive la difference!
Amour fou: the French invented the term and this shows you why. In her very first movie, the 21-year-old Béatrice Dalle delivered a career-defining performance which transcends mere pouting petulance to embody a wide-eyed, crockery-smashing, blade-wielding, bush-flashing rage to live. Struggling writer Anglade does his best to provide the unconditional affection she craves, but will anything be enough to quieten Betty's inner torment?
Quintessentially French, quintessentially '80s, as 'Diva' auteur Beneix revels in an eye-popping palette of electric blues, neon yellows and lipstick crimson. Tellingly, it's best experienced in the deliriously grandiloquent 186-minute director's cut rather than the more familiar but deeply compromised two-hour release version, which struggles to make sense of Betty's extreme psychology. TJ

Read the Time Out review of 'Betty Blue'
---
84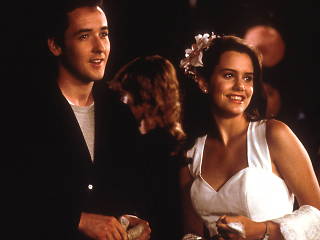 Say Anything (1989)
Director: Cameron Crowe
Cast: John Cusack, Ione Skye
Best quote: 'I gave her my heart, she gave me a pen.'
Defining moment: Come on, like you don't know. Window. Trenchcoat. Boombox. Peter Gabriel. Iconic.
Rich and strange
Cameron Crowe's directorial debut may be remembered for That Scene With the Ghettoblaster, but there's so much more to it than moody John Cusack and his synth-scored adolescent angst.
For one, there's Ione Skye as his posh-kid paramour, who may suffer from occasional dream-girl tendencies but shows enough spark to justify John's obsession. There's also a terrific supporting cast including Frasier's Dad John Mahoney, Joan Cusack, Jeremy Piven and a magnificently brash and spiky Lili Taylor.
But it's the sweet, thoughtful, zinger-studded script which explains why, for one brief moment, we actually believed that Crowe could be the next Woody Allen, only with more New Wave hair and classic rock references. Oh, what might have been… TH

Read the Time Out review of 'Say Anything'
---
93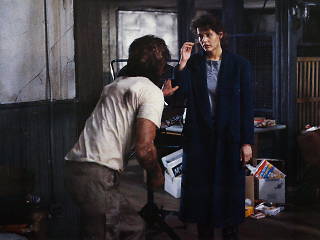 The Fly (1986)
Director: David Cronenberg
Cast: Jeff Goldblum, Geena Davis
Best quote: 'Help me be human.'
Defining moment: The climax. Is there anything more romantic than attempting to fuse on a genetic level with your intended?
2 become 1
Wait, isn't that the one where the guy mutates horrifically into an insect? The origin of the phrase 'Be afraid, be very afraid?' What could possibly be romantic about that? Well, kind of everything.
The opening is a flawless meet-cute – ballsy reporter meets mad scientist, love blossoms – helped along by the fact that real-life partners Goldblum and Davis are a screwball couple to rival Grant and Hepburn. Then, when disaster strikes in the form of a teleportation accident, she's forced to make a choice: stick by the man she's fallen in love with despite his terrifying, irrational transformation, or flee for the sake of her unborn child. Cronenberg's masterpiece may be grotesque, but it's as heartfelt, honest and endearingly human as any film on this list. TH

Read the Time Out review of 'The Fly'
---
95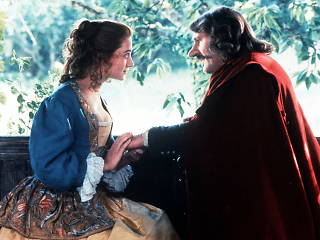 Cyrano de Bergerac (1990)
Director: Jean-Paul Rappeneau
Cast: Gerard Depardieu, Anne Brochet
Best quote: 'You give me milk instead of cream. Say how you love me!'
Defining moment: Cyrano's 'Non, merci!' tirade against the world.
Where's John Nettles?
Russia's most celebrated film talent since Eisenstein – the inimitable Gérard Depardieu – achieved the unusual feat of securing an Academy Award nomination for Best Actor in a foreign language film for his portrayal of France's answer to the Elephant Man.
Despite his unconventional looks, Cyrano is a spectacular lover – at least on paper, writing letters that cause sexy cousin Roxane (Anne Brochet) to fall deeply in love with the man from whom she erroneously believes she's received the billets-doux – the dashing but inarticulate Christian (Vincent Perez). Unlike José Ferrer, who did win the Oscar for his 1950 portrayal of Cyrano, Depardieu didn't take home the little gold statue in the end, but it's probably his take on Cyrano that's become the more iconic. CB

Read the Time Out review of 'Cyrano de Bergerac'
---
97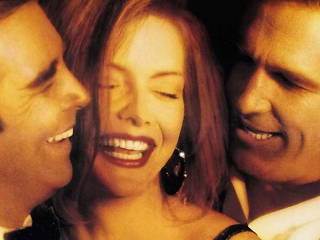 The Fabulous Baker Boys (1989)
Director: Steve Kloves
Cast: Jeff Bridges, Michelle Pfeiffer, Beau Bridges
Best quote: 'You're not going to start dreaming about me and waking up all sweaty and looking at me like I'm some sort of princess when I burp?'
Defining moment: Michelle drapes herself atop Jeff's piano for a smoky rendition of 'Makin' Whoopee'.
Another season, another reason
He knows he shouldn't. She knows she shouldn't. But they can't help themselves. For decades, talented but feckless Jeff Bridges has been working hotel lounges in an easy-listening piano duo with his steady-Eddie brother (and real-life sibling) Beau, but when the work dries up they take on a vocalist – Michelle Pfeiffer's Susie Diamond, a world-weary former escort seeking the showbiz spotlight.
Suddenly, the trio's a hit, but there's something in the air between Jeff and Michelle, which could break the act apart if they choose to respond to it. First-time writer-director Steve Kloves matches awkward adult emotions to razor-sharp dialogue, so naturally Hollywood picked him to adapt the 'Harry Potter' saga (!). Still, we'll always have the Airport Ramada… TJ

Read the Time Out review of 'The Fabulous Baker Boys'
---
---
The best songs from the top 100
Read a review of...
Regular Time Out film features
The best films now showing
Rated as: 4/5
Critics choice
Terrifying, high-energy tale of a brutal pupil-teacher relationship
Clint Eastwood delivers the goods with a bruising real-life war story
A heart-meltingly warm Stephen Hawking biopic
See more Time Out film reviews