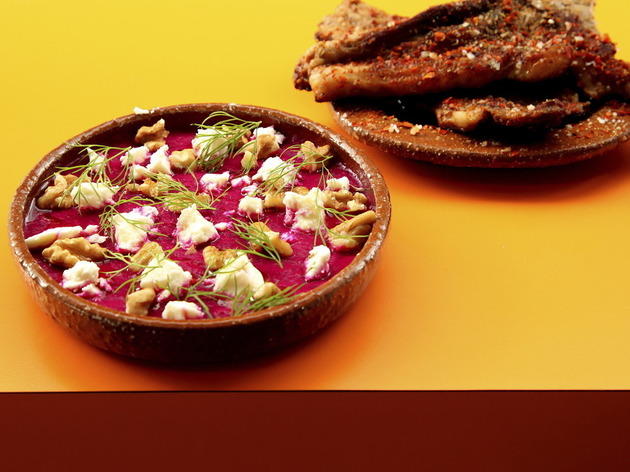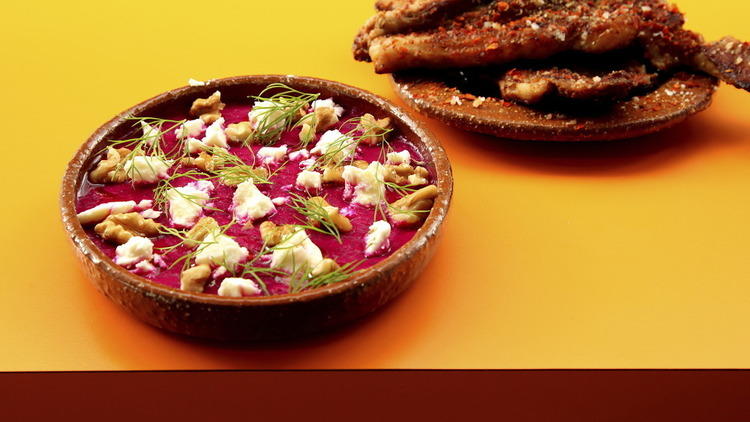 The downside of this diminutive tapas bar, little sister of Moro next door, is its unceasing popularity. You can't book for dinner (though you can for lunch), which, unless you have the timing of Eric Morecambe, almost always means a wait – though staff are happy for you to decamp elsewhere and will phone as soon as space becomes free. The upside is that the food is fantastic, the staff delightful and the atmosphere properly buzzing, as everyone is so pleased to be there.

The high stools next to the bright orange bar offer the best view of the action, and are marginally more comfortable than the oddly low tables – but in general it's a cramped experience. Do sample as many dishes as you can from the 40-strong list. Everything we tried was superb, from the very simple (tomato toast, lip-tingling pádron peppers) to old faves (patatas bravas topped with a thick, spicy tomato sauce and dollop of mayo) and regional specialities (grilled Galician tetilla cheese, with membrillo and walnut halves, and sizzling Palamós prawns with allioli).

Desserts include a first-rate crema catalana (large enough for two), but the rich, boozy baklava ice-cream floating in a pool of Pedro Ximénez – the result of a happy kitchen accident, apparently – takes some beating. To drink, there are cocktails, sherries and an all-Spanish wine list, available by the glass, 375ml carafe or bottle.
Venue name:
Morito
Contact:
Address:
32 Exmouth Market
London
EC1R 4QE

Opening hours:
Tapas served noon-4pm, 5-11pm Mon-Sat; noon-4pm Sun
Transport:
Tube: Angel tube or Farringdon tube/rail or bus 19, 38, 341
Price:
Tapas £1-£8.50. Meal for two with wine and service: around £60
Menu:
View Menu
Do you own this business?
Average User Rating
3.8 / 5
Rating Breakdown
5 star:

9

4 star:

2

3 star:

2

2 star:

2

1 star:

2
What it could have been a nice walk in to a tapas place on a warm spring day, end up as a big disappointment.
I arrived in a party of 2 and found a full bar counter, a few tables in also occupied, but a free table at the terrace outside which was OK since the weather was so lovely.
The waitress told us to sit, and after a few minutes she brought us the menu and ask us about water.
After at least 10min someone brings the water and runs away without taking our order.
Since me and my date we work both in hospitality, we understood that it was a busy night for them and we remained patient.
After 15min of our arrival we finally ordered 3 tapas and 2 drinks, with no apologetic attitude from the waitress part.
In the meantime the weather started to change and we could sense that would start raining soon, so our patience started to vanish.
We waited 20 more min with no drinks still, to receive a side of tomatoes dropped on our table with no explanation whatsoever.
Finally I lost my patience and ask the waitress what was going on...
We ordered 3 tapas (one of them bread), we didn't get any drinks in 30 min and all what arrives on the table is a little side of tomatoes.
Her attitude was the worst, she just said OK I will check, with a face of "who cares", and at that point I just decided to leave.
We explained politely to the waitress why we weren't staying what she replayed: "so you want to cancel everything (who cares), OK..."
This was such an embarrassing experience and so disappointing really...
They should have better organisation, perhaps a waiter to take care of the terrace side, and more enthusiastic staff.
I go every 6 months, every time I'm like this was the best time. the menu is always changing but a few old favourites are always around, that beetroot one and the lamb, and the specials: some kind of rare tuna with almond, still remember exactly how that tasted; sardines with something really green a bit like pesto; also had percebes there once which was awesome, (pretty hard to get hold of in london!). Don't get put off if they're full, leave your name and go for a pint down the road, or just wait if you can, it's well worth it.
I had a table booking for lunch for a friend's birthday a couple of weeks ago. I already was looking forward to it as the emails were so polite and accomodating.Even though they were completely packed at lunch (its a tiny place) and we were 10 minutes late, they had kept our table (which on the website they say the keep for bigger groups and there were just 2 of us). The spiced lamb and the chickpea dishes in particular were incredible, as was the £1.50 glass of pomegranate juice. Blonde waitress was so lovely, and the whole place is full of a really chatty buzz. love it!

fight to get a table or space at the bar.. this is perhaps the best food experience, i have ever encountered in London.. the basic decor and comfort is easily compensated as your senses are transported to another world... incredible just like big brother Moro. i also think prices on the boards are okay.
It's not just a spanish tapas bar/restaurant. The food has got influences from portuguese and north africa's cuisine. One of the best (cheap) places in london, definitely.
REALLY GOOD FOOD. A GROUP OF 5 WENT ON A SATURDAY LUNCHTIME.THE ONLY PROBLEM WAS THE SEATING, VERY VERY UNCOMFORTABLE.
fantastic food, just 5 star, words escape me
Absolutely amazing restaurant, food to die for, and fabulous ambience. If you have a little bit of extra cash to spend, then well worth the trip, as it aint cheap. However, just a pointer to the Timeout team, this is a truly traditional and innovative Spanish restaurant; not African, not Middle Eastern - SPANISH! ;)
Not often I say this but, absolutely fabulous!.. without the darling. Great food without the pomp, and you can quite easily control the price of your meal, if like me, you are on a budget. Everything I've had at this resaurant has been good, but I have particularly enjoyed the fried chickpeas, ( i dont usually eat chickpeas!) the lamb dishes and the squid, also the pork fillet, ice cream and espresso coffee. Wine is reasonably priced and delicious!... Shame it isn't open on a Sunday though.
A group of us ate at Morito last Saturday and Moro for lunch earlier this week. Morito won hands down (although Moro was by no means poor)! We had great service - every effort was made to keep 9 of us together. It was a bit of a squeeze but what a good atmosphere. We loved the food and thought value for money - although yeah maybe expected more than 1 scallop in the tapas dish :-)
Thoroughly enjoyed the tapas here although would agree with the comments below, thought it was a tad expensive for the size of portions. I have had far better value, equally tasty tapas elsewhere, but it was still delicious in the main. Footnote: ordered a small glass of Rioja, got a carafe, oh well, managed to drink it anyway!
hugely overrated and overpriced. Food was average. There are much better similar places, with more generous portions and tastier food.
Portions very small and not half as nice as I would expect from a Time Out 5 star restaurant. The only real highlight was the potatoes with chilli and coriander, but nothing came close to the standard I've got used to at places like Brindisa. Won't be going back.
The service here is rude, surly and snotty. For a tapas bar with plastic chairs one would expect a more fun laid-back joie-de-vie atmosphere. It is overly tourist oriented and does not care about serving customers so much as having as many seats open to turn around quickly and make a buck. Get over yourselves.
More venues
Sponsored listings