1/9
2/9
3/9
Anja Olofgörs
4/9
5/9
6/9
7/9
8/9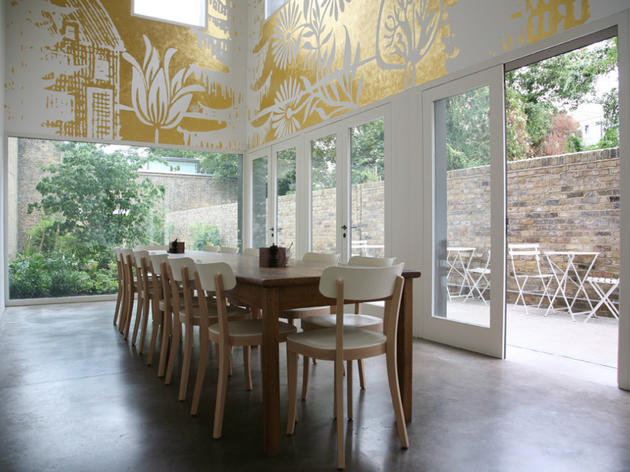 9/9
As you'd expect of a gallery eaterie, No 67 is a bright, soaring space, with huge windows for natural light and a curvy, billowing garden flanked by more seating. Even more gratifyingly, the place doesn't just trade on its looks. The food is lovely, and pretty good value, especially the three-course dinner for £22 on Wednesday and Thursday. With seasonal treats on the set menu, such as a golden-crumbed asparagus with hollandaise, or courgette, pea and artichoke risotto – and lemon posset, chocolate and Calvados mousse or a cheeseboard for pudding – this is pretty much the perfect treat for a summer's evening.
On the lunch menu, a seasonal soup is always on offer (we enjoyed spinach and potato), then there's the locally famous date and walnut welsh rarebit with pickles and salad. The meze is a vivid palette of rubious, slightly bitter, nutmeggy beetroot purée, emerald-flecked tsatsiki, golden hazelnut bulgar with ribbons of red pepper, and glossy black and green olives; they were artfully arranged on a white plate withal, and framed by several slices of griddled bread streaked with olive oil.
The cake selection included dark horses such as a nitrate-rich beetroot and a gluten-free brownie, but we were glad to sample the almond and strawberry tart – the pastry was a crisp, buttery revelation. Impressive on all fronts.
Venue name:
No 67
Contact:
Address:
67 Peckham Rd
London
SE5 8UH

Opening hours:
Breakfast served 9-11.30am, lunch served noon-3.30pm Tue-Fri. Brunch served 10am-3.30pm Sat, Sun. Dinner served 6.30-10pm Wed-Sat.
Transport:
Peckham Rye rail
Price:
Main courses £11.80-£14.60. Set dinner (Wed, Thur) £20 3 courses
Menu:
View Menu
Do you own this business?
Average User Rating
4.2 / 5
Rating Breakdown
5 star:

10

4 star:

4

3 star:

1

2 star:

1

1 star:

1
Great staff, interesting food, cozy atmosphere and off the main drag so a nice option away from the Friday evening fray.
Relaxed space with lovely garden and popular for Sunday brunch in the summer.
Allpress coffee and lovely setting in historic arts college.
This isn't in east Dulwich - it's Camberwell.
Homely and delicious, top brunch spot!
Great coffee, cake and brekkie if you're in the mood. Something about the space feels calming. All in all a very pleasant way to start a weekend morning. One caveat - expect to see at least 3 ludicrously well-dressed toddlers being force fed quinoa
Back in January we booked the impressive gallery space at the back (with the private garden) for an incredibly special dinner in May (yes 5 months in advance) with a £100 deposit. Two weeks before our booking one of the managers - Sam - sent me a four line email without so much as an apology to 'mention' that they'd double booked the area and we'd now have the restaurant space at the front. Outraged, not only at the double booking on an evening that we'd spent 20 weeks preparing, but also with how appallingly they chose to handle it.

In the end they simply explained the second party was bigger and wouldn't fit in the other area, though cant help but wonder if a more attractive booking came in well after ours and they chose to go with them. We essentially had a contract with No67 regarding the space and it really should have been honoured. I suspect if we'd called with two weeks notice to cancel we'd have lost that money?

Sadly with only 14 days notice we were trapped somewhat to stay with No67 as it was far too late to rearrange at this stage. The other manager, Hamish, after several emails did extend some courtesy & called to chat through how they would make our night very special, a magical garden set up at the front, tea lights everywhere, not one glitch throughout the evening. We should have known then, based on our experience so far, that would be too good to be true. It was also surprising to have to ask if there might be some sort of goodwill gesture, rather than immediately offered. A complimentary cocktail for each guest we were told would be included.

You can imagine we were yet again disappointed that the "special" garden area promised had no more than 2 tea lights, and we had to request additional ones to make it feel nice – further upsetting when you realise just how loud the road really is compared to the private secluded garden space at the back

The staff on the night (while lovely) had not been told that the goodwill cocktail would be in addition to the prosecco as part of our set menu so we had to go through that with them and frustration levels rose again

We were very underwhelmed with the effort made for our dining space, though adequate, we all sat down to enjoy a meal we'd been promised would be perfect and without further fault. While the starters came out on time and were lovely we were left fuming when I had to chase our main meals over half an hour after when we'd requested them. Insulted further when a few portions of fish came out very under-cooked and some guests felt the lamb too raw to eat

The final straw was the bill – your staff tried to charge us for 2 extra people, a genuine mistake I'm sure and would have been completely overlooked had it not been yet another mistake to add to a growing list or errors.

I cannot tell you how tempted we were to refuse to pay the service added to the bill, however felt that the endless list of disasters and faults didn't lie with those waiting on us – but Hamish and Sam, and it felt wrong to penalise them for their mismanagement

Needless to say not one member of our party will ever be returning again, and I would urge people to stay away unless you want a slice of cake and a coffee. Clearly not equipped to deal with a service beyond that – to out utter disappointment.

We only hope they fully appreciate how they ruined an evening that we'd been planning for 5 months for someone incredibly special – and if they are trusted with a similar dinner or event in the future they'll take measures to ensure this doesn't happen to anyone else in the future – though I wouldn't risk it! When we called round endless places to see we could could relocate our evening everyone we spoke to at other restaurants were outraged by what no67 had done.


I had brunch here with 3 friends today. Granted, it was a busy Saturday, but two of us ordered the Welsh Rarebit, and we were both disappointed with our food. Both of them came out slightly burned, but we were so hungry and we tried in vain to get our waitress' attention, so we just went ahead and ate them. Secondly, for £5, we expected more than a small piece of sourdough and some dressed rocket leaves - not at all value for money, and we left hungry. The other two in our party were very happy with their salmon and eggs on 2 pieces of sourdough for £6.75, but they had a decent portion size. When I attempted to provide constructive feedback to the waitress, she was clearly disinterested and made no attempt to take my suggestions forward or compensate in any way. Will not be going back here again.
Most amazing cafe, breakfast is splendid always perfect on every saturday and Sunday! Great customer service and even better coffee! 5 stars!!!
This is the best coffee in London. It is seriously amazing. Great breakfast, AMAZING staff and even better cakes. Such a great location and well priced 5* plus!
This is one of the best cafes in London! It has amazing food an even better coffee at an affordable price. The floor staff are always friendly and the kitchen staff and chefs seem to get the meals are in a very speedy time considering the size of the kitchen! We love 67
Amazing flavours. Unusual ingredients and menus that always give you something to talk about. I feel sorry that I won't get to try every dish as they change the menu so regularly.
Good overall cafe. When we first came in the one server was a bit abrupt with us but the server we ended up having was fantastic. She was really friendly and definitely put in a good effort. We all ordered the full Spanglish which was a bit greasy (but to be expected with fried eggs and Chorizo) but delicious. The only problem with the food was that my toast was slightly burned making part un-edible which was a shame. Had a taste of the milkshake which was amazing and next time I will definitely try the cakes as they looked fantastic.
Awesome. Cracking coffee, cracking breakfast (full Spanglish is a revolution) and once you've finished your breakfast/lunch/dinner you can walk round the gallery. I really like this place as it's run by people who carea about what they're doing. Every cake, coffee, drink has been chosen or created with heart. This is what its all a about, a bit of passion in details.
The best! For lunch or brunch it's a lifesaver on the weekend, serving breakfast til 5 on saturdays and 4.30 on sundays. Amazing cakes too. Really nice staff and all the touches that make you comfortable. For dinner it's also amazing! I'm so glad this exists in Camberwell.
More venues
Sponsored listings