Talking Shop: Beth Ditto
The singer and fashion icon shares her enthusiasm for London's shops and jersey knit dresses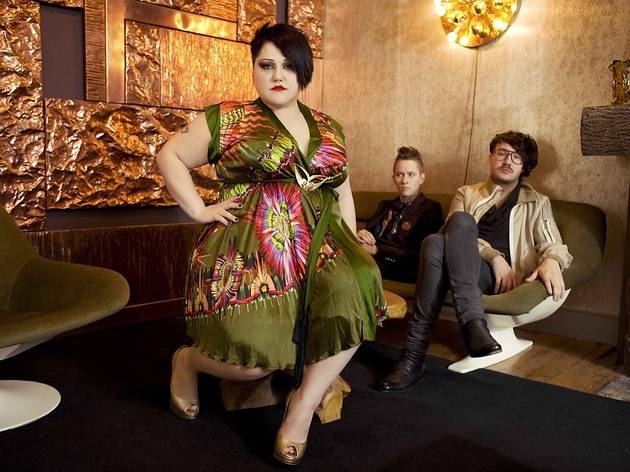 Where do you always try to go when you're in town?
Primark
,
Beyond Retro
and
Liberty
.
What do you spend all your cash on?
Jersey knit dresses. If I added up all the money I spent on jersey knit cheap dresses I could have bought Alexander Wang's entire collection for the past year or so!
Are you extravagant?
I'm not rich, but I have some extra cash here and there. I always feel like a lot of reasonable and a little fancy pants goes a longer way than just a tiny bit of fancy.
Who do you consider really stylish?
Yoko Ono. Kiddysmile.
What is the best shop in the world?
[US charity store] Goodwill; I spend 50 percent of my time there and
Vivienne Westwood
on Bond Street! Shout out to my home girls!
If you had just a tenner, where would you spend it?
£2 at McDonalds, £5 at thrift stores, £3 on spray paint.
What is good and bad about shopping in London?
It's so cheap and STILL so expensive! The exchange rate is the bane of my existence when shopping there.
Of all the places you've been, where has shopping been the best?
Seriously? London! My home away from home.
More shopping features
Wrap up your festive shopping with London's Christmas markets and fairs Christmas in London Discover all the festive activities to be enjoyed in London this Christmas, including markets, Christmas lights, pantomimes and carols. See our guide to Christmas in London Looking for gift inspiration? Look no further than London's Christmas markets. Among a raft of events you'll find foodie gifts, hand-crafted pressies and usually a bit of glühwein to help you get into that merry spirit... Christmas markets and fairs Christmas at Kew Best for...The magical woodland setting Nearest tubeRichmondDuring the evening openings of Kew's lovely Christmas celebrations there are plenty of family-friendly attractions, including a Victorian carousel and vintage rides, Santa's grotto, a boutique Christmas market with foodie treats and live festive music. These lates, set within Kew Gardens, promise to be a perfect way to get into the Christmas spirit. Handmade Christmas Best for... One-off crafty treats Nearest TubeNorth GreenwichAvoid the mad rush in the week before Christmas to gather up your presents and head to the Handmade Christmas Fair at the O2, where there'll be one-of-a-kind pieces made by independent designers, crafters, hobbyists and food and drink connoisseurs. To peruse the brochure, visit www.handmadechristmas.co.uk. Hyde Park Winter Wonderland 2013 Best for...Over-the-top festive spirit Nearest TubeMarble ArchHyde Park gets glammed up once again
If you're a small or medium-sized grown up, you could save a fortune by loading up on tots' togs Zena'A playsuit (essentially a glorified romper) isn't the first thing I'd pick out for myself – being petite, I'm wary of wearing anything an eight-year-old might also appreciate. But this Chloé number is chic and grown-up, and would look great on a leggy blonde. And I'm totally in love with the tiger-print shirt.'Total cost: £154.99Total cost of adult equivalent: £1,012.99Saving: £858Nick'The advantages of being short are few, so you've got to embrace the occasional small victory when it comes your way. This outfit had me jumping for me joy (though not very high, obviously).'Total cost: £39.97Total cost of adult equivalent: £79.93Saving: £39.96 Talking shop Robbie Williams Does the popstar actually do any designing? Khloe Kardashian The youngest of the sorority wishes £10 got you more Manolo Blahnik The designer believes in 'buying less, but good quality' Childrenswear is VAT-free and cheaper but still trend-focused and stylish, so our mini-models Nick (5'7") and Zena (5'1") tried some kids' ranges on for size. We found that it's possible to find a deal if you're diminuitive.Scroll over the images below to find out more about each outfit... Most popular shopping events Carnaby Echoes Carnaby Street is celebrating 100 years of music with Carnaby Echoes – a free exhibition commissioned from London based artist, Lucy Harrison. Although heavily asso
The new Denim Studio at Selfridges holds 11,000 pairs of jeans. Are any of them the pair for us?
His Farrell label is inspired by his grandad – but does the popstar do any designing? We talk to Robbie Williams and his head of design Ben Dickens Robbie, be honest – do you really sit at a drawing board? How collaborative is the process?Robbie: 'Ben and I meet in London and LA to go through it all, from my initial inspirations through to how that materialises to final product. He's a really talented guy, and I'm lucky he's here to facilitate all my ideas for the brand.' Ben: 'We discuss ideas and concepts: books, films, characters, heroes, magazines and of course vintage shopping. From there I'll go away, and 'make it happen'. Much like when Rob works with writers or producers to create great music, we do the same with clothes.' Ben, how has your experience at Burberry trained you for the job?Ben: 'Working with Christopher [Bailey] and the team gave me a great insight into the runnings of a global luxury brand. To create clothing of quality and heritage is instinctive, and also something you learn along the way.'Do you hold any other designers up as a model?Robbie: 'I don't want to follow in any designer's footsteps, really, I think being us and doing that well is the most important thing to focus on.'What's your favourite product in the range?Ben: 'The camel Demob coat. It instills a real sense of authority. Rob says it's like a suit of armour.' Robbie: 'The cropped Dispatch coat. It's a custom variation on a British military dispatch rider coat that Ben and I found and bo
Make your face a fashion statement with these dazzling sets of eyewear
Intimates needn't intimidate; pick out something special in one of these excellent lingerie boutiques
Quirky concepts, unique wares and painfully hip staff in these excellent outlets
Swap and sell your way to a better wardrobe at London's best fashion exchanges and car boots
The most creative nail designs, perfect manicures and the neatest pedicures
Show more