Vault Festival in London: what to see
Hunt out some of London's most exciting new theatre and comedy shows at this subterranean festival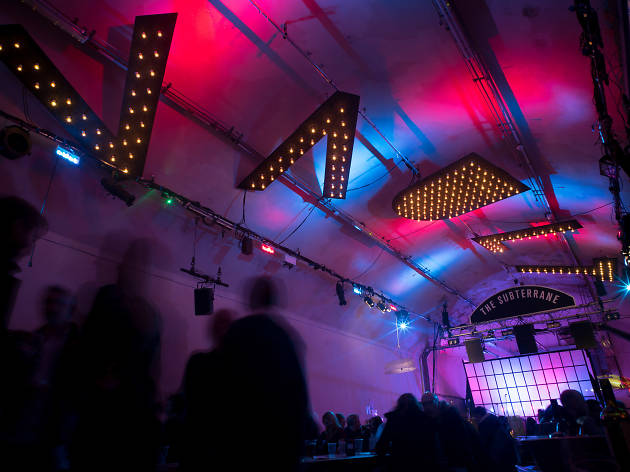 Vault Festival is back in London for 2017 with a brilliantly eclectic programme of performance, lasting from January until March. Below is our guide to the fest's best theatre, comedy, and events.
For more theatre recommendations, read our critics' choice for the best of London theatre. And look out for a special all-night opening party on Friday January 27 – Time Out Presents: I'm Coming Out.
What is Vault Festival?
A six-week event showcasing some of London's most exciting new theatre, cabaret and comedy.
When is Vault Festival?
The festival runs from January 25 until March 5.
Where is Vault Festival?
Surprisingly enough, in a vault. Well, kind of... The action takes place in The Vaults Theatre, a sprawling, crypt-like space underneath Waterloo Station, with a couple of extra shows in nearby Network Theatre and Morley College.
How much does Vault Festival cost?
Prices for individual events vary, but most shows cost £9-£12.
Recommended theatre at Vault Festival
Two girls meet in a North London comp and fall for all things punk. 'Fran & Leni' is a story of friendship, music and fishnets by Sadie Hasler, writer of 'Pramkicker'.
Read more
This follow-up to sleeper fringe hit 'Team Viking', which drew comparisons to Daniel Kitson's work, is similarly a quirky storytelling show about love. Written and performed by James Rowland.
Read more
A boy can't feel fear, so accepts an offer from a stranger that takes him to perilous new places. Anna Beecher's play is a reworking of Grimm's story, 'The Boy Who Went Forth To Learn To Shudder', using physical theatre and surreal darkness.
Read more
Tuberculosis, poverty, alcoholism, Yorkshire drizzle: being a Bronte wasn't much fun. But Publick Transport Theatre are setting that right with this deliciously silly show. Two performers get under the skin of the Bronte sisters in a gothic satire of their literary hits.
Read more
Playwrights Brad Birch and Kenneth Emson collaborate for the first time in 'This Must Be The Place', two ballads about the pressures of city life for Poleroid Theatre. Justin Audibert directs this look at three people trying to thrive in the thin air of the Big Smoke.
Read more
Sci-fi doesn't have to mean mega-budget movies. Tim Foley's fringe comedy is a dystopian look at divided post-Brexit Britain. When astronauts land in Hartlepool, the Leave-voting town must make another big decision.
Read more
Mary Beth Morossa welcomes you to a rather special evening at this eerie storytelling show, set in a haunted mansion. Cabaret, poetry and evocative music combine to create a slightly chilly, slightly silly night of gothic fun.
Read more
Inspired by a line scrawled under an old photograph, 'On the Crest of a Wave' is a look at the way we can feel loss for things we hardly remember. Playwright Camilla Whitehill has teamed up with musical comedian Luke Courtier and to create this comic funeral, based on her own family history.
Read more
Subika Anwar-Khan's play is based on a pretty remarkable true story: Princess Sophia Duleep Singh's journey from pampered daughter of an exiled Maharajah, to becoming the first ever British-Asian suffragette. This feminist drama is a story of colonialism and defiance, from the author of fringe hit 'Stateless'.
Read more
Experimental theatre at Vault Festival
'Balancing Acts' is an off-kilter look at depression and recovery, performed by Kaleido Film Collective and Feral Foxy Ladies. They'll tell six stories of living with mental illness, in a fierce, multimedia look at the ways we find to feel better.
Read more
Daffy dance and clowning trio In Bed With My Brother's show 'We are Ian' is a hopping mad look at rave culture. Their interactive show takes you on a trip to the heart of the early 1990s Manchester drug and party scene.
Read more
Crash a romcom into a sci-fi show and what do you get? Superbolt Theatre are the team behind Vault Fest hit 'Dinosaur Park'. This new work looks like just as much fun - a ridiculous physical theatre look at life in outer space.
Read more
Discover a world of alien landscapes, robots, and electronic music in 'Androdes', the debut show from Sartory. And if (judging by the photos) that world happens to look a bit like the inside of Cyberdog, we're still 100% up for exploring it. This immersive music performance follows an android called ANI who's become conscious after a manufacturing mistake, and is roaming the earth in search of meaning.
Read more
Comedy at Vault Festival
Superbolt Theatre's laugh-out-loud spin on Spielberg's classic is a physical comedy show set in the unlikely Lyme Regis Community Centre. A family's DVD of 'Jurassic Park' is broken, so they'll just have to make it up as they go along...
Read more
Armed with a cast that despises him and a slim budget, actor, writer, and director George Vere endeavours to bring you his debut sci-fi masterpiece. An intergalactic comedy farce from Willis & Vere.
Read more
Deep in a secret vault, Thom Jordan, Elliot Hall and Jordan Dunbar recreate the lost sounds of BBC Stoke, 1952. This radio-inspired act is a chaotic tribute to comedy history.
Read more
A miserable man becomes a kids' entertainer in an attempt to cheer himself up in Joseph Cullen's comedy. Expect costumes, balloon swords, and social awkwardness.
Read more
Helen Duff's 'Vanity Bites Back' was a clowning cookery show that got rave reviews from Edinburgh's food-spattered comedy critics. 'When the Going Gets Duff' is a riotously silly solo show about life's sillier side - and going by the owl-filled poster its should be a hoot.
Read more
Nightlife at Vault Festival
For the opening night of this year's Vault Festival, Time Out are making it their mission to make. you. come. out. We'll be throwing an all-night disco party to kick things off. It's a chance to banish those post-Christmas hibernation blues once and for all, and come out to the sound of beautiful, joyful disco-friendly dance music. Across multiple rooms at this ace cavernous venue, there'll be a Midnight Runway, giving you the opportunity to come out in style, glitter showers, a photo booth, a salon steered by an expert face vajazzler, and – of course – a main room dancefloor that will rock all night to sweet disco music old and new, from Time Out's Music Editor Oliver Keens. Join us for the winter of our disco intent.
Book now
Read more
Transport yourself to a glittering party from the past with help from The Nudge, The Guild of Misrule and The Immersive Ensemble tonight. The '20s is where it's at, Jay Gatsby's your host and foot-stomping jazz, hard liquor and swing dancing's on the menu until the early hours. Book in advance via the event page.
Read more
More essential London theatre
Want to know what theatre tickets to buy in 2017? Shortcut it straight to the very best shows coming to London with our selection of musicals, immersive plays and off-West-End shows that you'd be mad to miss in 2017.
Read more