Dance clubs in LA: The best places to dance every night of the week
We've tapped into the best dance clubs in LA at which to get your groove on every night of the week.
By Rachel B. Levin
Salsa Tuesdays at Wokcano
When you want to do some serious business on the dance floor, it's best to eschew behemoth, glam-tastic nightclubs in favor of smaller, no-frills spots and classic dancehalls where the grooves are infectuous and busting a move is the main event. Our picks for the best dance clubs in LA will feed your need for everything from hip hop and salsa to reggae and soul, every night, Sunday through Saturday.
Sunday
Yes, cool things can happen in airport hotels, especially one with a three-dance-floor club. You won't even hear the planes taking off over the thumping tropical music on Sunday nights, when some of the LA area's best salseros (and beginners, too) gather to end the weekend on a spicy note. Jump in a class before the DJ starts if you're unsure of your footing and then prepare to sweat as the beat sways from salsa and bachata to merengue and cha cha. Take a break in the Spanish-style garden courtyard, and you'll swear you're somewhere south of the border.
This cozy neighborhood bar is the perfect spot to wind down the weekend if you're feeling low key but still have a little dance left in you. It's definitely more watering hole than dance club, but DJ As-Is (plus occasional guest DJs) always has people on their feet with feel-good tunes that leap from funk and soul to disco and boogie. The crowd can vary—one week it'll be sparse and the next so thick you can barely move. But when it hits that sweet spot between slow and sardine-packed, you'll definitely want to blow off that Monday morning meeting.
---
Monday
This soul-stirring celebration of the Motown sound will have you hand clapping and hip swaying Supreme-style. Resident DJs spin originals, remixes and close relatives of Motown favorites, while guest DJs drop in for special theme nights (e.g. hip hop edition, Michael Jackson tribute, etc.). The grooves are undeniably badass, and while a healthy crowd of cool cats always shows, the dance floor at this dive bar is typically less crowded on Mondays than on other nights of the week—a boon if you're moved to get all "American Bandstand" and bust out the Watusi.
The 1980s are alive and well, at least in Hollywood on Monday nights. The neo-gothic B52 Club at Boardner's takes you on a time warp back to the days of bustier tops, acid-washed jeans and big hair. It's a sweaty scene that would make Olivia Newton John proud; the dressed-the-part crowd (most too young to remember the '80s) gets physical to pop/electro gems from upbeat Madonna and MJ to moody Morrissey and The Cure. Like something out of a Brat Pack film, the goths can be found in the covered courtyard wearing all black and writhing to Nine Inch Nails.
---
Tuesday
Salsa dancing under the stars, ocean breezes, fruity cocktails... are you somewhere in the islands? Nope, you're on the patio of an Asian-fusion restaurant in Santa Monica. An unlikely salsa spot, sure, but one with serious cred nonetheless. Skilled salseros flock here for the open-air dance floor and terrific DJ spinning Latin classics from salsa and cha cha to bachata. On a warm night, it's a heavenly experience (but don't worry—there's a covered area as well for chillier evenings). Beginner and intermediate lessons precede the party—you'll need them to break the ice with this practiced crowd.
"Old school" is a loose descriptor for this jovial Tuesday night shindig. Yes, a good deal of what DJ Matt Robinson selects can be considered old school, from back-in-the-day hip hop à la Biggie and Tupac to vintage Wham! and Prince. But hey, it's Tuesday night, and no one's feeling too serious about much of anything, so he might also throw in a current Beyoncé or Too Short jam. The laid back crowd starts moving with gusto the more drink they have in them, meaning things really get hopping after midnight, when you'll totally forget it's not the weekend.
---
Wednesday
Before you even reach the top of the stairs at this gritty, bi-level dive bar, you can feel the bass booming in your belly. The legendary DJ night is a beat-head's dream, with a massive sound system spitting out a wide range of experimental hip hop and beat-driven electronic music (IDM, dubstep, glitch, etc.). The packed-to-the-gills crowd (it's 18+ here, so the throng skews young... and male) doesn't so much dance as surrender to the vibration. Keep your eyes peeled for live performances—everyone from Erykah Badu to Odd Future has graced the unassuming stage.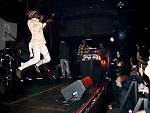 Every Wednesday night, the cavernous Echoplex sets sail to Jamaica when this roots reggae party kicks off. The biggest names out of Kingston have played here, from Sister Nancy and Eek-A-Mouse to Wailing Soul, but the club also welcomes locally-grown talent as well as acts from equally salt-of-the-earth genres like cumbia and Afrobeat. So expect to do more than just sway to the steel drum; most nights, there's bona fide ass shaking underway. You'll be elbow-to-elbow with cool kids and old timers, including a critical mass of dreadlocked rastas and the girls who love them, all feeling irie.
---
---
Time Out Los Angeles on Spotify