Underground LA: Best underground LGBT parties in Los Angeles
Forget the usual pick-up spots in West Hollywood—bust a move (and hook up) at the best underground LGBT parties in Los Angeles.
By James Cerne Wed Jun 26 2013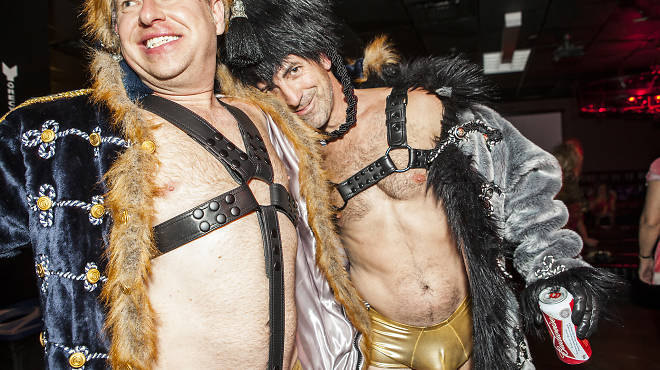 Party-goers at Dragstrip 66 Photograph: Jakob N. Layman
Have you had it up to here with the mainstream gay scene in Los Angeles? Never fear, because percolating just under the surface of the usual gay cruising spots and gay nightclubs is a vast reserve of unpublicized nightlife opportunities. Fueled by quality talent and promoted with discretion, these weekly, monthly and off-the-cuff events showcase the brightest and most influential new faces on the scene. Get a leg up on the competition and check out the fashions, music and artists that everyone else will be rocking six months from now at the best underground LGBT parties.
RECOMMENDED: See more Underground LA

Scruffy, scrappy Lincoln Heights bar the Airliner is an inspired choice for a female-focused affair. Every third Friday of the month, Mugshot turns the joint inside out, pulling in big crowds for a raucous dance party. Outside, a foxy collection of bohemian femmes congregate on the two-story patio, while inside, resident DJ Automaton whips the ladies into a twerking frenzy with a rapid fire blend of bass heavy hip-hop and indie dance. With a revolving cast of performers and guest DJs to keep the night fresh, Mugshot has unexpectedly turned Lincoln Heights into a can't-miss third Friday night destination. For updates on parties, join their e-mail list.

When: Every 3rd Friday of the month
Cover: $7
Dress code: Every shade of Bohemian, big gold chains and leotards, Olive Oyl top knots, really big eyeglasses (no prescription necessary), twerkwear
Cruise factor: 9/10. It's Friday night and EVERYBODY's open to making a new friend.
Since its inception in 2008, Mustache Mondays at La Cita has been become an institution amongst cutting edge queer creatives, who consistently bring their sartorial "A" game to the weekly extravaganza, which has recently played host to drop-bys from such heavy hitters as Azealia Banks, Diplo and Mykki Blanco. Attendees whirl, twirl and duck walk to the progressive house and hip-hop sounds of DJs Josh Peace and Total Freedom, while the outdoor seating area provides an ideal location for gossip, flirting and a never ending series of glamorous entrances.

When: Every Monday
Cover: Varies (Free-$10)
Dress code: Extreme gender fluidity: Everybody is in leggings, textiles from equatorial countries, flat hat brims, tall skinny boys in boxy shirts, GIF chic, "ghetto gothic," anything you can safely vogue in
Cruise factor: 5/10. These costumes are complicated.
---
---