LA craft fairs: The city's best and most eclectic marketplaces
These top local craft fairs feature work by Los Angeles' craftiest artists and some of LA's best handmade goods.
By Kate Wertheimer Mon Sep 17 2012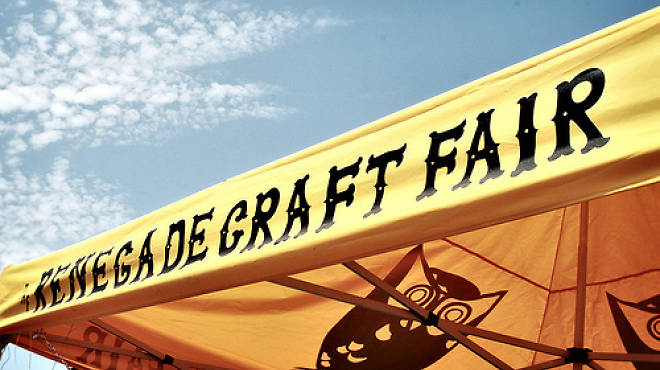 Make your way to one of these inspiring craft fairs, where you can indulge your senses and get to know LA's—and the country's—most creative craftspeople. Shop around and find a great gift, some artwork for your living room, or simply meet some like-minded crafty types.
---
---
They're crafty, and they're just our type
Whet your craft fair appetite with a few of our favorite local vendors.
---

Jill K in LA
Jill Kleinhans will take any nudie photo and turn it into a tri-color screen printed work of art that's less lewd and more lovely (and much more appropriate to share with others). She'll also, ahem, augment or touch up certain areas, if you wish.

Small Adventure
These cards and prints are all reminiscent of summer camp—whimsically hand drawn bears, birds and acorns, canoes, tents and fishing poles—and will have you itching to take a small adventure of your own.

ThreadRiot
A funky collection of loud printed leggings, hoods (yep, just hoods), fringe necklaces and pouch purses from a colorful local seamstress who sells her wares out of a bicycle trailer pop-up shop (or as she likes to call it, "retail bicycle transformer").

Reclamation Dept
Mychele and Ben Wooley-Pitts use reclaimed rubber tires, burlap coffee bags, salvaged leather, seatbelt straps and bike parts to create unique accessories like bike panniers, totes, wallets, jewelry and chandeliers. The ultimate in upcycling.

Bunny Butt Apothecary
This apothecary specializes in all-natural soaps, creams, butters and balms—all hand-crafted with sandalwood, jasmine, cucumber, green tea and the like. No bunnies are harmed in the manufacturing of these products, just petted vigorously.
Time Out Los Angeles on Spotify