The 50 best music festivals in the world
In order of awesome. As selected by Time Out's global music team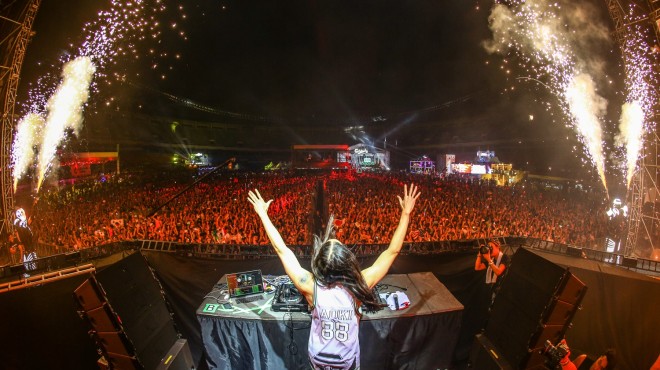 The 50 best music festivals in the world: Ultra Korea © Rudgr
50. The Great Escape
Brighton, UK May 14-16 2015
Festival heaven for: Know-it-all music journalists, A&R people (if there are any of those left?), likers of bands no one else has heard of's early stuff, the musically tolerant.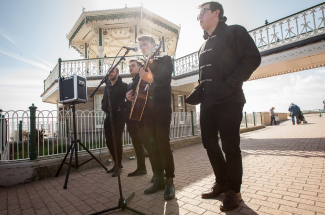 © The Great Escape
2015 highlights: Skepta, Mumdance & Novelist, Alabama Shakes, Kate Tempest, Ibeyi…
Kicking off our critics' definitive list of the world's best music festivals is this seaside gem on England's south coast… As much a recruitment drive for the music industry as raucous entertainment for the masses, The Great Escape is Brighton's last remaining concession to its glorious mods-and-rockers past. For one weekend each May the seaside streets are cleared of zombified stag and hen parties and instead filled with baffled music mavens, clutching programmes trying to find their next venue among the 50 or so that host the festival; from obscure pubs to seafront superclubs, all of Brighton's hospitality industry bravely steps up each year. The citywide traipsing involved, along with the fact that The Great Escape's organisers are nobly dedicated to showcasing new and unknown acts, make it more of a treasure hunt than a music festival in the strictest sense – but invariably it's all the more fun for it.
SEE MORE ON THE GREAT ESCAPE WITH TIME OUT LONDON
 
49. Weather Festival
Paris, France May 27-31, June 4-7 2015
Festival heaven for: Boar-hunting ravers.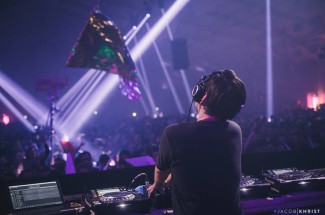 © Jacob Khrist
2015 highlights: Apollonia, Ben Klock, Cassy, Derrick May, Four Tet & Floating Points…
Forget the cold steel trappings of a Berlin Warehouse; these days, serious techno heads do their raving in a hunting forest in Paris. Confused? Let us explain: in 2015, the forested acres of Bois de Vicennes plays host to Weather Festival, a huge three-day rave (35,000+ people) comprised of 70 dance acts – equal parts major label stars and underground collectives – and five stages. On offer is everything from minimal techno to nu-disco. The only downside is the long bar queues. Our advice: dance yourself into an altered state instead.
SEE MORE ON WEATHER FESTIVAL WITH TIME OUT PARIS
 
48. Green Man
Brecon Beacons, UK August 20-23 2015
Festival heaven for: Lefties and broadsheet culture vultures.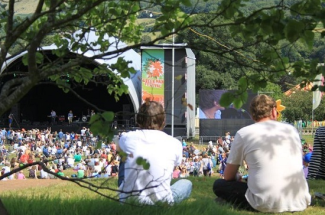 2015 highlights: Super Furry Animals, St Vincent, Hot Chip, Slowdive, Television…
The Brecon Beacons, specifically the bucolic parkland of the Black Mountains, is the setting for Green Man, one of the UK's finest festivals. The location is perfect for such an eco-friendly and inclusive event, where every year there's so much going on it's hard to know where to start: film, comedy, family friendly areas such as Einstein's Garden, great food and drink. Among this year's big music acts are nerdy electropop kings Hot Chip and experimental US songstress St Vincent but the jewel in the crown is a Saturday night headline slot from brill Welsh indie rockers Super Furry Animals. Corking.
SEE MORE ON GREEN MAN WITH TIME OUT LONDON
 
47. Electric Daisy Carnival
Las Vegas, USA June 19-21 2015
Festival heaven for: High rollers, the glow stick industry, molly dealers, people who bought The Hangover DVD collection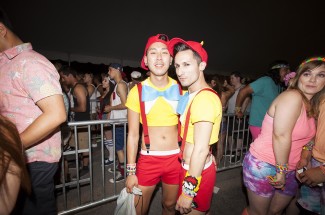 © Jakob N. Layman
2015 highlights: Afrojack, Avicii, Calvin Harris, Diplo, Tiësto…
Las Vegas is like no place on earth, the lovechild of Dubai and a Disneyland titty bar. On day one, your jaw drops at the surreal, 1.21-gigawatt splendor of it all. Day two, your body is reeling from endless buffets, free booze and jackpot chimes. Day three, you want to set humanity on fire. On the outskirts of town at the Motor Speedway, Electric Daisy Carnival is pure, condensed Vegas. There is a VIP ferris wheel. Helicopters shuttle in high rollers. The audience is soaked in MDMA and spray tan. Every millionaire DJ that plays the laser-riddled nightclubs on the strip is here. EDC broke EDM in America, and turned the idea of Ibiza into a Michael Bay movie. Once you let the neon and bass wash over you, it is the time of your life. But you might need a mind wipe and cold shower afterward.
 
46. Mutek
Montréal, Canada May 27-31 2015
Festival heaven for: Anyone who can remember and pronounce Aphex Twin song titles, art collectors, East Berliners.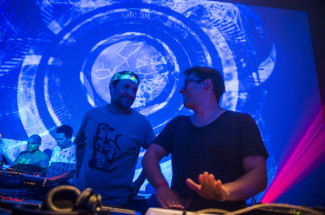 2015 highlights: Andy Stott, Adrien Sherwood, Tyondai Braxton, James Holden, Steffi…
Held in a museum of modern art, the Musée d'art contemporain de Montréal, Mutek is perhaps too intellectual to be called a festival. Please refrain from pumping your fist to the stoic German tech-head squeezing alien tintinnabulation from his laptop. Several supreme purveyors of microhouse, ambient, drone and other bleeding-edge electronica head over from Europe to make their North American debuts. Fret not, Canada is too friendly and full of poutine to stroke its chin so seriously. Afterward, you're apt to share a bottle of wine with a new friend at some head-to-tail joint.
 
45. Tomorrowland
Boom, Belgium July 24-26 2015
Festival heaven for: Glitter-strewn, EDM-loving social butterflies.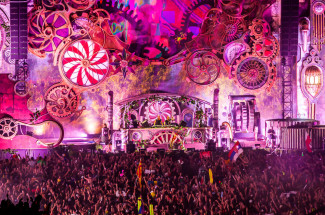 2015 highlights: Alesso, Avicii, David Guetta, Carl Cox, Dubfire…
When it comes to throwing huge outrageous EDM bashes, only Ultra can compete with Tomorrowland. The Belgian festival, based in the appropriately named town of Boom, has attracted the biggest DJs and electronic music makers in the world for more than ten years now – topping the bill in 2015: Alesso, Avicii, David Guetta and Carl Cox – and the party just keeps getting bigger and better. Fest-goers can expect 15 stages of music, volcanoes, giant disco balls, even bigger butterflies and industrial-sized quantities of confetti. Magic.
 
44. Indietracks
Derbyshire, UK July 24-26 2015
Festival heaven for: Indie poppers, milquetoasts and duffel coat salesmen.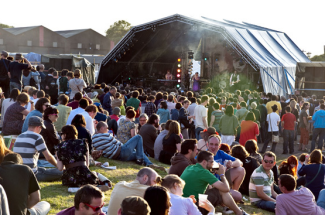 © Bob Stuart
2015 highlights: The Pains of Being Pure at Heart, Cinerama, The Go! Team, Alexander Christopher Hale, Baker Island…
Indie trainspotters and regular trainspotters come together to swap Marine Girls 7" and jot down engine numbers at the annual Indietracks festival in the Derbyshire countryside, which combines the twin delights of heritage railway and live music – including in a church and on a steam train. This year the duffel coat massive will be swooning to young romantics The Pains of Being Pure at Heart and a barrel-load of bedroom indie from the likes of Baker Island, Chorusgirl, Colour Me Wednesday, plus dancing up a storm to colourful genre-benders The Go! Team and DJs from ace London club night How Does it Feel to be Loved? Delightful.
SEE MORE UK FESTIVALS
 
43. Itadaki
Shizuoka, Japan June 6-7 2015
Festival heaven for: Japanese musos and curious westerners.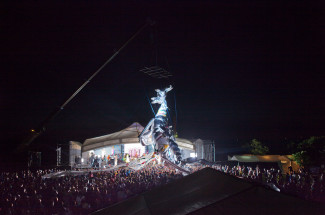 2015 highlights: Rhymester, Kemuri, Shibusashirazu Orchestra, Ogre You Asshole, Begin…
Located on the picturesque Suruga Bay coast, this eclectic summer festival is powered by bio-diesel fuel (as opposed to beer and Rock like other festivals), making for an eco-friendly vibe. Itadaki's largely homegrown line-up will smash your preconceptions of Japanese music – it's not all cheesy j-poppers and Western copycats, you know – and includes Rhymester, Kemuri, excellent free-jazzers Shibusashirazu Orchestra and the confusingly named Ogre You Asshole. Our tip: remember to bring a lighter to hold aloft during 'candle time', the late-night music sessions.
SEE MORE ON ITADAKI WITH TIME OUT TOKYO
 
42. Montreux Jazz Festival
Montreux, Switzerland July 3-18 2015
Festival heaven for: Heritage jazz fans, international businessmen.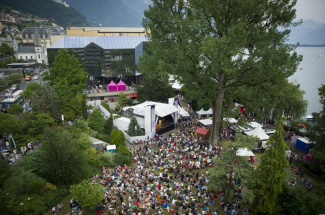 © 2014 FFJM – Arnaud Derib
2015 highlights:The Chemical Brothers, Lenny Kravitz, Lionel Richie, Sinead O'Connor, John Legend…
A jazz festival, yes, but also much more besides – the organisers of Montreux like to cherry pick acts from across the musical map. Every year visitors can catch big names from rock, hip-hop and pop – even if the average punter may baulk at some of the prices – and a plethora of free concerts (everything from nightclub sessions to parties in a cave). In 2015, heavy hitters like Lady Gaga and Tony Bennett, Lionel Richie and beat-heavy dance legends The Chemical Brother rub up against newer acts like blub-stepper James Blake and Foals.
SEE MORE ON MONTREUX WITH TIME OUT SWITZERLAND
 
41. Lake of Stars
Mangochi, Malawi September 25-27 2015
Festival heaven for: Sun worshipping Afro-pop enthusiasts.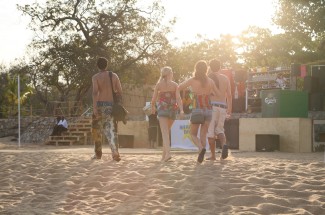 © Mark Jones
2015 highlights:Young Fathers, Danny Kalima, Ric Hassani, George Kalukusha, Gwamba…
The blue lake and golden sands of Lake Malawi is the location for this magical African festival. When you're not basking in the majesty of nature – sunrise over the lake is truly awe-inspiring – or enjoying the cheap beer, there's plenty of music – a pleasing mix of international acts, homegrown talent and party-staring DJs – to see and hear. On the bill at Lake of Stars this year are Mercury Prize winners Young Fathers, Danny Kalima, Gwamba and more.
SEE MORE ON LAKE OF STARS WITH TIME OUT LONDON
 
40. Villette Sonique
Paris, France May 21-27 2015
Festival heaven for: Guitar-loving hip kids and leather-clad industrial techno fans.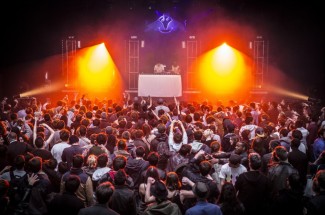 © Teddy Morellec
2015 highlights: Clark, Battles, Cabaret Voltaire, Carter Tutti Void, The Gories…
This ever-expanding festival in the glorious post-modern surroundings of Parc de La Villette offers seven days – some more packed than others – of eclectic music. Two of those days include free outside gigs which means things tend to get crowded: our advice is to grab a place on the bridge for a better view of the action. Villette Sonique is known for its exciting collision of rock and electro acts, and this year is no exception: there's everything from glorious garage rock clatter (The Gories, Thee Oh Sees) to introspective folk (Grouper, Sun Kil Moon) to hard-edged, industrial-tinged electronica from Cabaret Voltaire and Carter-Tutti-Void.
SEE MORE ON VILLETTE SONIQUE WITH TIME OUT PARIS
 
39. Meadows in the Mountains
Rhodopes Mountains, Bulgaria June 12-15 2015
Festival heaven for: Yogis.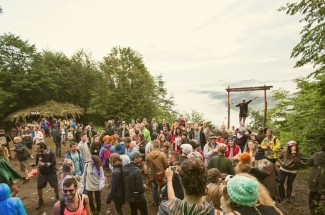 © Jack Pasco
2015 highlights: Al Dobson Jr, Binh, Jane Fitz, Kele Le Roc (Litl), Mo Kolours…
This boutique festival in the jaw-dropping surroundings of Bulgaria's Rhodope mountain range is a chance to commune with nature to a blissful soundtrack of afterhours house, disco and techno. Meadows in the Mountains also has an honourable commitment to eco-friendly partying: the organisers are committed to sourcing timber shacks, art installations and stages from the local forest. Appearing on those stages are all kinds of live bands: funk, dub, alternative and jazz ones and, of course, the obligatory earnest men with acoustic guitars. Our tip: stick around for the post-festival pool party, tickets for which are sold separately.
SEE MORE ON MEADOWS IN THE MOUNTAINS WITH TIME OUT LONDON
 
38. Way Out West
Gothenburg, Sweden August 13-15 2015
Festival heaven for: The eco-conscious, Scandinavian pop fiends, shoegazers.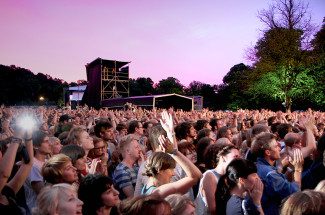 © Flickr.com / Niklas Hellerstedt, Göteborg & Co
2015 highlights: Pet Shop Boys, Beck, Ellie Goulding, Tyler the Creator, Todd Terje, Chic…
Gothenburg is a fantasyland of water and stone, where streetcars and canals cut past centuries-old buildings decked in art-deco signs. Where the verdant Kungsparken leads you into the old wooden fisherman's district of Haga, now a hub of coffee houses and boutiques. You can buy a perfectly designed chair before grabbing fried herring from a food truck. The city has given birth to incredible acts like Little Dragon, Jens Lekman, the Knife and José González, so it's no wonder the university town also hosts an ideal music festival in its woody Slottsskogen park. Some cool veteran tends to headline Way Out West – the Blurs, Becks and Björks of the world – and the event prides itself on its environmentally friendliness, right down to only serving vegetarian fare. So you might want to hit that herring truck beforehand.
 
37. Fusion Festival
Larz, Germany June 25-28 2015
Festival heaven for: Nude anarchists, costumed radicals.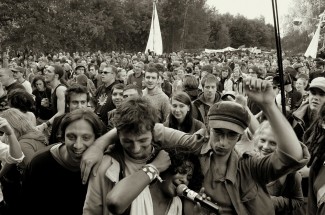 © Flickr.com / Libertinus
2015 highlights: TBA…
Communal, countercultural and often described as the European Burning Man, anything goes at Fusion – including (gulp) naturism. Located, oddly enough, on a disused military airfield, the four-day programme is packed full of music and performance art, with art installations and sculptures also dotting the site. Tunes-wise it's normally dance and electronic music (the 2015 line-up has yet to be announced). The emphasis isn't just on performers to make art: attendees are encouraged to dress up, bring instruments and generally express themselves however they see fit. Note: the food sold on site is strictly vegetarian only.
 
36. The Labyrinth
Niigata Prefecture, Japan September 19-21 2015
Festival heaven for: Japanese techno-lovers.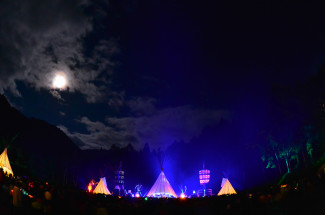 2015 highlights: TBA…
No, not a tribute fest to the slightly dodgy David Bowie fantasy film from the 80s, although we'd go to that in a heartbeat, instead The Labyrinth is an intimate electronic music festival in the lush, green mountains of Niigata, Japan. Once a full-on trance-heavy rave, these days the atmosphere is a touch more sedate but it's still a great place to party. Giant tepee DJ booths dominate the festival area, with acts blasting out techno and experimental sounds from a state of the art Funktion One sound system. Only five percent of tickets are available to foreign visitors – so get in quick.
SEE MORE ON THE LABYRINTH WITH TIME OUT TOKYO
 
35. Outside Lands
San Francisco, USA August 7-9 2015
Festival heaven for: Those who want to fall in love with America, foodies, Uber addicts.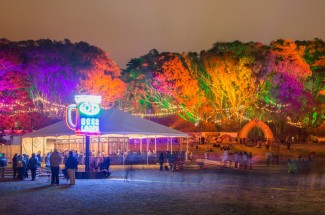 © Tom Tomkinson
2015 highlights: Elton John, Mumford & Sons, The Black Keys, Sam Smith, Kendrick Lamar, D'Angelo…
In a city known for its astronomical real estate, its no wonder that Outside Lands is all about location, location, location. The fest holds the best plot of land for a festival in the States, the gorgeous and capacious Golden Gate Park on the picturesque thumb of San Francisco. There is a paddock of honest-to-god bison just up the path from these polo grounds. Like, real buffalo. Just past that is the ocean. Head east, and you hit Amoeba Records in Haight-Ashbury, arguably the best record shop in the country. Frankly, you wonder why people bother heading to the desert or rural farmland for bigger festivals. The bill balances mainstream and underground flavors as brilliantly as the 22-ingredient Rainbow Salad at Burma Superstar. Trust us, you want to wander there for dinner.
SEE MORE ON OUTSIDE LANDS WITH TIME OUT SAN FRANCISCO
 
34. Taico Club
Nagano Prefecture, Japan May 30-31 2015
Festival heaven for: Dance heads and chin-stroking electronica nerds.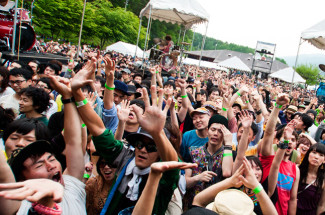 2015 highlights: Autechre, Robert Glasper Experiment, Sons of Magdalene, Cero, Marcel Dettmann…
The Japanese are fond of a mountainside festival (see Fuji Rock) and Taico Club is the one to book if you're a fan cutting edge dance and electronica. Set in the Kodam no Mori campsite in Nagano Prefecture, Taico Club is easily reachable from Tokyo (although it's probably best to go by car than public transport) and offers up a mouth-watering mix of international artists and homegrown talent. In 2015, top billing goes to electronica legends Autechre, but also look out for jazz pianist and producer Robert Glasper, Sons of Magdalene (aka former Telefon Tel Aviv man Josh Eustis) and Japanese techno legend Takkyu Ishino.
SEE MORE ON TAICO CLUB WITH TIME OUT TOKYO
 
33. Bahidorá
Cuautla, Mexico Feb 21-22 2015
Festival heaven for: Pitchfork-reading watersporters.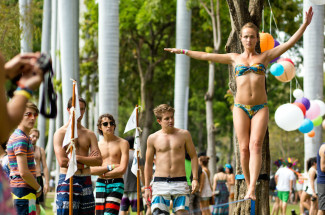 © Alejandra Carbajal
2015 highlights: De La Soul, Coco Rosie, Kindness, Modeselektor, Mac Demarco…
Festival, carnival and hipster-honeytrap, Bahidora is a 24 hour party, people. The setting is gorgeous: acts perform next to a sparkling blue river flanked by palm trees. The revellers colourful: many are resplendent in jazzy beachwear and feather headdresses, with a fondness for spontaneous processions. As for the music, it's a mix of carefully selected indie, electronica and hip hop: Coco Rosie, Modeselektor and De La Soul all appeared this year. We'd also wager Bahidora is the only festival in the world where you can learn circus skills AND kayaking. Just remember not to practice them at the same time.
 
32. Outlook
Pula, Croatia September 2-6 2015
Festival heaven for: Beat snobs of every stripe.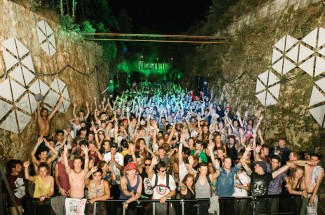 © Marc Sethi
2015 highlights: Jurassic 5, Kate Tempest, Loefah, Roni Size Reprazent, Wiley…
The many and varied mutant strains of underground dance music – we're talking house, techno, dubstep, reggae, hip hop and grime – come together at Outlook, the largest Soundsystem Culture festival in Europe. The setting is stunning: a 2000-year old Roman Amphitheatre and an abandoned 19th century fortress, in the city of Pula, next to the sparkling blue Adriatic. And, in 2015, so is the line-up: Jurassic 5, Beenie Man, Run the Jewels, Dusky, Kururpt FM, Bad Company UK, Kate Tempest, Loefah… the list goes on and on. For bass music aficionados, this is an unmissable feast.
 
31. Fuji Rock
Niigata Prefecture, Japan July 24-26 2015
Festival heaven for: Headbanging mountain climbers.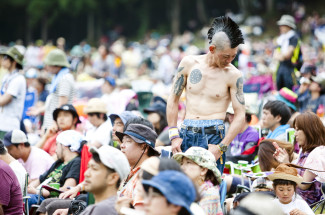 © James Hadfield
2015 highlights: Foo Fighters, Muse, deadmaus 5, Noel Gallagher's High Flying Birds, Motorhead…
Not many festivals require a trip up a mountain by cable car to see a band. But then Fuji Rock is something special. The 20 minutes of highwire travel is takes to reach the Daydreaming stage is a good illustration of the festival's vast size –the largest in Japan – and its beautiful verdant setting in the Naeba resort. Thankfully the outdoor Green stage is somewhat more accessible. This year it plays host to headline sets from rock behemoths Foo Fighters and Muse, together with performance from deadmaus 5, FKA Twigs, forgotten rock genius Todd Rundgren and Belle and Sebastian.
SEE MORE ON FUJI ROCK WITH TIME OUT TOKYO
 
30. Vive Latino
Mexico City, Mexico March 13-15 2015
Festival heaven for: Rock-happy señors and señoritas.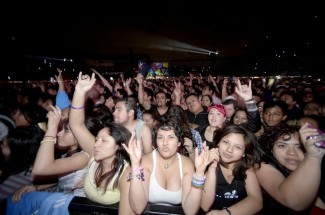 © Alfredo Estrella/AFP/Getty Images
2015 highlights: 2 Minutos, A Band of Bitches, Dave Matthews Band, Interpol, Brandon Flowers…
Every year, Latin and Spanish bands from around the world descend on Mexico City to perform at Vive Latino, arguably the most important Spanish-language rock music festival in the world. Naturally the predominant vibe is all things Latino, but bands of all nationalities and genres are also welcome. 2015 was a particularly eclectic brew with metal monsters Mastodon, South African hip hop bizzaros Die Antwoord and baggy legends Happy Mondays joining the Spanish-speaking cohort.
 
29. Field Day
London, UK June 6-7 2015
Festival heaven for: Bearded hip kids.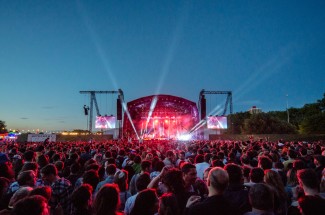 2015 highlights: Ride, Caribou, Patti Smith, FKA Twigs, Django Django…
For Londoners, Field Day is a godsend: at last, a festival that doesn't require a long trek outside the capital with a ropey old tent and a cumbersome 12 pack of Stella. Instead over two days in Victoria Park, you can drink delicious craft beer, party to dawn and still get the night bus home. Convenience is one thing but of course the main draw is the music: always a smart, eclectic mix of noisy indie, electronica and cutting edge artists. In 2015, look out for reformed shoegaze legends Ride, Patti Smith and alt-rap wonders Run the The Jewels. If you're hungry for something other than music, Field Day also showcases some of London's best street food. Unmissable stuff.
SEE MORE ON FIELD DAY WITH TIME OUT LONDON
 
28. Roskilde
Roskilde, Denmark June 27-July 4 2015
Festival heaven for: iPod-shuffling idealists.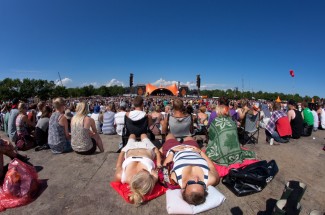 © Per Lange
2015 highlights: Paul McCartney, Disclosure, Florence + The Machine, Kendrick Lamar, Mew…
Despite its 'big festival' trappings and yearly array of top name acts – Paul McCartney, Disclosure, Florence and the Machine, Pharrell Williams, in 2015 – there is a strangely utopian feel to Roskilde: profits go to support music, culture and humanitarian organisations; leftover food is donated to homeless shelters; they even provide free drinking water which means no more forking out for £3.50 bottles of tepid water after dancing for too long in the sun. And you will be dancing (or at the very least vigorously nodding your head): to a fabulous line-up that includes everything from St Vincent to Run The Jewels to Nicki Minaj.
SEE MORE ON ROSKILDE WITH TIME OUT LONDON
 
27. Isle of Wight Festival
Isle of Wight, UK June 11-14 2015
Festival heaven for: Radio 2 listeners.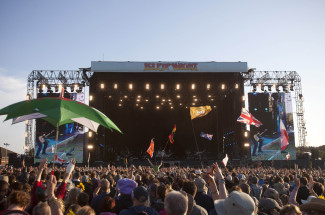 2015 highlights: The Black Keys, Blur, Fleetwood Mac, The Prodigy, Pharrell Williams…
Okay, so it can't compete with the countercultural festival of the same name that brought Bob Dylan, Jimi Hendrix, Miles Davis and 600,000 people to the Isle of Wight in the late 60s, early 70s. But what can? 600,000 is more people than attended Woodstock! What the IOW Festival can provide in 2015 is four days of family-friendly fun with some big name acts (Blur, The Black Keys) and some golden oldies further down the bill (Billy Idol, Kool & the Gang, punk greats Stiff Little Fingers). Ace in the pack is the reformed Fleetwood Mac, who bring their gorgeous, pop-smart stadium rock to the Sunday headliner slot.
SEE MORE ON ISLE OF WIGHT FESTIVAL WITH TIME OUT LONDON
 
26. New Orleans Jazz and Heritage Festival
New Orleans, USA April 22-May 1 2015
Festival heaven for: Dads.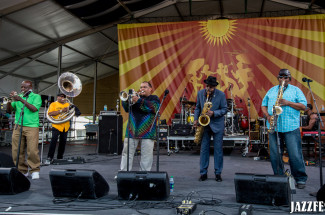 © Jazzfest
2015 highlights: : Wilco, The Who, Ryan Adams, Elton John, Ed Sheeran…
As you might have sussed from that list of headliners, Jazz Fest has strayed from its mission statement over the last 45 years. Don't worry, Ed Sheeran is not having a Spinal Tap moment in the New Orleans Fair Grounds with an improvised "Jazz Odyssey." Not yet. He's playing those big puppy dog Ed Sheeran hits for Ed Sheeran fans. Yes, the two main stages lure marquee names, but that leaves eight other stages to focus on homegrown genres like zydeco, blues, brass bands, gospel and, yes, jazz. It's the most catholic lineup of musicians you'll likely find on the planet. Heck, there are even two stages of chefs. Cooking is a religion in N'awlins, and stuffing yourself with hot beignets, muffulettas and crawfish is part of the draw here. Pack elastic waistbands.
 
25. South by Southwest
Austin, USA March 13-22 2015
Festival heaven for: The PR department, the marketing department, bloggers, freeloaders.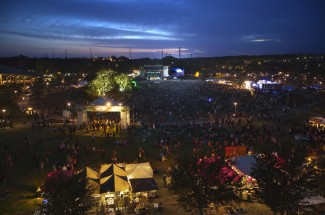 © Tye Truitt
2015 highlights: Chance the Rapper, the Weeknd, Azealia Banks, Snoop Dogg, Tobias Jesso Jr.…
As much an industry convention as infinite concert, SXSW has metastasized from a showcase of rising talent along party-hearty Sixth Street to a citywide invasion of corporate pop culture. Where else can you see the premiere of a new Fast and Furious film days after Lady Gaga makes a surprise appearance in a three-story Doritos bag? Flush with sponsors and major label A&R, this Austin extravaganza can overwhelm. Every band is here, playing in some hangar bedecked in Levi's logos. Gone are the days of catching a some new little band called the Strokes in the front of a Mexican restaurant. Still, an abundance of free day parties means that music junkies can see scores of rising bands for nothing. The entire music biz is here, so there's gold spread across gigs in every bar, record shop and taco joint in town. You are guaranteed to see something new and amazing. Just avoid the neon glow of the cola ads.
 
24. Baleapop
Saint-Jean-de-Luz, France August 5-9 2015
Festival heaven for: Foodies and beach bums.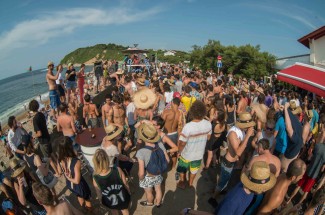 © Alain Cazenave
2015 highlights: TBA…
Located in a handsome seaside village in French Basque country, Baleapop is more like a secret gathering than an international festival. Numbers are limited and some of the concerts are performed in the decidedly un-rock n' roll surroundings of an old primary school. But despite its low-key set-up, the festival still manages to attract a great calibre of DJs and producers from the world of electronic music. Why? Well, the beachside setting and tasty regional food doesn't hurt. Add in the easy-going atmosphere and, well, you've got yourself a gem of a festival.
 
23. Secret Garden Party
Abbots Ripton, UK July 23-26 2015
Festival heaven for: Drunk Titanias, battered Bottoms.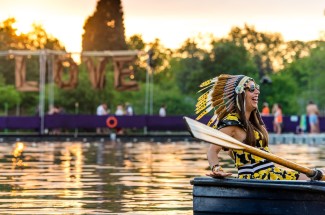 © Marc Sethi
2015 highlights: Jungle, The Cat Empire, Caravan Palace, Public Service Broadcasting, Angus & Julia Stone…
One of an exciting wave of boutique festivals wowing festival goers worldwide, Secret Garden Party is way, way more magical than standing next to a burger van in a wet field. The festival's organisers go all out to host a hedonistic wonderland (the festival's reputation for debauchery is legendary) where colourful ravers frolic from one exciting woodland spectacle to the next. There are great bands – this year: Jungle, Public Service Broadcasting, Palma Violets and Roots Manuva – and DJs spinning records in treehouses, alongside a whole host of workshops and installations. This year, the theme is 'childish things': so shrug off those dreary adult preoccupations and embrace your playful side – while getting drunk up a tree.
SEE MORE ON SECRET GARDEN PARTY WITH TIME OUT LONDON
 
22. St Jerome's Laneway Festival
Across Australia January and February 2015
Festival heaven for: Aussie indie snobs.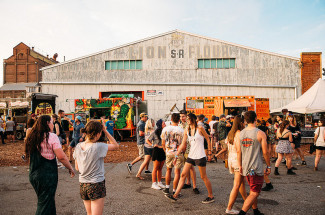 2015 highlights: Ariel Pink, Belle and Sebastian, FKA Twigs, Flying Lotus, Future Islands…
Mighty oaks from little acorns grow… once nothing more than a few bands performing at a hole in the wall pub in Melbourne, Laneway is now one of Australia's biggest and best festivals with bases in many of the country's big cities – and even across the seas in New Zealand, Singapore and the US. The line up is always impeccably cool: a mix of critically acclaimed indie types (of the sort that draws comparison with Pitchfork festival in Chicago or the best All Tomorrow's Parties of yore). Stand outs in 2015 include Ariel Pink, Belle and Sebastian, FKA Twigs and Flying Lotus.
SEE MORE ON ST JEROME'S LANEWAY WITH TIME OUT MELBOURNE
 
21. Wilderness
Oxfordshire, UK August 6-9 2015
Festival heaven for: City-dwelling Green Party types and introspective Guardian readers.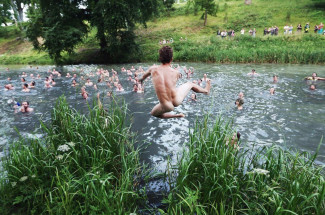 2015 highlights: Ben Howard, Björk, George Clinton and Funkadelic/Parliament, Hercules And Love Affair, Benjamin Clementine…
Wilderness is as much a celebration of the inner life (there are talks and debates, a spa and yoga classes) and good old fashioned back-to-nature activities (horse-riding, wild swimming and foraging) as it is a music festival. Therefore the crowds it attracts isn't your average festival goers on the lookout for cheap thrills. There's more of a family friendly and, dare we say it, middle class vibe to proceedings. So, what about the music? This year, the beautiful lakeside Oxfordshire setting Wilderness calls home will host an excellent line-up including Bjork, Ben Howard and funkmaster George Clinton, performing with his legendary bands Parliament and Funkadelic.
SEE MORE ON WILDERNESS WITH TIME OUT LONDON
 
20. Reading Festival
Reading, UK August 28-30 2015
Festival heaven for: Kevin the Teenagers.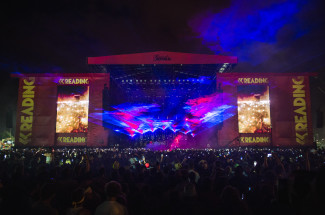 © Marc Sethi
2015 highlights: The Libertines, Metallica, Mumford & Sons, Bring Me The Horizon, Years & Years…
There's wall to wall rock from some of the biggest bands at this good old fashioned festival – one of the UK's most established – which takes place in Reading and Leeds over the August bank holiday weekend. When we say old fashioned, we mean minus some of the luxuries associated with boutique fests, like edible food and pretentious 'art happenings'. So don't expect to be pampered; but do expect plenty of great music and an intoxicating atmosphere (it smells like teen spirit thanks to all the post-GSCE partying). In 2015, the big news is the return of The Libertines and headline sets from Metallica and Mumford and Sons (though how the winsome folkies will fare amongst all the Rawk remains to be seen). For those camping, it can sometimes feel like a giant anthropological experiment in which thousands of off-the-leash teens concoct ever more elaborate ways to get drunk and cause mayhem. So if you're too old to bang oil drums by the fire maybe plump for a day ticket or a comfy hotel room instead.
SEE MORE ON READING WITH TIME OUT LONDON
 
19. Fun Fun Fun Fest
Austin, USA November 6-8 2015
Festival heaven for: Locals who get the hell out of town during SXSW, the EDM allergic, tattooed home brewers.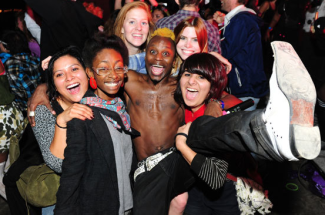 2015 highlights: TBA…
South By Southwest and Austin City Limits suck up all of the attention in the Texas capital – and Austinites would probably like us to carry on overlooking this off-season gem. Fun Fun Fun delivers copious amounts of Shiner Bock beer and decibels to a laid-back audience on the Auditorium Shores, just across the Colorado River from downtown. Punk, metal and a dash of comedy instills a more leather-and-denim atmosphere, where go-hard rappers like Run the Jewels rub shoulders with Judas Priest. The autumn weather in Austin is warm and sweet, and as you watch watch swarms of bats flutter under the bridge while King Diamond plays, rock & roll nirvana is reached.
 
18. Lollapalooza
Chicago, USA July 31-August 2 2015
Festival heaven for: People born in the 90s, people who deeply miss the 90s.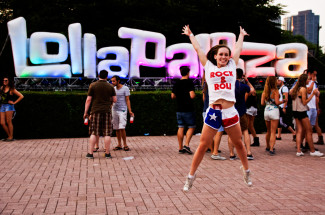 © Michael J. Chen
2015 highlights: Paul McCartney, Metallica, Florence + The Machine, Sam Smith, Alt-J…
Begun by Jane's Addiction frontman and silver pants aficionado Perry Ferrell in 1991, the once roving Lollapalooza puts its roots down in Chicago's Grant Park a decade ago, where it has since remained, scenically flanked by Lake Michigan and the towering downtown skyline. The setting can be stunning, though agoraphobes beware: Lolla continues to skew younger and younger as the crowd has ballooned well into the six figures. There's hardly a place to lay a blanket on this 300-acre beast. No bother, though, as you'll want to keep moving to catch the hundreds of acts across eight stages, from the never-ending rave at Perry's Stage, an EDM festival-within-a-festival in its own right, to the mile-long stretch of local food stalls. There's even Kidzapalooza for budding hipsters. After ten hours in the park, the action disperses to Chicago clubs for dozens of afterparties. If your feet can make it. How it pays to be 18.
SEE MORE ON LOLLAPALOOZA WITH TIME OUT CHICAGO
 
17. Golden Plains
Victoria, Australia March 7-9 2015
Festival heaven for: Nostalgic hippies and eccentric indie kids.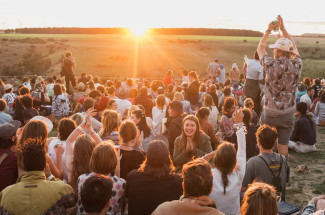 2015 highlights: Conor Oberst, Courtney Barnett, DJ Shadow & Cut Chemist, Felice Brothers, First Aid Kit…
Golden Plains is a beautiful festival throwback: a paean to a time before corporate sponsors came along and slapped their names on anything and everything. In keeping with the no-logo, collective ethos, visitors are encouraged to bring whatever they like to the campsite as long as it doesn't ruin the communal vibe (even armchairs and a couch, according to their website). Over its nine-year history the festival has developed some quirky traditions: most famous of all is The Boot, a salute from the crowd to the best performers at the festival in the form of shoe or boot being held aloft (it beats chucking them at the worst performers, I suppose). Aussie garage rock legends Radio Birdman, DJ Shadow, Parquet Courts, Sharon Van Etten all performed at Golden Plains this spring.
SEE MORE ON GOLDEN PLAINS WITH TIME OUT MELBOURNE
 
16. Ultra
Seoul, South Korea June 12-13 2015
Festival heaven for: EDM junkies.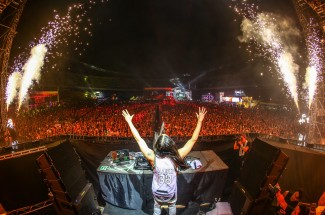 © Rudgr
2015 highlights: Skrillex, David Guetta, Hardwell, Alesso, 2ManyDjs…
Garish, glitter-happy and globe conquering – it pitches up in Argentina, Brazil, Chile, Croatia, the US and South Korea – Ultra is a dance festival juggernaut: a colourful nirvana for EDM junkies and beautiful people getting their bass face on. And according to big hitters like House legend Carl Cox the atmosphere at Ultra in Seoul – where 100,000 'Ultranauts make a yearly pilgrimage to the city's Olympic Stadium Complex – is the best of the lot. In 2015, Ultra has lined up some of the world's biggest DJs – Skrillex, David Guetta, Hardwell and Alesso – and plenty of K-Pop stars for the Seoul leg of the tour. Our tip: headliners go on early in Korea, around 8pm. So arrive early to get a good spot.
 
15. Splendour in the Grass
Byron Bay, Australia July 24-26 2015
Festival heaven for: Party-starting intellectuals.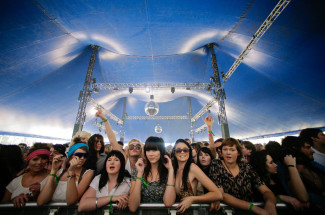 © Daniel Boud
2015 highlights: Blur, Florence + the Machine, Mark Ronson, Tame Impala, Ryan Adams…
After 14 years, Splendour in the Grass is becoming something of an Aussie institution with 30,000 punters regularly making the trip to North Byron Highlands for three days of fine music, art and camping. The site is sprawling: in some cases the stages are 20 minutes apart. Take plenty of water: you'll be walking a lot in the hot sun – so plan your day out carefully. (And if you overhear the locals moaning about how their 'thongs' are rubbing – remember they mean their flip flops). The 2015 line-up contains many a splendid thing: reunited Britpoppers Blur, Florence + the Machine and Mark Ronson headline, with able support from Tame Impala, Royal Blood, Wombats and more. You can also exercise your brain at the Splendour forum: home to talks, comedy shows and much philosophical pondering.
SEE MORE ON SPLENDOUR IN THE GRASS WITH TIME OUT SYDNEY
 
14. The Garden Festival
Tisno, Croatia July 1-8 2015
Festival heaven for: The beautiful people.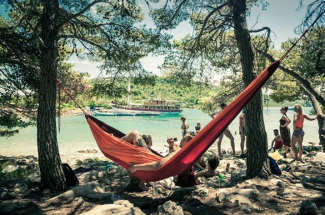 © www.timertl.com
2015 highlights: Ben UFO, Bonobo, Craig Richards, Crazy P, Joy Orbison…
The first Garden Festival, in 2006, woke people up to the potential of Croatia, and specifically the Dalmatian region, as a breathtaking place to party. And, damn, what a party The Garden Festival throws. This year, carousers at The Garden Tisno can look forward to eight nights of DJs and live music – from the likes of Optimo, Nightmares on Wax, Ben UFO and Joy Orbision – across 4 stages, plus 20 boat parties on the shimmering, crystal clear waters of the Adriatic. The bad news is: after 9 years, this is the Garden Festival's last hurrah. The good news is: it's going out with one hell of a bang.
SEE MORE ON THE GARDEN FESTIVAL WITH TIME OUT LONDON
 
13. Sziget
Budapest, Hungary August 10-17 2015
Festival heaven for: Culture vultures and music magpies.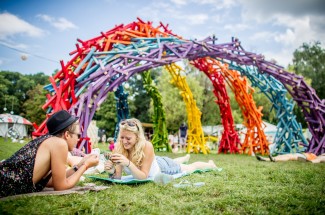 © Sziget.hu / Sándor Csudai
2015 highlights: Robbie Williams, Florence + the Machine, Alt J, Interpol, Tyler the Creator…
A giant of the European festival circuit, Sziget regularly attracts more than 350,000+ revellers to its charming island location in the heart of Budapest. The sheer scale of the festival – fifty venues and 200 daily performances over seven days – is dizzying. Musically, there's everything from big names – this year: Florence and the Machine, Kasabian, Paloma Faith – to smaller acts performing metal, jazz, folk, authentic Roma… (Name a genre, and someone's bound to be playing it somewhere). Culturally, there's theatre, circus and exhibitions. And of course Budapest itself to explore. The only thing missing from the agenda is boredom.
SEE MORE ON SZIGET WITH TIME OUT LONDON
 
12. FYF Fest
Los Angeles, USA August 22-23 2015
Festival heaven for: Pitchfork readers, vinyl buyers, city explorers, celebrity shunners.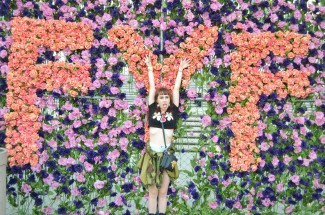 © Kate Wertheimer
2015 highlights: Frank Ocean, Morrissey, D'Angelo, The Jesus & Mary Chain​, Belle & Sebastian…
Because he was bored by big concerts and a teenager, Sean Carlson started his own damn festival in 2004 and dubbed it Fuck Yeah Fest. In the decade since, FYF has blossomed from hip clubs in Echo Park to being a major park-filler. Naturally, it's since been absorbed by Goldenvoice, the folks behind Coachella, but the modest two-day event retains its local vibe and fanboy energy. The location has hopped around downtown parks over the last few years, but never out of sight of those often overlooked Los Angeles skyscrapers. The headliners are as a rule deeply cool, with names like Yeah Yeah Yeahs, Phoenix and My Bloody Valentine. The rest of the bill eschews filler, putting the buzziest names in SoCal punk, underground dance, garage, metal and minimalist electronic in the mix. Don't sleep at this well-balanced underdog. Literally: Get out there and stay in the real LA, not some temporary campground.
SEE MORE ON FYF FEST WITH TIME OUT LOS ANGELES
 
11. Bestival
Isle of Wight, UK September 10-13 2015
Festival heaven for: Big kids and little kids.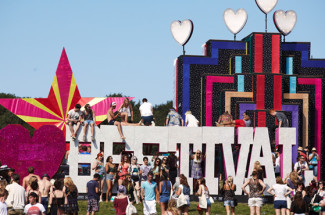 2015 highlights: : The Chemical Brothers, Duran Duran, Tame Impala, Underworld, Little Dragon…
Bestival is four days of fun, sun and music on the Isle of Wight with a stellar reputation for cracking, eclectic musical line-ups. And 2015 is no exception: Big beats from the Chemicals, sleazy rock from Fat White Family, slick House from Todd Terje. As you'd expect from a festival that's drawn comparison to Glasto, there's also plenty of oddball, anarchic stuff happening away from the main stage – everything from a fire-spewing steel spider to an inflatable church. And don't forget to drag the tie-dye out the loft for Saturday's Summer of Love themed dress up day. Dorset-based, award-winning sister festival Camp Bestival (July 30-August 2) ain't too shabby either. Heavy on kid-friendly activities (face painting, bouncy castles, go carts, Dick and Dom – seriously, it has everything), it's the perfect place to introduce your little ones to the festival merry-go-round.
SEE MORE ON BESTIVAL WITH TIME OUT LONDON
---
The top 10…
---
10. Benicàssim
Benicàssim, Spain July 16-19 2015
Festival heaven for: Insomniacs, beach enthusiasts, people who look attractive (or at least passable) naked, suntan lotion salesmen.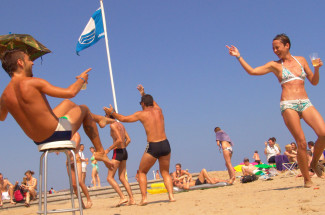 2015 highlights: Blur, Portishead, Godspeed You! Black Emperor, Mark Ronson, Florence + the Machine…
There are a few reasons the Festival Internacional de Benicàssim – just Benicàssim to its mates – is one of Europe's most enduringly popular weekends for artists and music fans alike. There's the pretty town of Benicàssim itself, a 20 minute stumble away from the main site. There's the irresistible Mediterranean beach next to the town, with the sapphire sea just waiting to absorb all hangovers and offer respite from the microwave heat of the day. There's the fact that the music doesn't really get going till the sun goes down, and then doesn't really stop until it comes up again. And – though perhaps not for everyone, this – there's the fact that the young, cosmopolitan crowd are so Iberianly cool that they think nothing of getting naked in the unisex showers and engaging in general chit-chat about this and that while washing their this and thats, not necessarily noticing or caring that they and everyone around them are naked. Oh yes, and there's some music that goes on – which just happens to be one of the most consistently strongest line-ups in all of indiefestivaldom.
 
9. Lovebox
London, UK July 17-18 2015
Festival heaven for: Dayglo party hounds.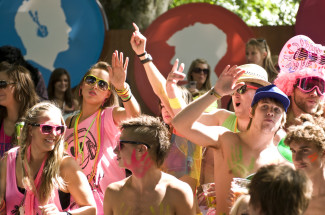 2015 highlights: Snoop Dogg, Rudimental, Hot Chip, Jessie Ware, Little Dragon…
Lovebox is a scream: a brightly colour smorgasbord of live bands and DJs, dance and performance art (including for the first time, a spoken word stage), and all kinds of other weird and wonderful fun (Who can resist a roller disco?). Rocking the big stage this year are the likes of Snoop Dogg, Rudimental and Hot Chip, which should make for a hell of a party. We also recommended checking out the smaller stages – curated by the likes of Radio 1Xtra and Clash and Fact magazines – where you can discover all manner of hidden musical gems. Our tip: Remember to pace yourself, for when the live music stops, the afterparties start.
SEE MORE ON LOVEBOX WITH TIME OUT LONDON
 
8. Pentaport Rock Festival
Incheon, South Korea August 7-9 2015
Festival heaven for: Rain-loving indie kids.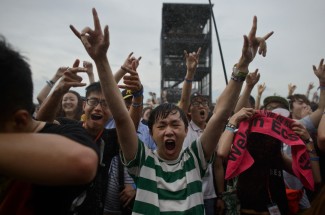 © Ed Jones/AFP/Getty Images
2015 highlights: The Prodigy, The Kooks, 10cm, Seotaji, Mew…
The 'penta' in Pentaport comes from the five main themes of the festival – music, passion, the environment, DIY and friendship (yes, friendship). And this Incheon-based event (the site is around 20 miles outside of Seoul), one of the top live music events in South Korea, delivers on them in abundance. This year dance-rock big guns The Prodigy and chirpy indie types The Kooks are on the bill alongside South Korean rockers 10cm, with more acts to be announced. One thing to be aware of if you make the trip: August is rainy season in South Korea so save the cut offs and sunglasses for Glasto (hopefully).
 
7. Burning Man
Nevada, USA August 30-September 7 2015
Festival heaven for: Deep Web surfers, steampunks, metal sculptors, crystal healers.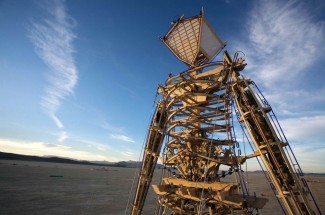 © www.burningman.com / John Curley
2015 highlights: Lasers, drones…
Undoubtedly, some guy sporting goggles and dreadlocks will tell you Burning Man is not what it used to be, man, before he speeds off in his solar buggy, and he's probably right. Once an off-the-grid bacchanal-slash-art-installation akin to a Mad Max film, the desert party has become a Dionysian ritual for Silicon Valley rich looking to shake off the stress of countless 18-hour work days filled with coding, backstabbing and energy drinks. Still, an inimitable post-modern, cyberpunk, druggy spirit hangs about this remote pop-up on the north Nevada playa. The performing DJs are last-minute surprises – techy producers like Deadmau5 and Tyco – but that's just part of the action in a place that has pyrotechnics and its own laser regulations.
 
6. Governors Ball
New York, USA June 5-7 2015
Festival heaven for: Brooklynites, urbanites, Urban Outfitters employees, tourists, the characters on Girls.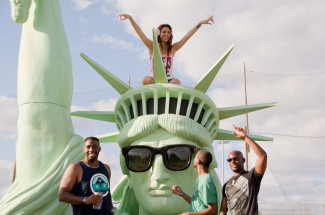 © Michael J. Chen
2015 highlights: Drake, Björk, The Black Keys, Lana Del Rey, Deadmau5…
Though it moved from its more scenic original location on Governors Island, in view of the Statue of Liberty and the downtown skyline, New York City's only major music festival is now more easily accessible on Randall's Island, wedged up the East River between the Bronx, Queens and Manhattan. A ferry is still the best way to get to Governors Ball, but train, bus and walking over the RFK Bridge will deliver you, too. Attendance wise, it's a fraction of the size of American fest like Coachella and Lolla, yet its bookings often trump the big boys. This year, no one else can boast both Björk and, er, Weird Al Yankovic; last year, ditto for the Strokes. While the vibe is never as loose and celebratory as fests with campgrounds, afterward, you can lose yourself in the bustle of the Big Apple. That's some perk.
SEE MORE ON GOVERNORS BALL WITH TIME OUT NEW YORK
 
5. Sónar
Barcelona, Spain June 18-20 2015
Festival heaven for: Ravers with PhDs, Wire magazine readers.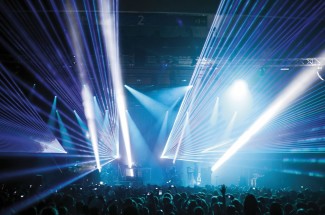 2015 highlights: The Chemical Brothers, Autechre, Hot Chip, Skrillex, FKA Twigs…
(Aka the International Festival of Advanced Music and New Media Art). Sónar's highbrow alternative moniker is a big hint that this is a bit more special than your average dance festival. Now in its 22nd year, this Barcelona-based three-dayer is a huge party and an egghead dissection of electronic music all wrapped in one. There aren't many festivals where you can attend lectures on digital culture in between going off to the Chemical Brothers (they play here for the first time since 1996), but at Sónar it's pretty much par for the course. The festival spreads its tentacles to all corners of the city, putting on art installations and kid-friendly events, but the main draw is always the music. In 2015, more than 150 artists perform, including electronica legends Autechre, FKA Twigs, soundtrack wunderkind Mika Vaino and noise pioneer Russel Haswell.
SEE MORE ON SONAR WITH TIME OUT BARCELONA
 
4. Latitude
Suffolk, UK July 16-19 2015
Festival heaven for: Thirtysomethings reliving their twentysomethings, people still in touch with their friends from university, little Terence and little Annabel.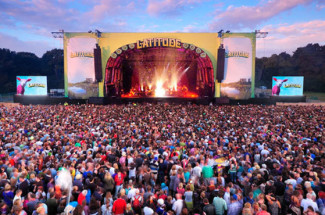 © Tony Whitworth
2015 highlights: Alt-J, Wild Beasts, Portishead, Jon Hopkins, The Boomtown Rats…
Begun in 2006 and championed relentlessly by the UK's Guardian newspaper, Latitude has quickly established itself as Glastonbury's more introverted, genteel little cousin. Set in a lakeside idyll near the sleepy holiday town of Southwold, its instant success has led to a glut of mini-me boutique festivals springing up across the UK in the past ten years. But while many have withered and died in a swamped market, Latitude's family-friendly boho vibe, trademark rainbow-dyed sheep and unchallenged rep as a middle-class paradise have ensured its survival. The enlightened-indie music policy – angled just leftfield enough to see the inauguration of a BBC 6 Music stage in 2013 – shares the limelight each year with an impressive bill of cabaret and comedy acts. Only downside: it's kind of remote transport-wise, almost impossible to get to by any means other than Suffolk cow.
SEE MORE ON LATITUDE WITH TIME OUT LONDON
 
3. Coachella
Indio, USA April 10-12 and 17-19 2015
Festival heaven for: Sun lovers, celebrities, fashion bloggers, those who use the Mayfair filter in Instagram.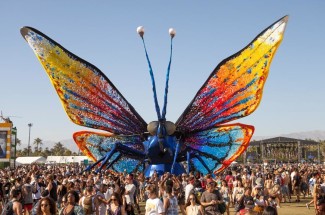 © Jakob N. Layman
2015 highlights: AC/DC, Jack White, Drake, Tame Impala, Steely Dan…
Deeper down the Coachella Valley, beyond the golf resorts and million dollar mid-century modern homes, lies Indio, California's new hub for spring hedonism and schmoozing. Held on polo grounds in the desert, Coachella is a camping destination, unlike most urban American festivals, though the sand-adverse seeking five-star shelter can shack up in nearby Palm Springs. Because it hits so early in the year, the two-weekend Coachella has a leg up on competition like Lollapalooza in terms of booking and buzz. It inherently seems like an industry leader, the first to announce big reunions and nab awaited comebacks, ranging from nostalgic critical bait (Ride) to dinosaurs (AC/DC, Steely Dan). Keep an eye out for daytime pool parties, and stock up on hats, water and sunblock. You're going to need to hydrate well before the sun sets spectacularly behind the San Jacinto mountains. After 48 straight hours of vodka and moshing, you can wander east and recalibrate in Joshua Tree National Park. Like Bono.
SEE MORE ON COACHELLA WITH TIME OUT LOS ANGELES
 
2. Glastonbury
Somerset, UK June 24-28 2015
Festival heaven for: Ageing hippies, middle managers who work in the public sector, old-school socialists.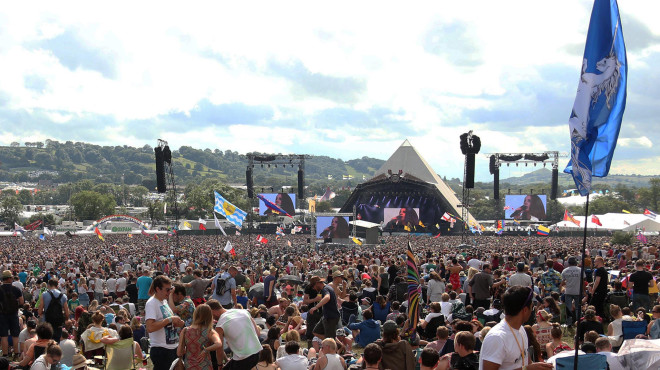 2015 highlights: Kanye West, Foo Fighters, Patti Smith, Pharrell Williams, Motörhead…
These days as much a national TV event as a place to head to with a ticket and a tent, the grandaddy of British music festivals is more and more the festival for grandaddies. It's not only the Moody Blues, Lionel Richie, George Clinton and Motörhead wrinkling up the bill in 2015: with Suede, Super Furry Animals and The Chemical Brothers in full retro effect, this year's Glastonbury looks very much like a 1995 festival line-up fossilised in amber. That said, further down the bill there's much vitality to be found – especially if you stumble into some of the more anarchic cabaret tents and stages dotting the woods and fields far from the Pyramid-stage hordes. And in terms of sheer scale, Glastonbury remains untouchable as a pilgrimage for hedonists of all stripes, where all the ley lines of British pop culture converge. Usually, by day four, into an immense, blasted muddy heap on the floor.
SEE MORE ON GLASTONBURY WITH TIME OUT LONDON
 
1. Primavera Sound
Barcelona, Spain May 28-30 2015
Festival heaven for: People who look sickeningly good in skinny black jeans, the wayward needing their faith restored in music.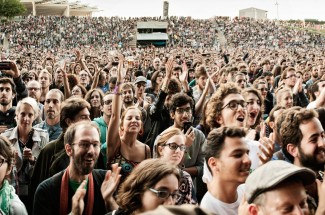 2015 highlights: The Strokes, Ride, Interpol, The Replacements, Panda Bear, Sleater-Kinney…
The Parc del Fòrum grounds have the feel of an industrial carpark and there is a lack of shade from the sun. So bring comfortable shoes and a hat. Boom. Solved. There, now that the minor gripes are out of the way, let's count the positives. The kick-off to the European festival season, Primavera gives you bragging rights on seeing reunions du jour and soaring talent. The masterful bills that read like a collection of year-end best-of lists. Everyone is incredibly kind. The Balearic Sea behind you. Spain. It's no wonder that when our global staff closes our eyes, this is our happy place, where we can get a jump start on our tans while soaking up the blissful grooves of Caribou or the hypnagogic loops of Panda Bear. Ahhh.
SEE MORE ON PRIMAVERA SOUND WITH TIME OUT BARCELONA
---
Compiled and produced by Chris Bourn and Flo Wales Bonner
---
FOR MORE WORLDWIDE MUSICAL MAYHEM, LIKE TIMEOUT.COM ON FACEBOOK   
---
You might also like