Whoopsie: we may have inspired that UNIQLO sex video
Thought the most exciting thing to happen on the high street was when those trainers you had your eye on went half price? Wrong. You may not have heard, but there's been a national scandal in China caused by the release of a video showing a couple having sex in the changing rooms at UNIQLO in Beijing's Sanlitun area. The country's typically conservative media's gone apeshit over the naughty tape, and the government even got in on it by releasing an official statement saying, essentially, down with this sort of thing.
So we thought it might be time for us to put our hands up and say – er, we might have had something to do with it. You know how Time Out's all about inspiring people to make the most of their cities and all? Well, in the case of Time Out Beijing's sex issue back in 2013, that extended to offering up a few recommended spots for a quickie. What was top of our list? The UNIQLO changing rooms, which our Beijing team described as 'generously sized'. (We're thoughtful like that.)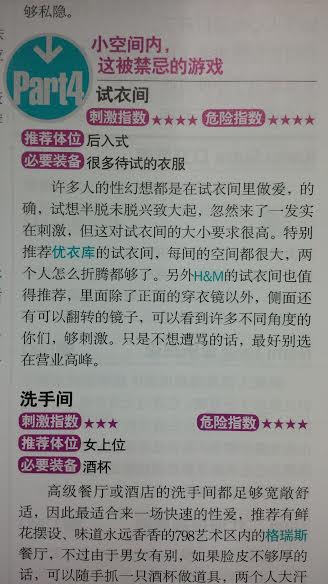 Don't read Mandarin? Here's what we said:
'A lot of people have fantasised about having sex in a dressing room – naturally, as putting on and taking off clothes over and over again can get your sexual desires going – however, this requires the dressing room to be fairly large. We highly recommend UNIQLO's fitting rooms. Each room is huge and allows a couple relatively comfortable intercourse.'
But seeing as UNIQLO's changing facilities are pretty much old news now, the piece goes on to direct thrill seekers to another prime shagging spot:
'We also recommend the H&M dressing rooms, as they not only have mirrors at the front but also mirrors around the sides, letting you see lots of different angles during sex. This definitely enhances the experience.'
The Time Out Beijing editors then add:
'However, we recommended you avoid busy hours when people might be waiting outside to try on their clothes.'
Of course, this also applies if you actually want to, you know, try on some clothes.