Music & Nightlife
Your guide to the best nightclubs, live music and concerts in Singapore
Guide to St Jerome's Laneway Festival Singapore
Get your funky shades on and practise your best 'I prefer their old stuff' spiel – it's that time again for St Jerome's Laneway Festival. The annual indie music gathering returns on January 21 with plenty of international and regional acts on the bill, including some from our sunny shores. And with a slew of food and drinks vendors pitching their tents, it's gonna be a perfect day to chow down, booze up and rock out. Here's our guide to having the best festival experience.
Best live music venues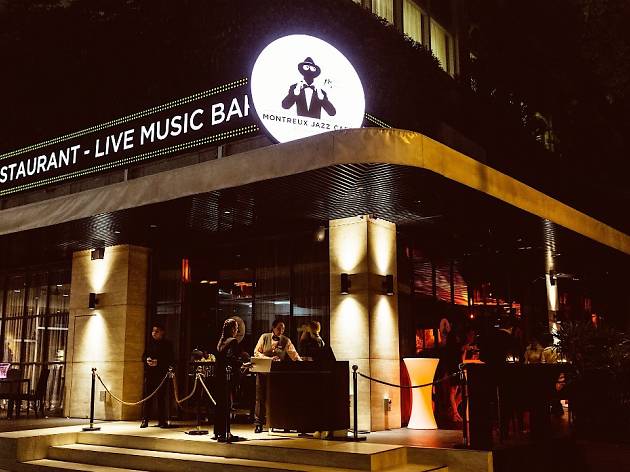 Montreux Jazz Café
Deep in the heart of Orchard, a speakeasy-harking den devoted to jazz and blues has risen. Its name will be familiar to fans of the genre: Montreux Jazz Café. Yes, of the jazz festival fame. The intimate space in Pan Pacific Orchard, racked with memorabilia and vintage posters, is only the sixth of its kind in the world, and the first in the region. But on to the music. The Café plays host to a roster of local and international cats, as well as the odd DJ or two, in gigs that go on until the bar closes, 'round about midnight. Expect blues, fusion, smooth jazz and a healthy dose of standards – already, the likes of local jazz legend Jeremy Monteiro and British soul sensation Omar have taken the venue's stage. Don't let its name fool you, though. This is not a café so much as a restaurant and bar. An exhaustive list of cocktails ($16-$26) ranges from your classic Manhattans to the signature The Girl from Ipanema that, true to its bossa nova-inspired name, mixes Cachaca 51 with lemon juice, orange juice and passion fruit. The food, on the other hand, takes cues from hearty European fare: think Croque Madames ($18) and pan-roasted sea bass fillets ($22).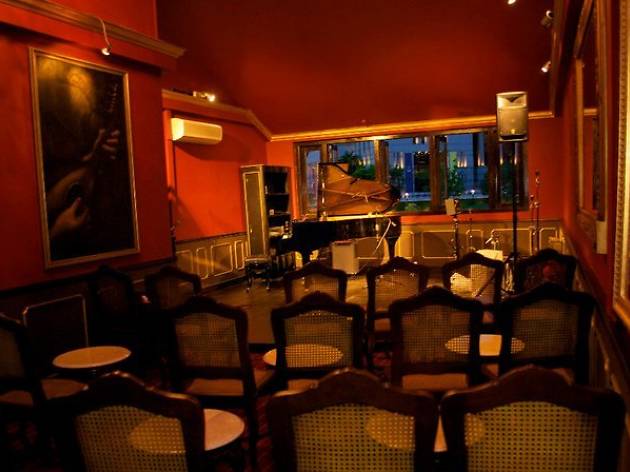 Club L'Opera
You know a place is serious about its music when its tiny stage is dominated by a grand piano. Yeah, a legit Yamaha C2 is the backbone upon which this red-slathered bar in Boat Quay is founded – and it has even roped in Bon Goût Music, founded by the fearless jazz pianist Aya Sekine, to run the music programme. There isn't a house band here, so you'll have to keep tabs on Club L'Opera's Facebook page to find out when its twice-monthly gigs (from 7.30 to 10.30pm) are held. Given Sekine's eclectic style – she used to play at Blu Jaz Cafe alongside DJs, beatboxers and other jazz musicians – the music at Club L'Opera ranges from bebop and swing to free improv and vocal jazz. The gigs are all ticketed ($15-$30), and you'll also need to order at least one drink.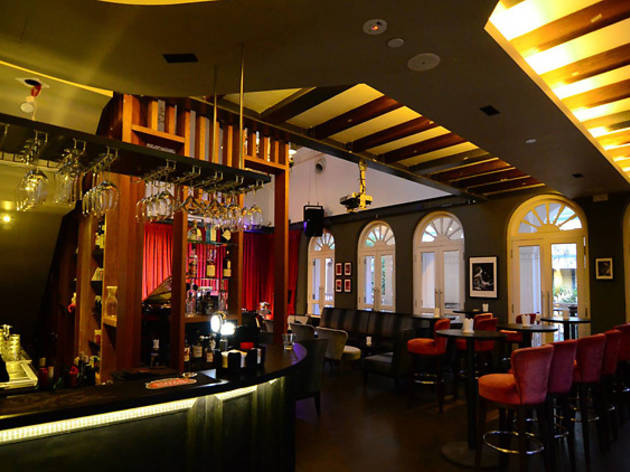 The Singapore Jazz Club
The name says it all, really. This high-ceilinged joint, draped in red curtains, is all about old-school jazz, R&B and Motown. Resident pianist Mario Serio hits the keys every Thursday, hosting the venue's VOX series of shows: a pairing of pianist and vocalist. Also pop by every Sunday, when these cats take the stage for a no-holds-barred jam session. There's no cover charge for the latter, but tickets for the other gigs range from $15 to $20.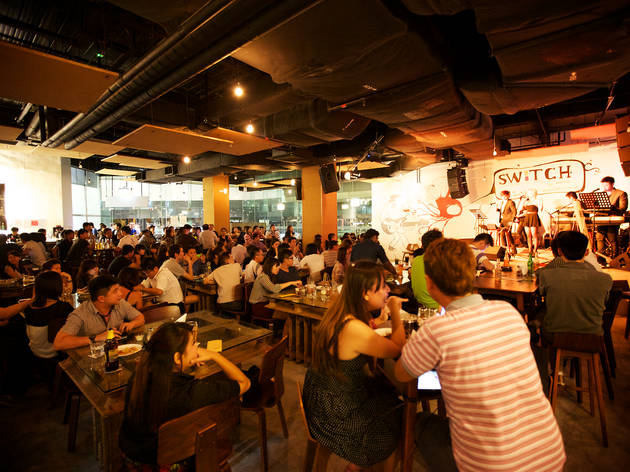 Switch by Timbre
Mandopop/rock doesn't get its due credit among the Pitchfork faithful here, but there's no denying the genre is the most commercially successful Singaporean music. Enter this bar and restaurant by the Timbre group that sets its sights on fledgling musos who can rock their Beyond and Wu Bai. Three resident bands and musicians – The Switch Gang, Tay Kexin and Too Much Drama – rotate every day of the week, sans Sunday, with tunes ranging from Jay Chou tearjerkers to harder numbers. Tuesdays are gentler acoustic nights, so if you're in the mood for love, head over to Switch then.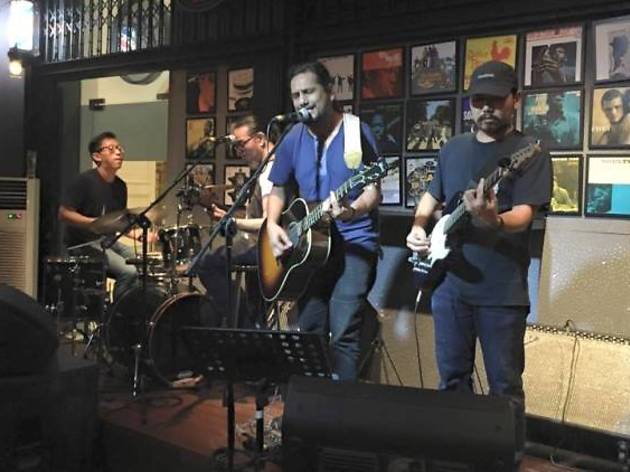 Barber Shop by Timbre
The baby of the Timbre family swung open in 2014 with one mission in mind: to put live music front and centre. True to the group's calling card, it's mostly blues, classic rock, funk and other barn-storming genres that ring out at this den in The Arts House. Wednesdays see house band Raw Earth stamp the stage with their blood-and-guts blues, Thursday's an open mic session (from 8 to 11.30pm), Friday is reserved for the Barber Shop Quartet's swing and roots rock, and Saturday is a double-bill: a special artist showcase from 7pm, followed by a classic rock jam by Good Question.
Artistry
As though being a café and art gallery rolled into one isn't enough, Artistry also plays host to a weekly roster of genre-blending gigs by both local and international acts, including its house jazz band, Bluemonks, who take the (really, really) small stage area every last Tuesday of the month. Free jazz, acoustic, electronic music, hip hop… this long and narrow space doesn't discriminate – we've even dutty wine-d to a Jamaican sound system here. The best part: most of the gigs here are free.
See more live music venues