Things to Do
Your comprehensive guide to the best events and things to do in Singapore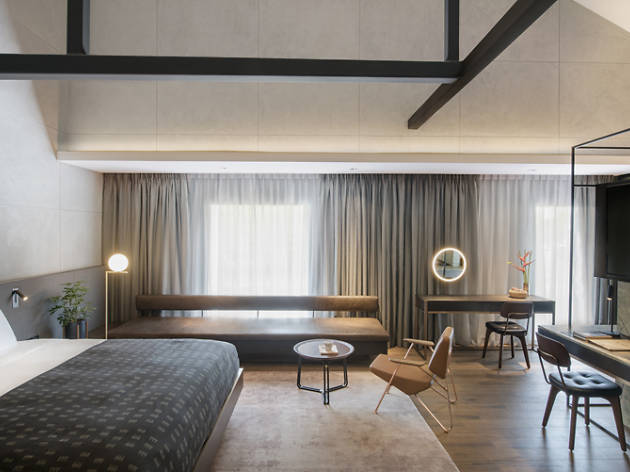 New hotel: The Warehouse Hotel
Lo & Behold – the group behind the 37-room boutique space – has taken the building's 120-year history in its hands and spun it on the head, thanks to local design agency Asylum. The hotel's plush lounge area faces the lobby bar, so if you'd rather relax away from the soft thumping beats and gentle chatter, the rooftop infinity pool offers the reprieve you'll need, itself fitted with salmon pink tiles. Admire local artist Dawn Ang's site-specific installation fronting the pool, or lounge in one of the beanbags or deck beds while soaking in views of the Singapore River. Rooms with a view Mostly, anyway. Who needs windows when the view in your 27-square-metre Warehouse Sanctuary's (from $265) this good? Wooden panels, sleek beams, a custom, pillow top king mattress with finishing touches by socially conscious clothing label MatterPrints, and a cheeky, open concept standing shower make it seductively easy to stay in your room all day. For a loft-style upgrade, though, located on the upper floor of the triple-peaked heritage hotel is the River View Suite (from $495), which – as its name suggests – overlooks the Singapore River. Nat
Upcoming events
Singapore Contemporary Art Show
More than 90 galleries and artists from the region and beyond make a return to the second edition of the Singapore Contemporary. Spread across 6,000 square metres are artist dialogue sessions and the show's well-received 'China Encounters' and 'Gallery Projects' sections – but remember to drop by 'Photo 17', too, for a curated platform of documentary, fine art and conceptual photography from the world over.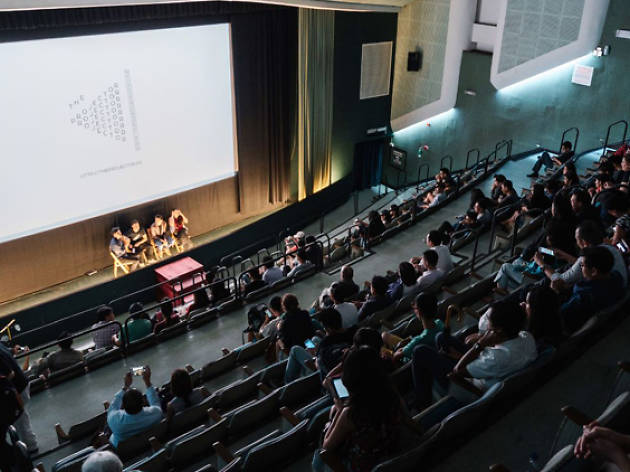 The Singapore Palestinian Film Festival 2017
Besides the violence and unrest in Palestine, the country is also rich in culture and history. In attempt to battle stereotypical views that surround the war-torn city, The Projector is hosting the first non-profit Singapore Palestinian Film Festival. The programme opens with Speed Sisters, a story that follows the first all-women race car driving team in the Middle East, and will screen five other films including Ave Maria and Five Broken Cameras.
Metallica
The Grammy award-winning heavy metal rockers are set to return to our shores after their sell-out show in 2013. This time, they're storming the stage of Singapore Indoor Stadium to wreak havoc with their face-melting anthems, including classics like 'Enter Sandman' and 'Master of Puppets', alongside songs from their latest studio album Hardwired...To Self-Destruct. Having cemented their name in rock 'n' roll history, you can bet it's gonna be nothing less than an explosive show.
On Sharks and Humanity
This travelling art exhibition marks the launch of Parkview Museum, a new art space in Parkview Square. Highlighting environmental issues such as shark protection and ocean conservation, the exhibition also explores the links between sharks, humans and the environment. Expect over 30 artworks from contemporary artists all over the world, including Germany, Singapore and Hong Kong.
Bryan Adams
Belt out the good ol' '(Everything I Do) I Do It For You' with the Canadian singer himself. Bryan Adams' heading to Singapore as part of his Get Up tour for a one-night-only gig. Bringing hits from his repertoire of records that have sold over 100 million copies worldwide, the singer-songwriter will also sing tracks from his recently released thirteenth album, Get Up.
Arajua
Sit back, relax and be treated to an evening of shoegaze and ambient rock as Arajua work their magic on stage with their otherworldy tunes. Featuring members Fazly Kamis, Abdul Hakim, Ashek Ali and Syahadi Samad, the band has been creating their brand of cinematic sounds since 2006 and are debuting the first half of their two-part sophomore EP The World as It Appears On A Journey You Are Certain With (PartII) during the show.
See more events in Singapore this week
City stories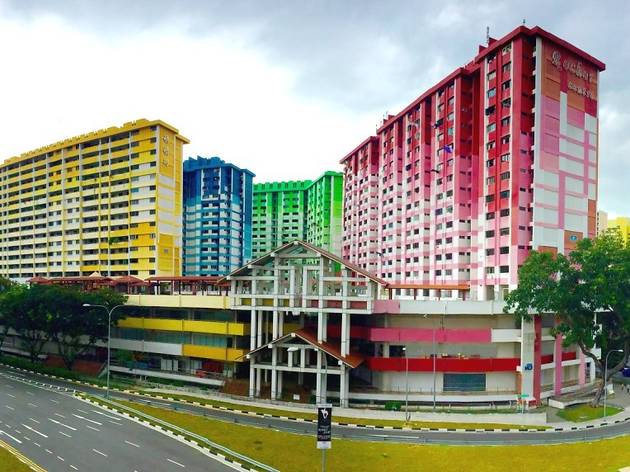 City stories: Rochor Centre
Goodbye, yellow-bricked HDB flat. Come September, the iconic Rochor Centre – in red, blue and green stripes, too – will be the latest casualty claimed in the name of development. From its ashes will rise the North-South Corridor, a 21.5-kilometre expressway slated for construction in 2017 that will have a dedicated lane for express buses as well as pedestrian and cycling paths. Touché, LTA. Built in 1977, Rochor Centre was originally white with red bricks – it was painted over during upgrading works in the early '90s – and comprises both residential and commercial properties. Apartments stack atop three storeys of kopitiams, offices and heartland-esque stores that hawk hardware, handphone accessories and traditional confectionary. And in a rare feature in today's HDB estates, Rochor Centre's 'void deck' can be found on the fourth level, similar to the one in Bras Basah Complex. Before Rochor Centre breathes its last, head over to capture these vibrant blocks on camera. Go late in the afternoon for the best light – and set aside a few minutes to grab a bench on the ground floor to watch residents bustling around. If you're keen to explore deeper into the estate, make your way to the void deck at Block 4. There, you can view Community Quilts, a photography project by Ivan Tan, Juliana Tan and Samuel He. It's a series of eight vertical panels, each a superimposition of three to four photographs, depicting various neighbourhoods and everyday scenes of city life.  RIP, Ro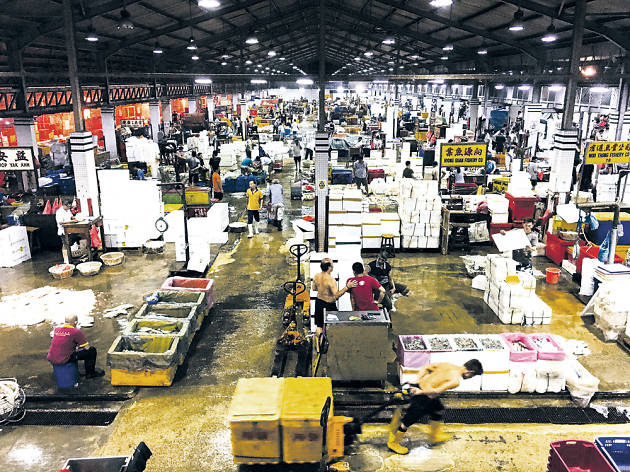 City stories: Jurong Fishery Port
It's one in the morning, and the air hangs with a dank stench. Men clad in rubber boots (and not much else) are hurriedly dragging pomfret, squid, lobster and other types of seafood around a warehouse-like space. At this ungodly hour, Jurong Fishery Port is just starting to get busy. The Port opened in 1969 as a docking base for foreign fishing vessels, as well as a huge wholesale fish market (about 20 basketball courts huge) that houses more than 100 lots for the trawls to be auctioned off. The Port is open all day and night – except Mondays between 2 to 6am – but the action peaks at around 3am. That's when the boats are unloading their catch and throngs of hawkers, chefs and wet market stall owners are buying in bulk. Yes, you can pick up a red snapper or two, some still flapping in their styrofoam boxes, for dinner. But even if you don't intend to, there's plenty of sights and sounds – not to mention smells – to check out, too. Jurong Fishery Port is at Fishery Port Rd.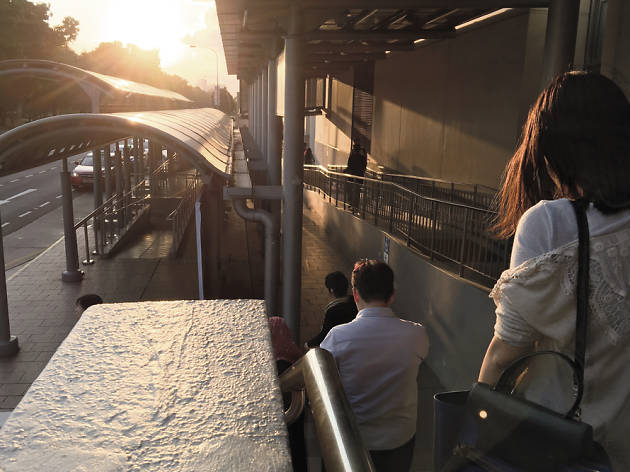 City stories: Singapore at dusk
There's an old-timey rule in photography – if you can accept rules in photography – that says the best time to roam the streets for photographs is in the 'Golden Hour': an hour after sunrise or before sunset. Hefting the iPhone 6 Plus, whose size demands two hands to take a photograph, I went around my neighbourhood in Kembangan, scouting out Singaporeans during this so-called golden hour. After a few days spent revisiting the same areas (MRT station, park connectors, small parks), dawn and dusk seem less like twins and more like funhouse mirrors. Same light, completely different moods. The early morning is crowded yet silent. But an hour to sunset, grown-up feet shuffling home from work are joined by the smaller feet of children – wantonly zooming down park trails on tiny scooters or pounding hard concrete to chase after a football. For the adults (and one particular feline I chanced upon) who've had a hard day's work, they can finally put up their feet up and snooze on a park bench as the sun fades under the horizon.