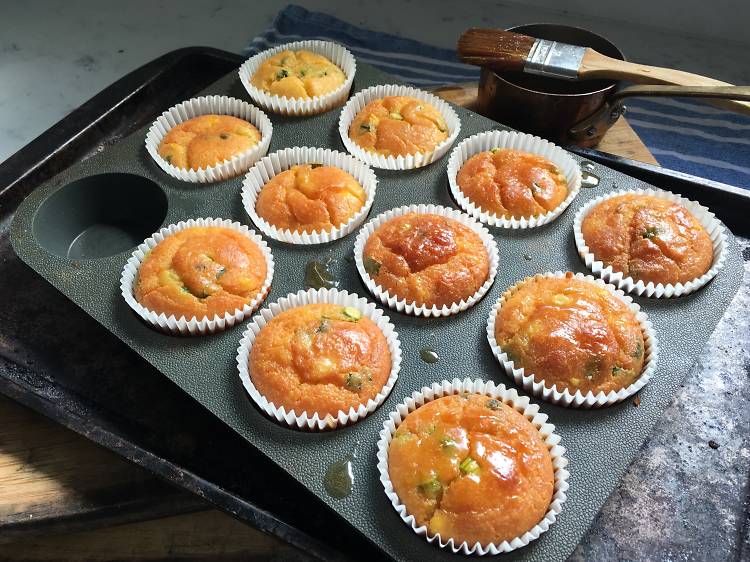 Photograph: Tori Haschka
Cornbread bites with Jack Daniel's Glaze
Not quite sweet, not quite savoury, these corny snacks are the perfect 'in between' times food. They're busy with bright kernels and can easily be made gluten free by substituting gluten free flour or chickpea flour. What really makes them shine is the glaze, with its mellow Jack Daniel's kick. Tote them to a picnic, serve them as part of a Southern feast, or pack one up in Tupperware to make your next desk-bound-lunch a little less blue. These are best served warm, with some butter or relish on the side.
Makes 18 serves
Ingredients
50 g honey
4 eggs
250 ml milk
130 g Greek yoghurt
250 ml olive oil
120 g polenta
150 g plain flour
1 tbsp baking powder
Corn from two ears of corn/ 1.5 cups of frozen corn kernels
2 spring onions, trimmed and cut into 1 cm dice
Glaze
1.5 tbsp honey
1.5 tbsp Jack Daniel's
1 tbsp butter
Method
1)Pre heat the oven to 180C and line your muffin trays with cupcake liners.
2) Whisk together the wet ingredients until well combined.
3) Fold in the dry ingredients.
4) Use an ice cream scoop or tablespoon to portion the batter into cupcake liners until ¾ full. Bake for 35 minutes, until the tops are golden and a skewer comes out clean.
5) To make the glaze combine the ingredients in a saucepan and simmer for 2 minutes until reduced and thickened. Brush over just- baked muffins while they are still warm.