Heads up! We're working hard to be accurate – but these are unusual times, so please always check before heading out.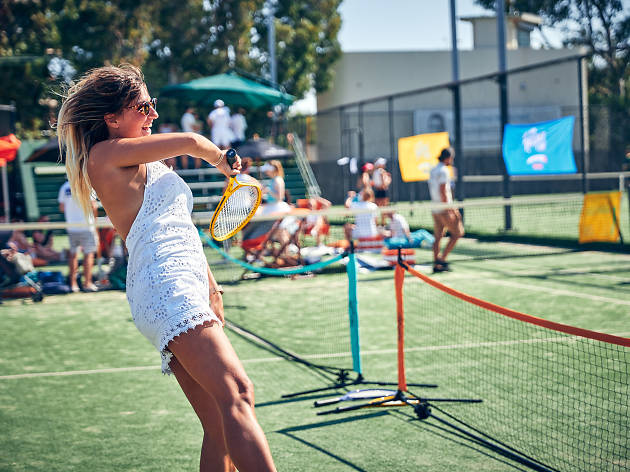 1/3
Photograph: Supplied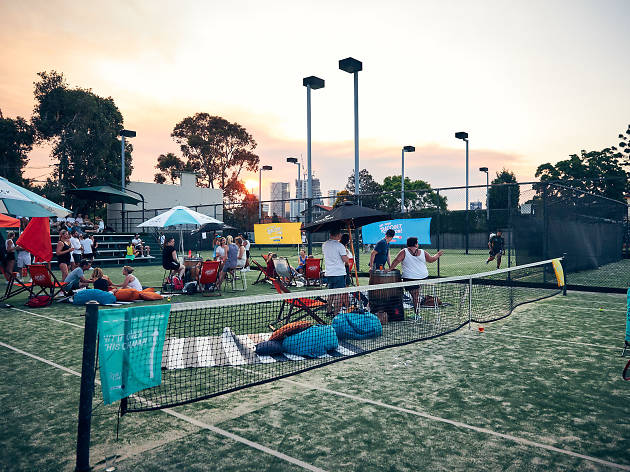 2/3
Photograph: Supplied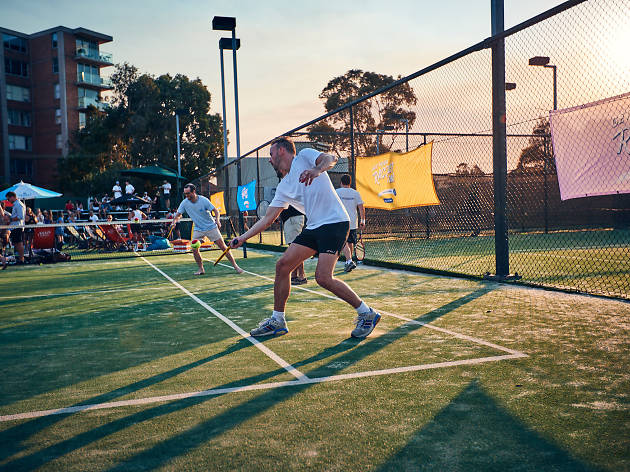 3/3
Photograph: Supplied
Fire up the group chat: five reasons why Open Court Sessions is your new fave hang-out
Have a fun informal hit of tennis with a side of snacks this summer
Finding yourselves in the throes of relentless "Wyd?" messages in your stale old group chat? Tired of the same pointless pub sesh where you all quietly look at your phones together? Well it's time to add some lava-hot spice to your catch-ups with Open Court Sessions. A fun, informal hit at your local tennis club with provided snacks, drinks, and pumpin' music. The sessions are made-up of easy, non-competitive activities: a ten-minute warm-up, 50 minutes of on-court tennis activities, and 30 minutes of chilling, eating and drinking. All you need to do is convince your loutish group thread that the pub is passé. We're here to help, here are the five reasons you can convince them that Open Court Sessions are your new collective fave activity.
1. You don't need any skills
This is crucial. How many things can you say require next to no understanding of what you are doing before you turn up? If you've ever been harangued into a "social" touch footy or netball comp you'll know exactly what I'm talking about. Those games have capital 'R' Rules and the commitment levels are higher than a New Year's resolution to quit burgers. Soothe your most unco and flakey of mates with the knowledge that Open Court Sessions encourages all skill levels, from the bi-Kyrgios to the Barty animals, anyone can Hewitt (so sorry, but you knew the puns were coming when you started reading this, surely).
If you are actually quite good at tennis and in a group chat laden with friends who are also quite good, never fear, you can still find a challenging hit for everyone at an Open Court Session. But the main driver here is that literally any bozo can pick up a racquet and give it a red hot go.
2. You don't need any equipment
There's going to be one naysayer in your group who has a sook about how expensive tennis racquets are (they aren't) or that their dog ate all their tennis balls (they did). But get them to shush it up with the knowledge that clubs hosting Open Court Sessions will give you all the bits you need. Session prices vary at every club, but to make things easier for you racquets and relevant tennis accoutrement are provided. Keen to bring one of those really tall chairs to umpire from? Don't bother some clubs have got them! Stressed out by the prospect of weaving a rudimentary net? Mate. Chill. They have all that stuff too. You and your friends can literally turn up in sneakers and little else and be able to play.
3. You don't need to pack a snack or smuggle in a hip flask
OK so one of the toughest sells to your group chat is likely to be that they are so used to planning weekend nightclub visits or dinners they simply cannot comprehend any other activity. But look, you're not asking them to go to a silent yoga retreat that bans eye-contact in the Blue Mountains, these tennis activities come with food and drinks and they'll be loud and gregarious. Why not replace clubbing with something active and fresh with the added bonus of side court drinks?
Or you could tantalise your friends with the chance to come along, partake in the provided snacks and beers, and potentially skip the sporty activity altogether. Nah just kidding, they should definitely still have a hit it's what you all came for. And they're bound to be more inclined when assured that there'll be eating and drinking options available after the flurry of mutual exercise.
If you want to hit the point home, check this website and call ahead to find out exactly what each tennis club is offering in the catering and bar department.
4. You don't need to bring your bloody bluetooth speaker
Much like the beach, please leave your minimal techno beats pumping out of a personal bluetooth speaker at home, you're ruining inescapable soundwaves for everyone. Just me? Rant aside you don't need to bang up a sick playlist to enjoy (pollute) Open Court Sessions because they're doing it for you. Whack the ball to the sounds of legitimate bangers while better qualified song selectors make the atmosphere fun for everyone. Alert your group chat to this important PSA and gear up for a top notch dancefloor without the dancing.
5. You don't even need to bring your friends
Psst. Are you alone? Ok I'm going to whisper this to you: you don't need to tell your group chat at all. You can literally rock up to an Open Court Session completely alone and still have a good time. It's super inclusive and actually, quite encouraging of solo participants. Who knows? You might even make an entirely new group of mates while you're there. Simply check for your closest participating tennis club here and turn your phone to silent – the group chat can wait.