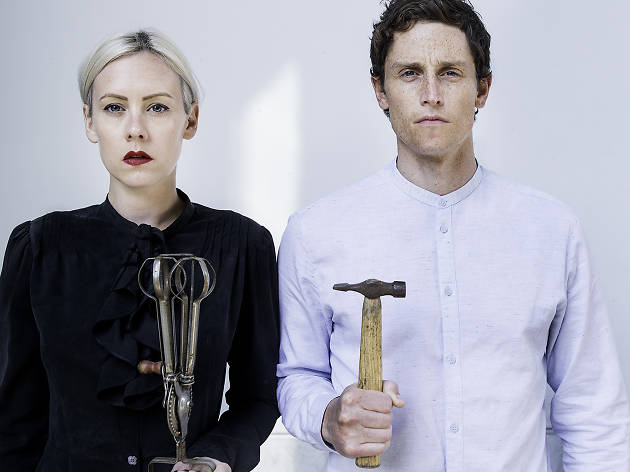 Time Out says
Friendly warning! We're working hard to be accurate. But these are unusual times, so please check that events are still happening.
Fringe queen Bryony Kimmings brings her partner Tim along for a tour de force show about depression
Bryony Kimmings is a brilliant and sometimes maddening theatre maker, whose devising process occasionally overshadows the actual show. 'Seven Day Drunk' was created under the influence of alcohol, but delivered sober; 'Credible Likeable Superstar Rolemodel' was excellent, but I can't have been the only one whose mind boggled when she casually mentioned that as part of the process she'd spent months creating a pop star alter ego, who was then briefly wheeled out to sing a couple of songs towards the end.
But 'Fake It 'til You Make It' does not beat about the bush. It is a show about clinical depression, most specifically the depression experienced by her partner Tim Grayburn, and to that end it is not only largely told in his own words – via recorded conversations – but he's also physically there too.
This is slightly peculiar. With his eyes obscured by a variety of masks and goggles – apparently something he insisted upon, having never performed before – and his most significant contributions pre-recorded, he doesn't seem to have much agency until the very end. Which is weird when the show's nominally about him. Instead he largely serves as the chatty Kimmings's laconic foil and backup dancer.
But his presence feels justified, because the genuine affection and sense of vulnerability that courses between the pair is so potent. There are electric moments when both look like they're about to burst into tears, or have to stop themselves from corpsing; Kimmings has worked out how to use love as a special effect, and the results are liable to make grown men weep.
Which is exactly what the show is about. Grayburn became depressed in his mid-twenties, weeping uncontrollably and unable to cope, but after going on medication he felt too ashamed to talk about his condition until he met Kimmings a couple of years ago. At heart, 'Fake It 'til You Make It' is an honest conversation about depression and the effects it's had on the pair's relationship, and if it was literally just that it would still be a pretty forceful piece of theatre.
But it's Kimmings's visual flair that really elevates it, illustrating the simple tale with a series of memorable, semi-abstract set pieces – quirky dances, cute lo-fi songs, lashings of self-mocking humour and a volume of costume changes that Lady Gaga could get behind – that never obfuscate the message.
A chat about something important, and a beautiful piece of theatre too.
Details