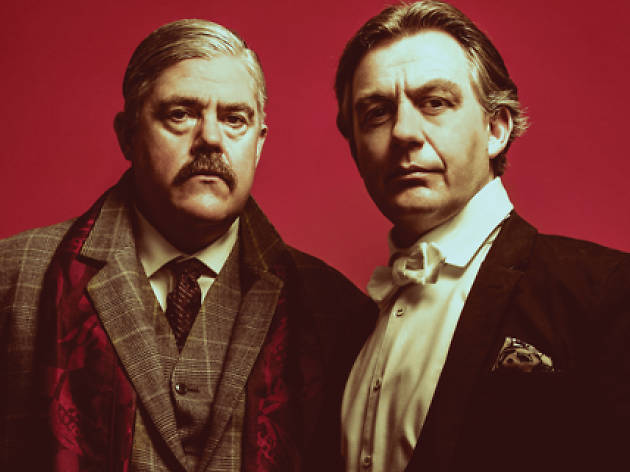 Death is apparently no impediment to the continued appeal of Harry Houdini. The famed illusionist has been resurrected in two high profile theatre shows at this year's Fringe – once by John Hannah in 'The Titanic Orchestra', and again by Alan Cox in this depiction of Houdini's friendship with Sir Arthur Conan Doyle (Phill Jupitus).
Based on real life events, 'Impossible' brings the two legends together in mutual appreciation – Houdini is a massive fan of Doyle's famously rational detective, while Doyle admires what he comes to believe are Houdini's supernatural powers. When Houdini sees his friend gripped in the dubious grasp of spiritualism, he sets out on a mission to expose all psychics as charlatans, using his own intimate knowledge of trickery to force signed confessions and public shaming of the con artists. Sadly, his activities only drive the two friends further apart.
It's not difficult to see parallels between Houdini's crusading and the hardline atheism of Richard Dawkins and his ilk. Houdini's wife (Milly Thomas, a perfectly understated counterpoint to Jupitus and Cox's blustery exchanges) wonders if the magician may be depriving Doyle of the small measure of comfort he feels following his son's death, but Houdini counters that it's his duty to shine the light of rationalism on those who'd swindle the vulnerable.
It's a well-played and thoughtful production, only slightly let down by unimaginative staging from director Hannah Eidinow (are static projections of period drawing rooms really necessary?) and some psychic hamming up from Deborah Frances-White as Lady Jean Doyle. Jupitus makes a decent fist of Doyle's Scottish accent and is by turns wounded and defiant, while Cox does good work as the conjurer possessed of his own righteousness.