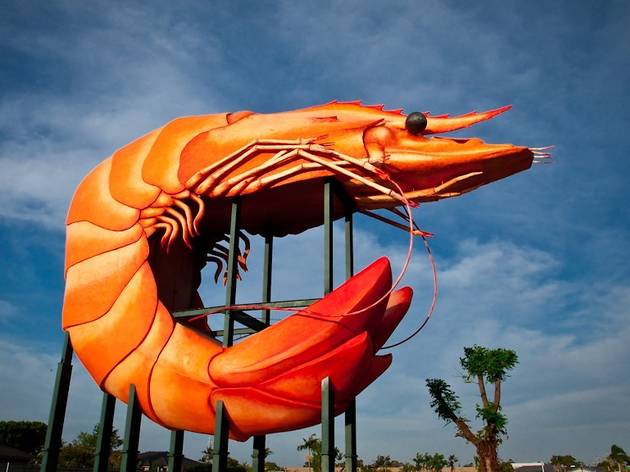 A guide to Australia's best big things
Here's where to find them and just how big they really are
Australia is home to more than 150 "big things" – huge outdoor novelty sculptures scattered across the continent. The reason behind our love of big things is unknown, though its been suggested the sculptures started as a reason to lure road trippers off the highways. Whatever the reason – whatever the cause – here our guide to some of Australia's best big things.
Recommended: natural wonders to visit near Melbourne.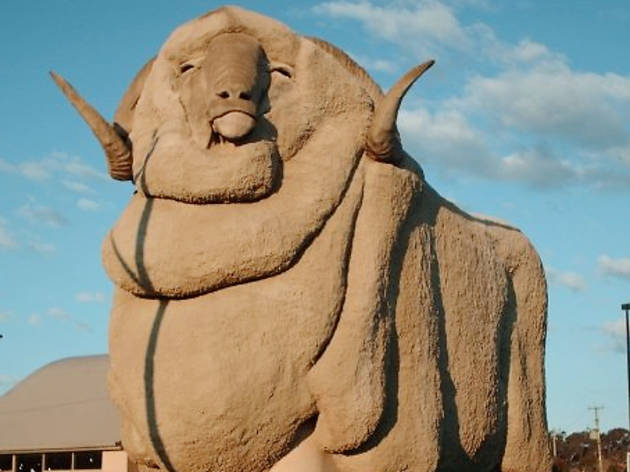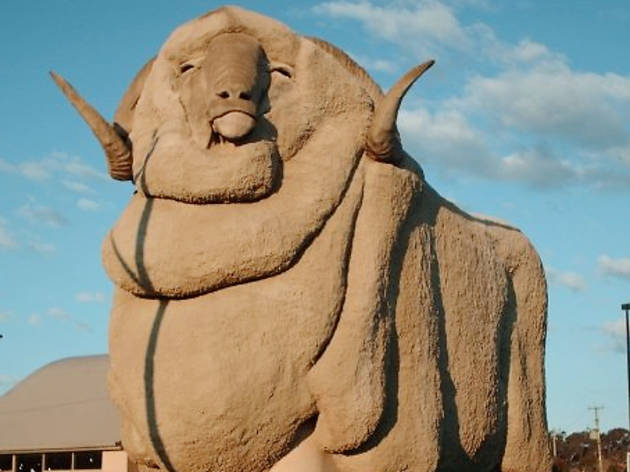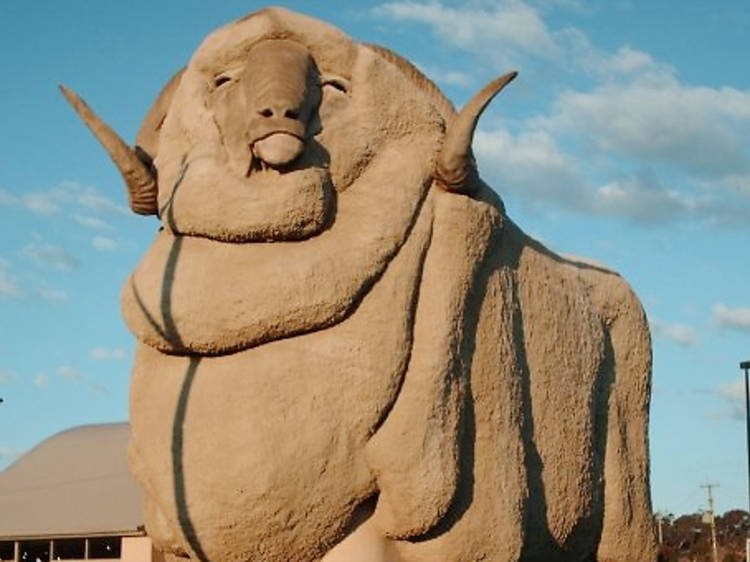 Photograph: Sol bot / Wikimedia Commons
Location: Goulburn, NSW.
The story: Like many big things, the Big Merino is a testament to the prime industries of its locale. Goulburn is known for its wool industry, and the giant Merino ram was built in 1985 and modelled after a stud ram of the time called Rambo. After the Goulburn bypass was completed in the early 1990s, the sculpture became cut off from the bulk of the Hume Highway's traffic – consequently, the Big Merino was moved almost a kilometre in 2007 to make it more accessible to passing travellers. The Big Merino also has a gift shop where you can buy locally grown wool items.
Relative size: The Big Merino is 15.2 metres high, 18 metres long and weighs 97 tonnes. Your standard Merino ram is around one metre tall and 80 to 100 kilograms, making the Big Merino 15 times larger and around 970 times heavier than the real thing.
Realism: Pretty good! This big woolly boy really does look true to life, albeit significantly larger. His woollen coat is textured, his horns curly and he even comes complete with testicles for the ultimate in anatomical realism.
Photograph: Rae Allen / Flickr
Location: Rutherglen, VIC.
The story: Rutherglen locals have basically turned water into wine with this big thing. The Big Wine Bottle was originally just a water tower. In 1969, the Rutherglen Wine Festival (which has become the Winery Walkabout) paid for the mesh top to be added, transforming the tower into a wine bottle.
Relative size: The bottle is 36 metres tall, making it around 120 times bigger than your standard 30cm wine bottle.
Realism: From a distance pretty good. From up close, it's pretty clear it's a water tower with an elaborate hat.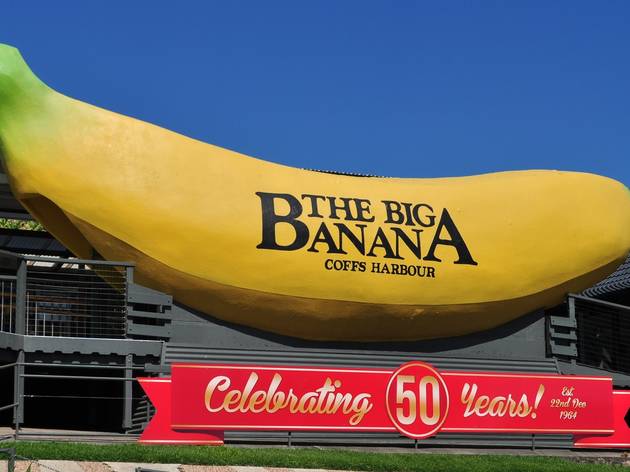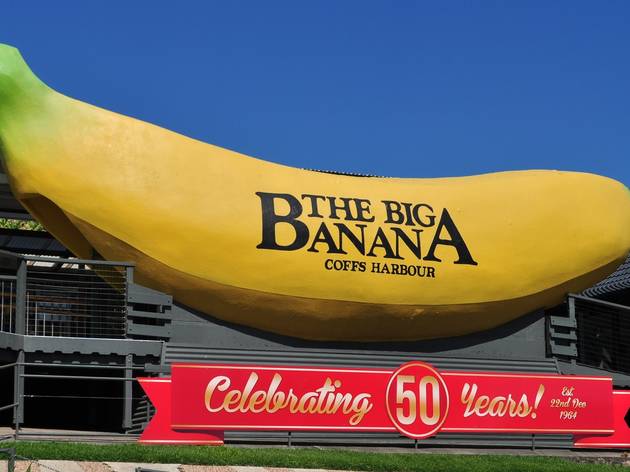 Photograph: WikiWookie / Wikimedia Commons
Location: Coffs Harbour, NSW.
The story: The big 'nana is one of Australia's oldest big things, having been constructed in 1964 as a way to get travellers to stop at a local banana stand. The Big Banana is now an amusement park where you can go tobogganing, play mini-golf, hit the waterslides and enjoy arcade games.
Relative size: This banana is five metres high and 13 metres long, or roughly 86 times larger than your average banana.
Realism: Excellent, apart from the fact that "The Big Banana, Coffs Harbour" is printed on its side.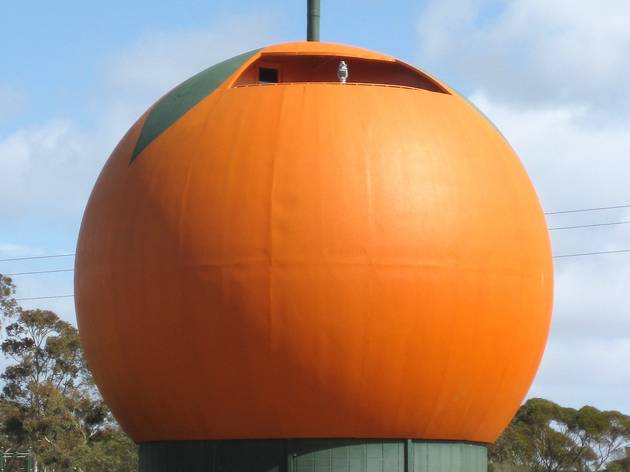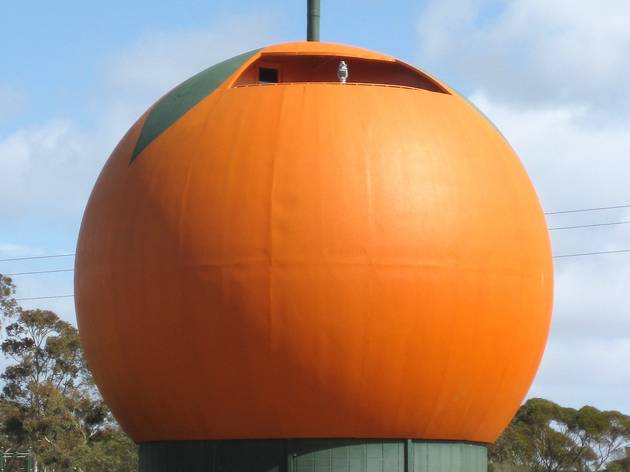 Photograph: Bilby / Wikimedia Commons
Location: Berri, SA.
The story: The Big Orange was completed in 1980 by Adelaide architect John Twopenny and at one time featured a function room, café, souvenir shop and lookout. Sadly, the Big Orange is no longer open but can still be viewed from outside.
Relative size: At 15 metres tall, the Big Orange is a ridiculous 214 times bigger than a standard orange. It also claims to be the biggest of the big fruit in Australia.
Realism: Artistic licence used. The Big Orange looks more like an orange drawn for a retro travel poster than a real orange that's been enlarged.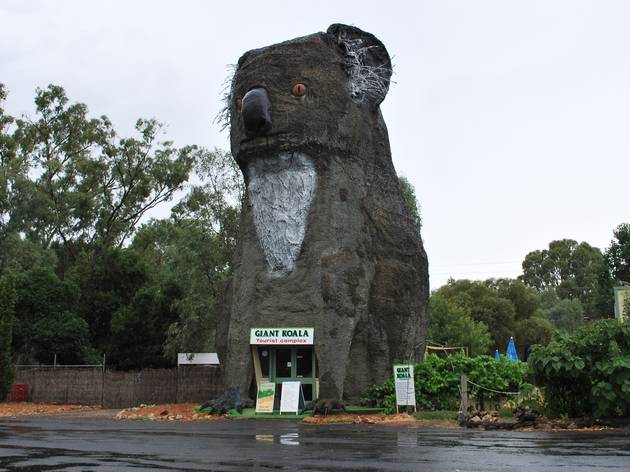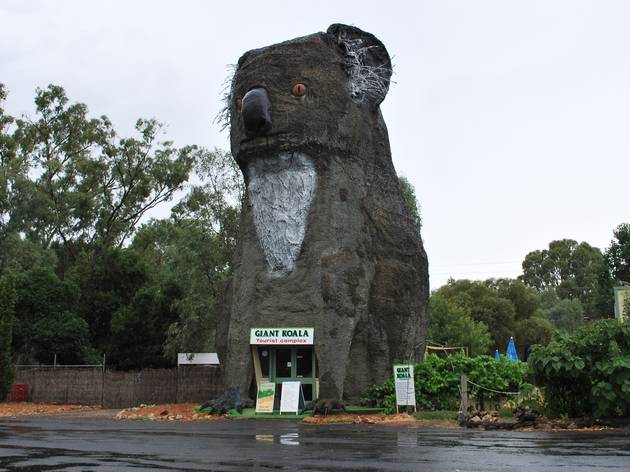 Photograph: Mattinbgn / Wikimedia Commons
Location: Dadswells, VIC.
The story: Oh yes, this koala is so large it's not just "the big koala" but "the giant koala". It was built in 1989 by sculptor Ben Van Zetton. Walk through the koala's paws to find a gift shop, or simply stand in awe of this massive marsupial.
Relative size: Normally koalas are around 60 to 85 cm tall, but this guy is 14m, making him about 16 times larger than a real koala.
Realism: Not terrible, but this koala has clearly seen some shit. Those wide, red eyes and that blank-faced grimace make this a truly intimidating big thing.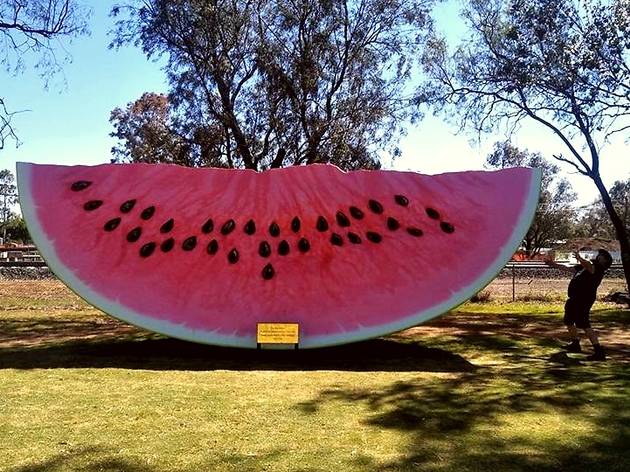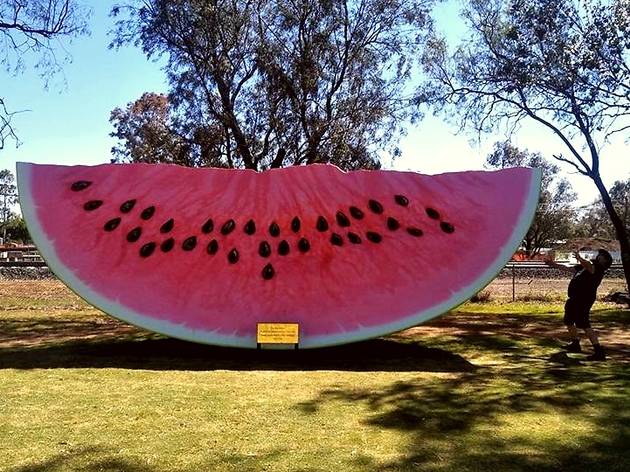 Photograph: Gotadollarmate / Wikimedia Commons
Location: Chinchilla, QLD.
The story: The Big Melon is actually the result of a competition held by Wotif to determine what and where Australia's next big thing would be. The Big Melon was completed in 2018 and beat competitors like the Big Peanut and Big Tulip to win the comp.
Relative size: The big slice of melon is three metres tall and nine metres wide, which makes it more than 60 times larger.
Realism: We've entered the uncanny valley of big things. From the mottled green skin to the hot pink flesh and shiny black seeds, this giant slice of watermelon looks good enough to eat.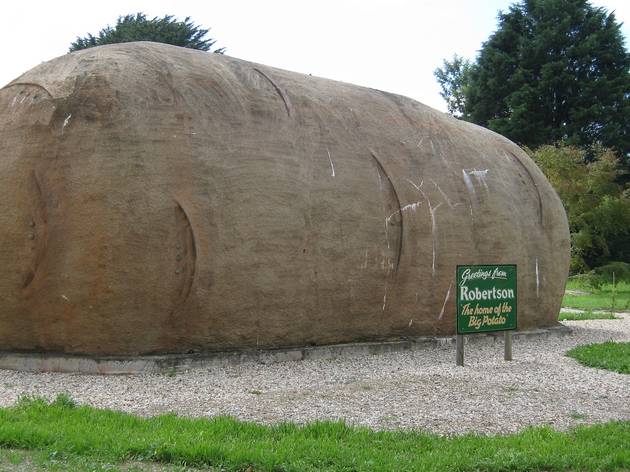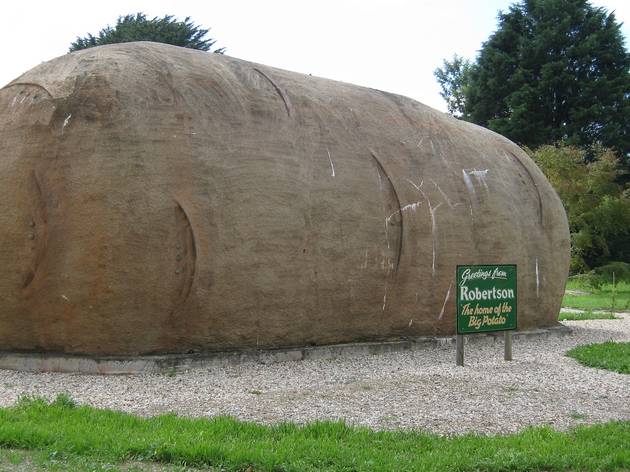 Photograph: Celcom at English Wikipedia / Wikimedia Commons
Location: Robertson, NSW.
The story: Back in 1977, local potato farmer Jim Mauger decided to build a whopping great monument to one of Robertson's main crops, the potato. The big brown blob was originally also supposed to be hollow, with the interior containing a potato information centre.
Relative size: The big 'tato is roughly ten metres by four metres and is modelled off a Sebago potato, making it roughly 1,000 times larger than your average 10cm spud.
Realism: Unkind commentators have in the past made comparisons between the big potato and a big poop due to its earthy colour and vaguely oval shape. But if you imagine the artist was trying to recreate a freshly unearthed, really dirty potato, the monolithic tuber gets a pass.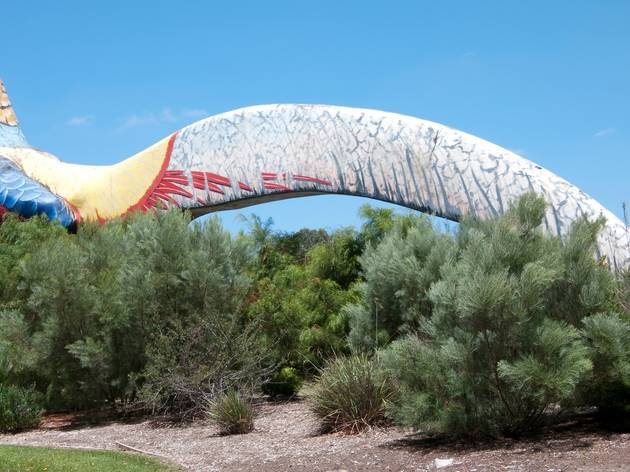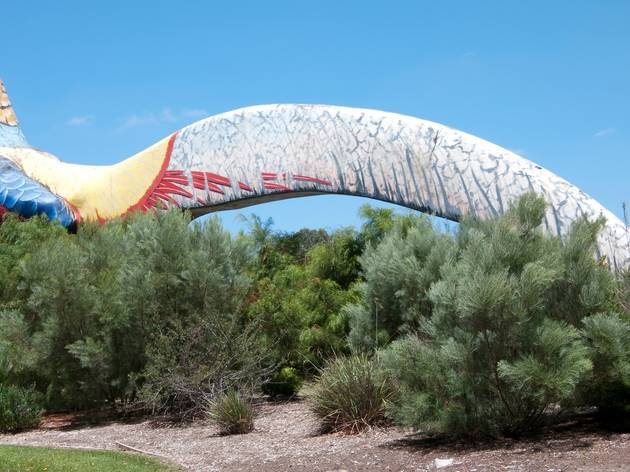 Photograph: Bilby / Wikimedia Commons
Location: Tynong, VIC.
The story: Gumbuya World (then Gumbuya Park) was known for a time as the place "where the city meets the country". It's also where you can meet a giant pheasant. The Gumbuya World site was originally a pheasant farm, hence the big ol' pheasant standing outside of the amusement park. Vandals blew up the pheasant's tail in 2011 (how dare) but it was restored the following year.
Relative size: The pheasant is eight metres tall and 17 metres long (mostly tail) which makes it about 18 times longer than a living pheasant.
Realism: It's a pretty good rendition of a Golden Pheasant, which are pretty colourful birds. You can see a real one for yourself inside the park in one of the wildlife exhibits.
Photograph: Amanda Slater / Flickr
Location: Broken Hill, NSW.
The story: The Big Bench was built on top of a hill of mining deposits, as part of the Landscapes and Backgrounds exhibition in 2002. It seats eight people or one BFG.
Relative size: It's big, but not that much bigger than a normal bench, at just 2.5 times its size.
Realism: Looks and functions just like a bench, but bigger. Ten points.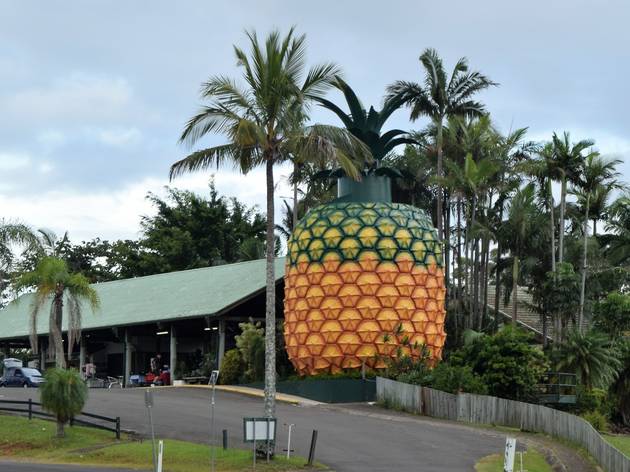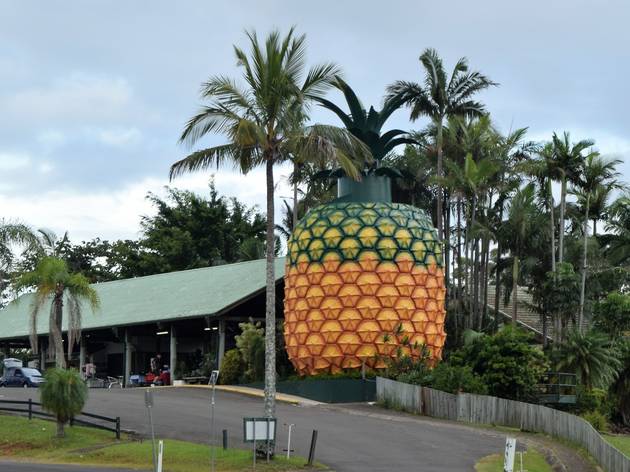 Photograph: Anne and David / Flickr / Public Domain
Location: Woombye, QLD.
The story: The Big Pineapple has been around since 1971 when it was built as part of the Sunshine Plantation. Like the Big Banana, the icon (hey, it is on the Queensland heritage register) features attractions like miniature train rides, a restaurant, zoo and high ropes course.
Relative size: This 16-metre high pineapple is approximately 57 times bigger than a regular pineapple. Bonus fact, it's also supposedly the world's largest pineapple.
Realism: Pretty bang on, with some excellent detailing on the skin of the fruit.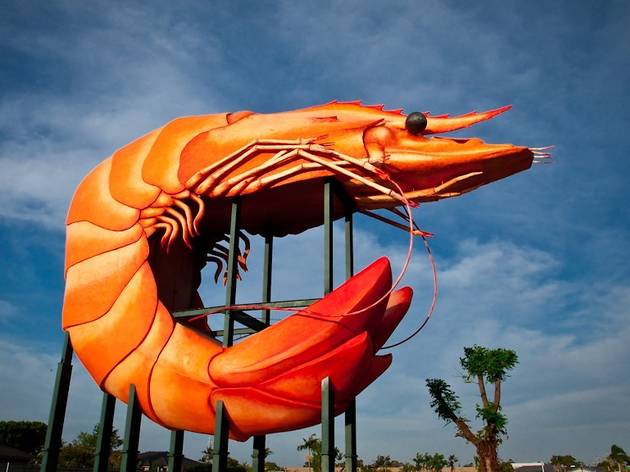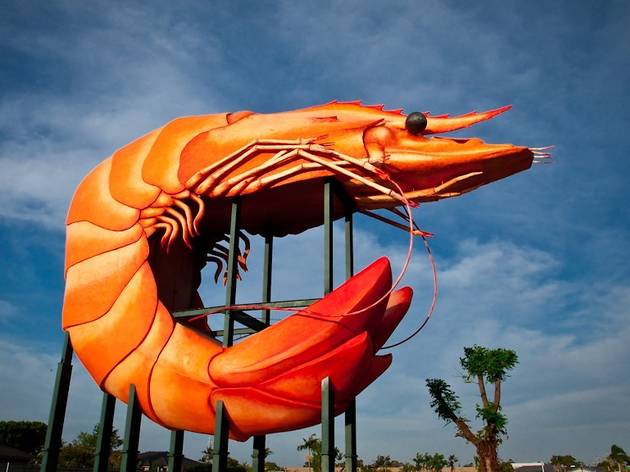 Photograph: cn2480.com.au / Wikimedia Commons
Location: Ballina, NSW.
The story: This colossal crustacean was originally built in 1989 (the '80s were wild) but the local council fell out of love with it in 2009, voting to allow its demolition. Bunnings Warehouse stepped in two years later, purchasing the prawn and refurbishing it – even finally bequeathing the prawn a tail.
Relative size: Good luck throwing another one of these on the barbie. The Big Prawn is nine metres tall and weighs 35 tonnes, meaning it's roughly a whopping 128 times larger than a normal tiger prawn.
Realism: Gorgeous. This is the Miss Australia of prawns with a realistic paint job and attention to all the creepy wiggly bits that make prawns prawns.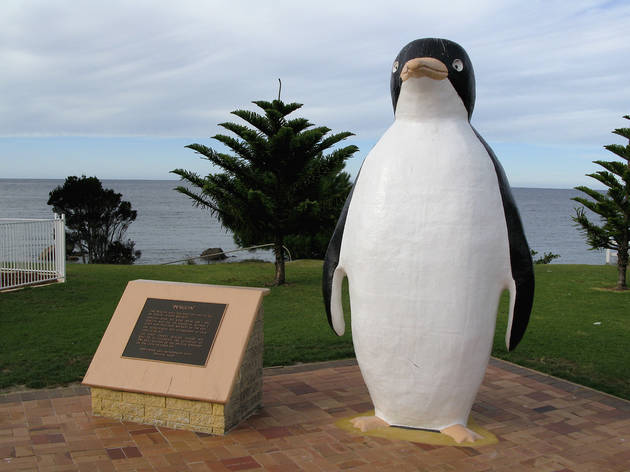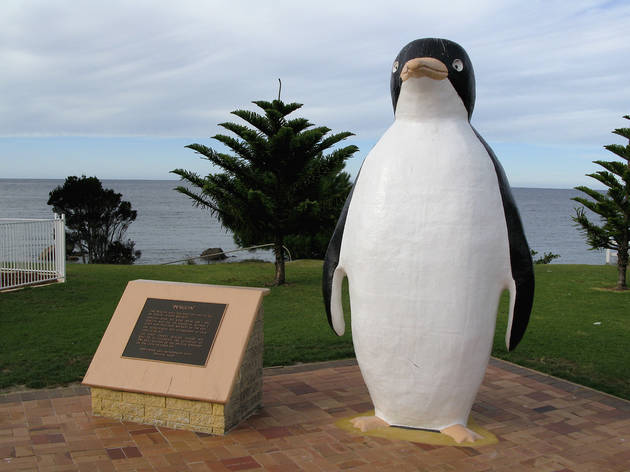 Photograph: Stuart Edwards
Location: Penguin, TAS (no, really).
The story: This oversized sea chicken was created in 1975 to mark the centenary of Penguin. At one point there were concerns it contained asbestos but has since been given a full bill of health.
Relative size: The Big Penguin is 3.15 metres tall. That's about seven times taller than a normal fairy penguin (which the town of Penguin is named for).
Realism: It doesn't look much like a real penguin species, but it does look a lot like a cartoon penguin. Pingu would be proud.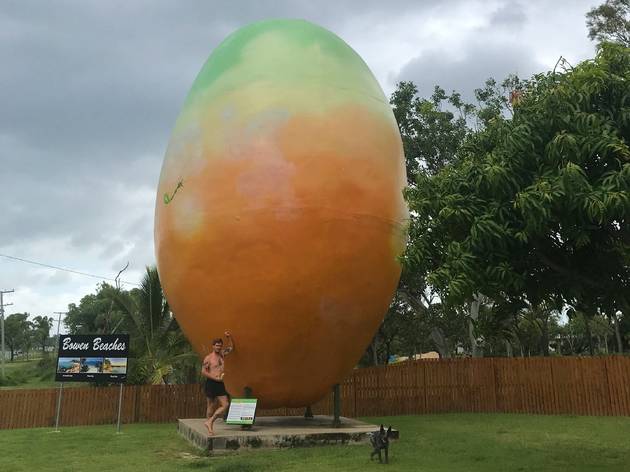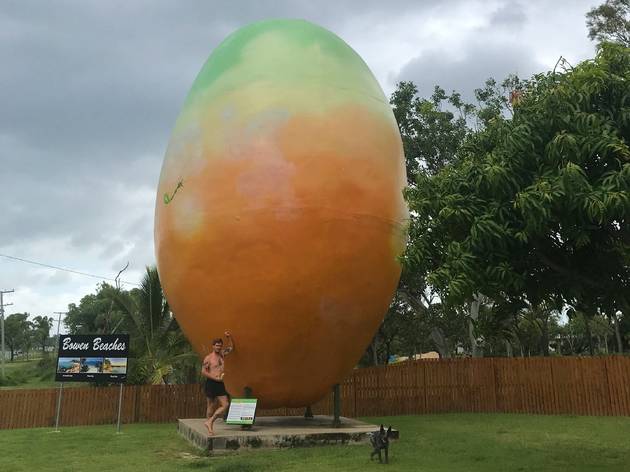 Photograph: Claire Finneran
Location: Bowen, QLD.
The story: The original Big Mango was built in 2002 but was "stolen" (read; taken with permission by Nandos for a publicity stunt) in 2014. After being returned to the Bowen Visitor Information Centre, Nandos also gifted the town a mini big mango that stands at the slightly smaller size of six metres (and can be seen on Santa Barbara Parade).

Relative size: Standing at ten metres, the Big Mango around 83 times larger than a normal Kensington Pride mango.
Realism: With a realistic, gradient paint job it's not hard to imagine biting into this juicy boi.
Now explore some natural wonders
Victoria is peppered with cascading rivers and plunge pools surrouned by awe-inspiring bush walks.