Family weekend getaways from Chicago
Ready to hit the road with the kids this summer? These Midwest weekend getaways are perfect for families looking for a little adventure.
By Samantha Lande Mon Jun 9 2014
The Indianapolis Children's Museum is part of a great weekend getaway for families.
Chicago is great in the summer, but sometimes you just need a change of pace. Why not hop in the car and take a road trip to another super-cool Midwest destination? Just a short drive from the city, you can discover beach towns, small cities and resorts full of awesome activities for kids.
Indianapolis, Indiana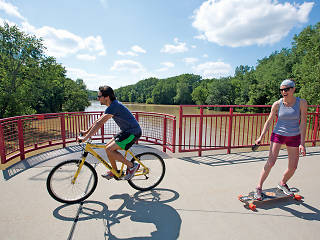 Monon Trail
Driving distance from Chicago
3.5 hours
Why it's great for kids
Indianapolis has enough indoor and outdoor activities for a fun-filled weekend. Head to the Children's Museum (3000 N Meridian St) for top-notch exhibits like the planetarium and Dinosphere, where kids can dig for dinosaur bones. It also has a great play area for toddlers. For some fresh air, walk or bike along the Monon Trail, a 10.5-mile path that runs through most of Indy. Stop in Broad Ripple neighborhood to browse some shops and grab a scoop of ice cream at Brics (901 E 64th St). Make sure to grab breakfast or lunch at Petite Chou (823 Westfield Blvd), also in Broad Ripple. The next day, take a trip back in time at Conner's Prairie (13400 Allisonville Rd, Fishers, IN): Explore 1836 Prairietown, see a Civil War re-enactment and stroll along the nature walk.
Where to stay
Caribbean Cove (3550 DePauw Blvd; from $69–$129/night) has an indoor water park so kids can play to their hearts' delight before bed. The Crowne Plaza Downtown Indianapolis Union Station has a special package that includes a one-night stay, and tickets for two adults and two children to the Children's Museum and the Indianapolis Zoo.
Lake Geneva, Wisconsin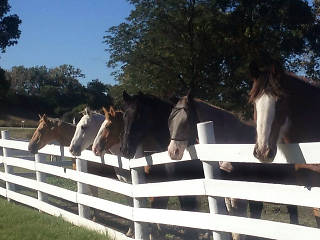 Dan Patch Stables
Driving time from Chicago
90 minutes
Why it's great for kids
With a sprawling resort like the Grand Geneva (7036 Grand Geneva Way), there is so much activity going on. Explore the Dan Patch Stables,where the kids can go on pony rides and feed the animals in the free petting zoo. Waterpark lovers will clamor for Moose Mountain Falls, a 50,000-square-foot waterpark. For a fun family outing, play mini-golf at Paradise Golf Park. For a full-day adventure, head to Kenosha for America's Action Territory Fun Park, where there is everything from bumper boats and cars to laser tag and batting cages. For dinner, check out Popeye's (811 Wrigley Dr): It'ssuper family friendly with great views of the water and a large menu.
Where to stay
At Grand Geneva Resort, rates for a deluxe double room range from $149–$289/night.
Ottawa, Illinois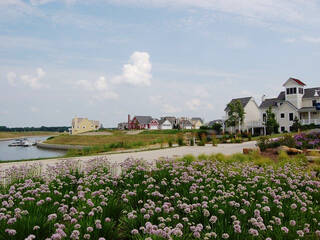 Heritage Harbor
Driving time from Chicago
90 minutes
Why it's great for kids
In just an hour and a half, you'll be transported to a beautiful setting filled with both water and land activities to keep your family entertained. Hike at nearby Starved Rock State Park or Buffalo Rock State Park; bike along the I & M canal trail that runs for 61 miles; take a dip in the on-site pool or build sandcastles and pack a picnic at the aptly named Picnic Grove. There is also a private beach where you can rent a variety of boats, kayaks, waterskiis and canoes. Dinnertime is a no brainer at Tracy's Boathouse (1970 N 2753rd Rd), a marina-side restaurant with a big kids' menu and beautiful views of the water.
Where to stay
Renting a cottage is the way to go at Heritage Harbor's Cottage at Heron's Landings (1970 N 2753rd Rd). Rooms vary by size and price and range from the one-bedroom, one-bathroom Huck Finn's Hideout ($139/night) to the Riverside Reflections, a two-bedroom, two-and-a-half bath that can sleep up to seven guests ($209/night).
Saugatuck, Michigan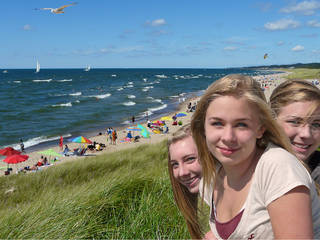 Oval Beach Photograph: Felicia Fairchild
Driving time from Chicago
Two hours
Why it's great for kids
Located along the western shoreline of Michigan, this artsy little resort town has a ton to offer for family fun. Take the hand-cranked chain ferry across the town to Oval Beach, a picturesque bit of sand nestled between dunes for an afternoon of swimming and sandcastle building. Afterward, head back to town for a scoop of locally made ice cream at Charlie's Round the Corner Ice Cream Shop (134 Mason St). Fruit picking is a popular summer activity if you visit at the end of June/beginning of July. Head to Crane's U Pick Orchards (6054 124th Ave, Fennville, MI) for a variety of fruits ranging from cherries to peaches (depending on the time of year). Next door is the Crane's Pie Pantry, where the fruit is used to make the pies and families can sit down and enjoy a full lunch or dinner. Walking around downtown Saugatuck is an enjoyable evening activity with lots of little art galleries and souvenir shops.
Where to stay
Although small B&Bs and inns dot the town, your best bet with kids is to rent property for the duration of your stay. Some kid-friendly options include the DollyBrook Family Resorts (2076 66th St, Fennville, MI; $1,450–$2,500/week) or the Goshorn Lake Cottages (3581 65th St; rentals range from $90–$420/day).
Wisconsin Dells, Wisconsin
Mt. Olympus Water & Theme Park
Driving time from Chicago
3.5 hours
Why it's great for kids
The waterpark capital of the world—what's not to love? It doesn't matter if the weather is sunny or rainy because this Wisconsin town offers up both indoor and outdoor parks. Mt. Olympus (1701 Wisconsin Dells Pkwy) is one of the biggest and most popular, with both water and theme park attractions (and rides for the really little ones as well). Those looking to do something a little different can visit Magiquest in the Great Wolf Lodge (1401 Great Wolf Dr) to particpate in a live-action role-playing game. If the kids come up for air long enough to eat, head to Buffalo Phil's (150 Gasser Rd), where kids get their food delivered on a train. The restaurant is also attached to a giant arcade. Paul Bunyan's (8653 Hwy 51 N., Minocqua, WI) is a fun themed spot for an all-you-can-eat breakfast.
Where to stay
At Wilderness Resort, a two-bedroom villas averages $249/night, and a double queen room averages $99–$130 per night(includes water park admission). Great Wolf Lodge runs $300/night for a queen suite or $525/night for a condo that can sleep up to eight.
You might also like
---