Kid-friendly restaurants in Chicago
Kid-friendly restaurants can be tasty for adults, too. The whole family will love these Chicago spots with kids' menus.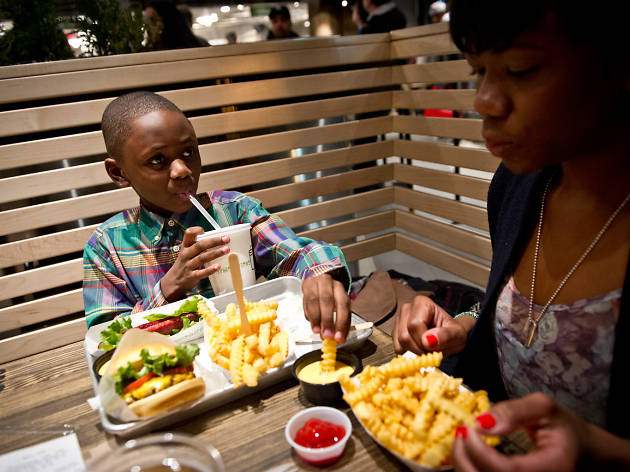 Move over, chicken fingers and hot dogs. These family-friendly Chicago restaurants around town have amped up their offerings with "fancy" kids' menus and features that make it just a little less stressful to dine out with the the little ones in tow. From menus that make it possible to play with your food to stroller valets, these kid-friendly restaurants may convince you to leave your house during meal time, after all. Bonus: Kids eat free at some of these spots.
Kid-friendly restaurants in Chicago
1
What kid doesn't love fried chicken, especially when they can make it an activity by slathering honey butter on it? Parents will love that the chicken is boneless so it can really be a do-it-themselves activity. Plus, the meal comes with mac and cheese and a sticker, for a little extra fun.
2
This ultra kid-friendly restaurant in the Southport Corridor caters to kids in every aspect, and kids eat free every day from 4–6pm. Adults will appreciate the small touches: wide doors that fit your stroller, a stroller valet and step stools in the bathroom. If your kid eyes the skillet cookie dessert, we suggest you be a sport and help them indulge.
3
Chicago finally has its own Shake Shacks, which means that you don't have to leave town to sample the griddle-cooked burgers, crinkle cut fries and rich frozen custard that your friends in New York have always bragged about. With chicken, burger and shake options, there's something for your kids to enjoy while you check out some special Chicago-only menu options, like shakes made with some help from Bang Bang Pie & Biscuits.
4
Kids can get a classic spaghetti and meatball with tomato sauce or their very own cheese or sausage pizza at Mia Francesca. Crayons are plentiful, and if your kid is well-behaved they may even get a special "I ate at Francesca's" bib.
5
This butcher shop-restaurant-performance venue isn't just for hip concerts and events, it's fun for the whole family too. Kids eat free every Monday–Friday from 4–6 pm from the kids menu. Drag them over to the butcher shop next door and they may pick out something they'll actually let you cook them for dinner another day.
6
Across from the zoo and Lincoln Park, this restaurant's location couldn't be better. Leave your stroller with the stroller valet and head inside. Kids get a special sippy cup that screws into a plastic cup to give the illusion that they're drinking just like Mom and Dad. They also get served on old-school cafeteria trays that include animal crackers in addition to their meal.
7
Here's a place where it's encouraged to eat with your hands. What's a better way to introduce seafood to your kids? Pick your favorite seafood selection (we like the shrimp, you still get to peel them and the flavor is good), then order the rest of the bag by adding potatoes and corn and all your flavorings. When the food comes out, it's in a big steaming bag for your kid to pick through and see what they want to try the most. Plus, there's beer for you.
8
No need for a kids' menu here when the little ones can eat just like Mom and Dad. Housemade mozzarella sticks are a favorite with the littles, and they can watch as the chefs prepare their pizza through a special viewing window. They'll also get a hunk of dough to play with at the table. Oh, and there's a kick-ass Midwestern beer menu for you.
9
Sure, plenty of the draw at Animale is the offal, but there's a special kids menu too to make the kids feel like they're getting to eat something interesting too. Pick from simple options like pappardelle with butter and parmesan or tomato sauce-covered gnocchi. For the super picky eaters, stick to a grilled cheese or a hamburger. Healthy side options like raspberries are available as well.


10
This Ravenswood spot is super family-friendly, and owner Jonathan Goldsmith goes out his way to make sure families have a stress-free dining experience. No need for a special menu, as your bambinos can share the Neapolitan pizza with the whole family.