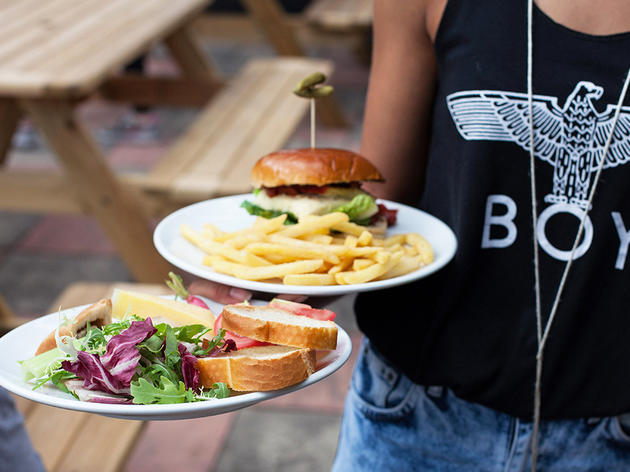 1/5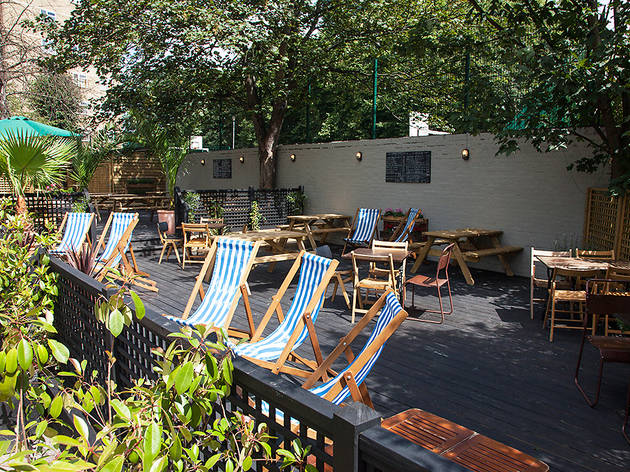 2/5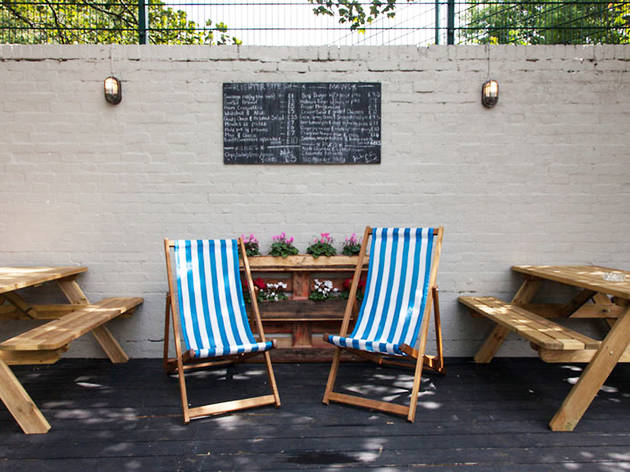 3/5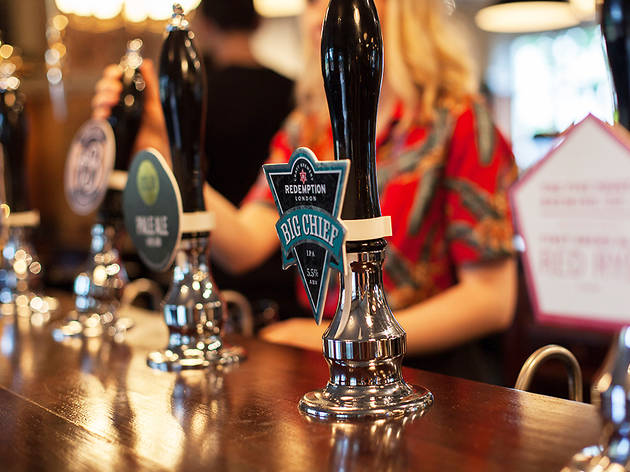 4/5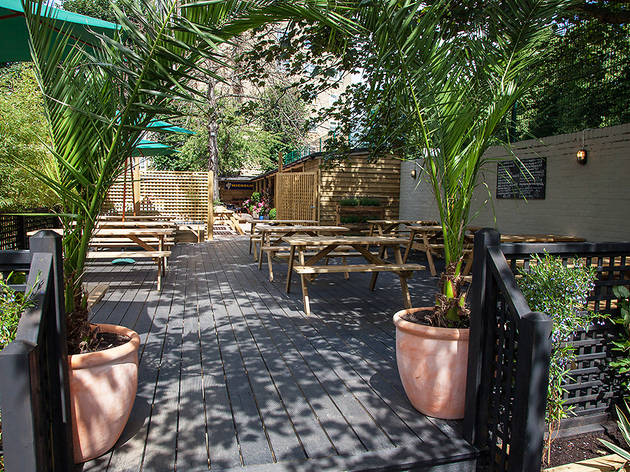 5/5
As relentlessly and inevitably as Aussie wickets, one by one the traditional pubs of Clapton fall to the trendy young incomers moving to this previously infamously murderous part of Hackney. Last year it was the Hart, last month the Windsor Castle, this week the Crooked Billet. I can think of a couple that have so far resisted the charge, but I won't mention them here. Is this gentrification of the east London boozer a bad thing? I suppose it depends which side you're on – if craft beers, sharing plates and ironic taxidermy are your thing, then yes, but if you're a lifelong Claptonite who's happy with things just the way they are, you're probably eyeing up that semi in Brentwood even more keenly. But don't worry – the Billet has room for every generation of E5.
The pub has a redbrick, functional handsomeness, rebuilt as it was in the 1950s. Hence the huge car park, which latterly didn't see much use – that short stroll from the motor to the boozer and back is a path less trodden these days. But new owners have used this defunct space to hugely enlarge the rear garden, installing inclement-weather booths, a ping pong table and acres of decking. There are even deckchairs, for that 'Clapton-on-Sea' feel. Nothing like it can be found for miles, and it ensured the Billet was filled to the gills in recent weeks.
The inside's not a bad look either – it's had a general tarting up, and the beer has been improved greatly. Real ales are well served and there's a focus on the many varieties now brewed in the area, like the new Five Points, or the established Hackney Brewery (an undeniable upside of this local pub revolution). Food is, as the owners themselves describe it, pub grub – burger, fish and chips, sausage and mash and so on. Our early days visit suggested a bit of work still needs to be done in the kitchen – four out of 12 mussels in a starter were closed and inedible, for instance – but perhaps this will follow, as these owners also run the well-regarded Empress near Victoria Park.
Reviewed by Euan Ferguson
Venue name:
Crooked Billet
Contact:
Address:
84 Upper Clapton Road
E5 9JP

Transport:
Rail: Clapton rail
Do you own this business?
Average User Rating
2.8 / 5
Rating Breakdown
5 star:

4

4 star:

2

3 star:

4

2 star:

1

1 star:

6
The recently appointed New chef means fab food..inc absolutely delish Sunday roast. A great pub, not too hip or down-down inside, and a fantastic garden, with booths with heaters, & lots of tables in the sun. Pub quiz on Mondays, permanent ping pong table outside, outdoor movie nights, & only 'important' sporting events shown on theTVs. Marvellous. Shame about the freeeeezing girls loos in winter!
Brilliant pub which serves the best Sunday Roast in the area in my opinion, plus the sticky toffee pud is sublime. The staff are great, very friendly, and always appear to handle the punter pressure with ease particularly at weekends. The outdoor space is great especially when there are little ones too keep entertained. Please keep it up Crooked Billet!
Great selection of beer (could have more cider options) and the most well designed beer garden I've seen. The downside is the volume of the the music which the bar staff insist on pumping out. Combined with poor speaker position (directly inside booths outside) makes it impossible to chat and becomes irritating very quickly. Great boozer otherwise but this one thing puts me off going there evenings.
Food served on a Plastig squer tray ..no more Plate.....!.self service..by new order of the managment.bid like Mcdonalds....i like the old way of serving in this place...friendly and helpful waitress ...!!. bid of a disapointment now...!!

In the quest for the perfect Sunday roast within walking distance in E5, the Crooked Billet scores well. Fantastic aubergine and mushroom nut-roast, roast potatoes, carrots and curly kale cooked to perfection. All washed down with a fine Bloody Mary in a laid back setting. Was a lovely afternoon so we sat outside. Great space , good atmosphere and corkin' music. The only omission: no bottled sparkling water. Not a deal breaker ...we'll be back for for sure!
The Crooked Billet was a serviceable, but slightly depressing, local before. Now it's bloody fantastic, the staff are lovely, welcoming and helpful; and it's full of nooks and crannies so you can find the perfect seat (except on Saturday night), have a private conversation or meet new people. It's the nearest thing we have to Club Tropicana, albeit the drinks are certainly not free. Your grumpy reviewer made a schoolboy error with his "is gentrification a bad thing", he meant "a good thing", surely. Do TO no longer employ sub-editors?
The human fact is, people only go to the trouble of commenting on websites when they are outraged, feel powerless, and want their voice heard. Anyone who posts comments about something being 'great', and 'really enjoyed it' etc are always in some way connected to the venue, who consider their TimeOut reputation to be an important part of their promotion campaign. Deny it all you like - no-one wakes up after a good night on the booze and decides to log on for the benefit of TimeOut readers. Plus you've got to be metrosexual to enjoy table-tennis.
Things have either dramatically improved in the last couple of weeks, or we just got lucky when we went on Sunday. We were going to go to the Clapton Hart but diverted here because the Hart had sold out of roasts by 3:30pm (again..) Anyway, we were glad that we did. Nice crowd, friendly service, good food (although the roast potatoes were a bit undercooked) and decent house wine. Plus table-tennis in the garden. We really liked it (and we're locals).
Nice to visit. I recommend it :)
Re my comment below, I meant 'barman' , of course. The fact the new owners have taken out the jukebox makes their intention very clear. If it were left in, music heard in the pub would represent anyone who put their money in - anyone - even the locals. But they clearly want to steer the pub in a certain direction. That direction is now revealing itself to be XFM. I knew this was happening as soon as I saw the new paint job outside (So original. So artistic). But they deflected our anger by playing music that 'seemed' to represent the local community, which was some kind of reggae/ska, which also says a lot about the difference between the locals and the yuppies. It used to be a mixed pub. It's now entirely white.
Batman informed me they got rid of the pool table "cos people just buy a drink and play pool". Dartboard outside which is handy for the darts season in January. Jukebox ejected in favour of the managements choice of (trendy) sounds. Beers touching £4 a pint! Where can the impoverished locals drink now?
Went today to scope out Sunday lunch. 5 out of 10. Portions were mean, the spuds tasted like they were roasted in beef dripping which is good, but just not roasted enough, veg way overdone and if you really bought your beef from the ginger pig then you should be ashamed with what you did to it. Your Sunday lunch was a fail. Go down the road to your competition and eat their cheaper and far superior Sunday roast to know what you're up against. Must try harder. And serving the roast on a small plate won't ease the stingy size. 14 quid for a Sunday roast. However, even if these places are run by the trendy equivalent of chain pubs we still need to support them so go and make your own mind up. They do some good local beers, the outside space is ok even if the piped music is one notch more intrusive than necessary. The bottom line is you have to let people know when they are failing, to give them a chance to make right. I'll go again for a beer, and might try the weekday menu... And Marie, yes the area is changing otherwise you wouldn't have Sodo would you, because that's the bleeding edge of Clapton's gentrification. Look up irony in the dictionary.
The Crooked Billet had one man and a dog before; at least the pub is still open and trading. Good for them - hope they do well (just improve your food!). x
Great refurb, great atmosphere, great beer, but the food needs much improvement.
When will the onslaught of hipster stop. The inside is so try hard cool that it's ridiculous. The beer is over priced, the food is average and the alienation of local people continues. I went in last night and I could have have been in Barnes/Putney. The only good thing about is that it it's near Sodo.
More venues
Sponsored listings