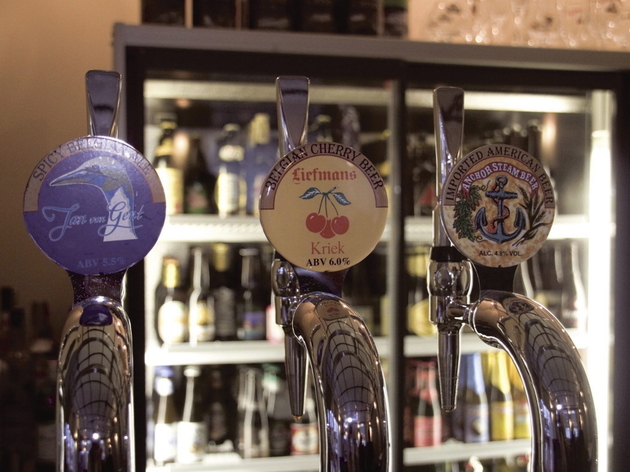 This ever popular Borough Market pub is probably the smallest in London, with walls covered in the kind of scribblings you'd find in a toilet cubicle. Except the messages here aren't crude descriptions of congress – they're tributes from brewers who've found a place as passionate about beer as they are.
Seven kegs and three casks, along with two fridges containing a dizzying number of bottles, pump out a constantly changing variety of brews, with many ultra-rare ones to nerd out over (the Rake is owned by a beer importer). Among them you're likely to find plenty of stuff you've never come across before, and you can bet it'll all be good – the mantra here, outlined by a bright yellow sticker above the bar, is 'No crap on tap'. What it lacks in space, The Rake makes up for in spirit.
More
Less
Rake says
In 2006 a greasy spoon in Borough Market was transformed into a speciality beer bar. Our beer range is in a constant state of change; seven keg and three cask lines, plus bottles and cans. If you're unsure, ask our friendly, knowledgeable staff who'll be happy to point you in the right direction.
More
Less
Venue name:
Rake
Contact:
Address:
14 Winchester Walk
London
SE1 9AG

Opening hours:
Open noon-11pm Mon-Thur; 11am-11pm Fri; 10am-11pm Sat; noon-10pm Sun
Transport:
Tube: London Bridge
Do you own this business?
Average User Rating
4.4 / 5
Rating Breakdown
5 star:

13

4 star:

2

3 star:

1

2 star:

1

1 star:

1
The Rake is such a unique place...everytime I go there I feel like the guy suggesting me which beer to have is my brother or someone I am very comfortable with!
Great selection of world beers and staff who know what they are talking about. Visited by brewers (and their beers) as a must stop when passing through London.
Great variety of decent beers served by welcoming and knowledgeable bar staff, always an enjoyable visit.
Absolutely brilliant selection of cask, keg, bottles and cans. Ever changing range, beer lovers heaven, and situated in one of London's historic and characterful corners. Top place!!
Nice staff, good selection of craft beer...
Fantastic pub in Borough Market
This place is such a special place with great beer and great staff.
Love this place. Always a great selection of beers I wouldn't have otherwise tried and awesome staff, a must if you are around London Bridge.
After being handled by a super helpful and amazing team at Utobeer, we went for a beer as a group of 4 when the pub was a bit quiet. The barmaid openly criticised the fact that I asked if there was any wheat beer on tap then proceeded to apologise to another customer for us because we were apparently occupying all the space at the bar. Way to feel welcome. The beers were alright, I felt like we had to move out of the way so I just ended up having a Lager. I guess people come to this bar for the Borough Market atmosphere rather than the service.
Since finding it a couple of months ago, I am finding myself drawn back to the pub again, and again. Not the biggest, but the place has a very good beer garden and inside decor is quite entertaining.
The craft beers on offer are excellent and will cover the broadest range of palette. They do serve win and spirits as well. Staff are very friendly and it is good value for money.
Not the easiest to find but a gem for those looking to broaden their beer horizons. Great selection on tap and in fridges and a great little sun trap of a terrace which is far quieter than it's location would suggest. Go, try as much as you can and come back several times to try the beers that have replaced your previous favourites.
While I'm happy to adapt to local ways when abroad, there are some American things I'd rather not give up. To see that you carry my Anchor Steam on tap means you'll be my first early morning stop next time I visit London.
Lovely beer, but they refuse to serve people if they are too loud. So whisper your conversations after 2 beers, because the staff here are definitely precious.
13/07/12 Absolutely blinding pub. The bar is the size of a domestic lounge (with pumps) but getting served reasonably quickly is no problem. People tend to queue in lines of 4 or 5 so you are served in an orderly fashion. If its too busy in the bar area (often the case on a Fri) you can migrate to the covered decking area where there are plenty of seats. It reminds me of being at a wedding reception where after getting your drink you move to a nice relaxing area. In fact its like a marquee! I would imagine it must be terrific when the sun shines (if we ever get to that point). Only lager and bitter sold but top notch quality. The pub is run by the UTO brewery and beers can be subject to change each day. Tried the Brooklyns lager (£4.10 p per half, ABV 5.5) which was really nice, slightly fizzy and had me quivering all over with pleasure. One of the beers was green! Actually looked good but maybe another time. Cask Ale £3.60 a pt, Pilsner £4.10 a pt. Some of the beers are high ABV and are matched by higher prices. However its probably worth paying more for beers that should be relished, absorbed and treated with respect. If you fall over later that may add to the enjoyment of the evening but then again maybe not. I was recently sick with fatigue and a rasping cough but going to the Rake was the first positive step in my recovery. Would I go there again? I just did last Fri (20/07/12).
Just the most amazing andsurprising place around. Weird pub, weird beers, weird customers. Totally excellent. I really like the bar staff - they manage hotel-style service and knowledge of what they're selling and do an early 90s proper pub friendly service. If you want 5 star London trendy fashion - go elsewhere. If you want 5 star beer go to The Rake
More venues
Sponsored listings