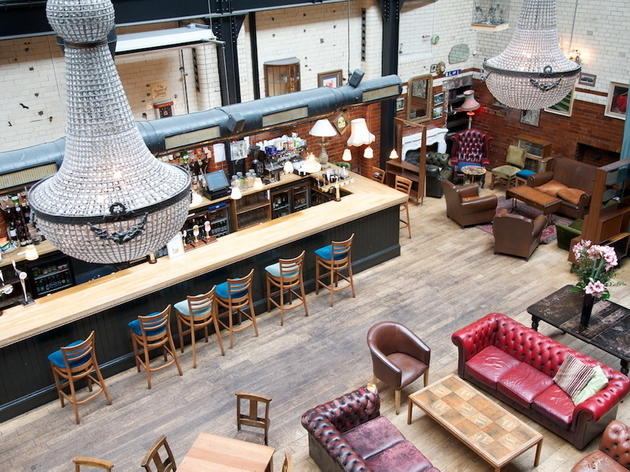 Hard to spot but impressive once you find it, this converted tram shed incorporates a cavernous, chandelier-lit main bar and a smaller mezzanine, filled with decorative quirks and televisions for football viewing.
Don't expect a too laddish crowd, though: the offbeat tone is set by a pair of winkle-pickers displayed under glass as you walk in, while Lionel Richie beams a Lionel Richie smile from an album cover mounted on the back bar.
It's a laid-back bunch that mingles here, either parked on turquoise-topped bar stools or lounging on the banquettes and antique armchairs. There is a small selection of draught beers and around 10 wines, all of which are available by the glass as well as the bottle.
Venue name:
Tooting Tram & Social
Contact:
Address:
46-48 Mitcham Road
London
SW17 9NA

Opening hours:
Mon-Wed 5pm-midnight; Thur 5p-1am; Fri 5pm-2am; Sat 1pm-2am; Sun 1pm-midnight.
Transport:
Tube: Tooting Broadway
Do you own this business?
Average User Rating
2.9 / 5
Rating Breakdown
5 star:

3

4 star:

3

3 star:

3

2 star:

5

1 star:

3
The best night out in South London & the bar staff are all hot
I went to Tram and Social a few weeks ago. Really different from how I remember it but I'm not sure if that's a good thing or not. It was really busy on a Saturday night, well after midnight there was a big crowd still going strong. The music was good, atmosphere was pretty fun and got served almost immediately at the long bar. We headed upstairs to the quieter balcony as there were no seats, but we didn't stay up there long as they closed upstairs soon after and we ended up outside in the beer garden/yard at the front. I cant quite work out if my good night was through the company and free flowing drinks, or the brilliant atmosphere, but it's definitely worth trying again and seeing if i have as good a time, maybe try and get there a bit earlier.
Awsome venue, nice crowd.
I been there few times and I could say it nice place to go since today , where security and manage kick us out because they try to say we try to still back one of customer bag from seating area, I never been treat this way in all my life !!!!! When I as them to see cctv they said we not allow too, we need to contact police to get cctv and polite said is no crime to they won't to anything about it ! As swear , never in my life I didn't feel so bad and treat this way !!!!!
Music was decent. Bar was poor. Staff do not keep an eye on who has been waiting... Turns into challenge of who can make eye contaxt first. An ok bar. Wouldn't make an effort to go there again.
Friendly staff and probably South London's most committed and fastest growing music venue.
A great bar with surroundings that hark back to its roots as a tram shed in Tooting. Comfy sofas, a nice view from the balcony and a great sound system as well. The latter is very helpful to me when announcing wrestling matches at this venue for British Empire Wrestling. Highly Recommended.
horrible bouncers with the wrong attitude, watch out Friend of mine tried to get in but bouncers rejected him because it was just him??? not in a group or sth?? Apart from that the place is cool, it is the only spot worth to visit between clapham and wimbledon
I like the general vibe of the place, like the drinks quality and decor, etc - but am considering going there on weekend nights for convenience, and it's just not worth the 10-minute walk! The MUSIC is utter toss at least half the time I go there, otherwise it can be good breakbeat-based party tunes, fun mashups and similar (or indie bands on occasion) the other times. I don't particularly like indie, but at least they get a sound engineer in, so that the treble on their iffy sound-system doesn't brutalise your ears. It was really bad on the DJ nights, irrespective of music, unpleasant. It's even harder to socialise when the sound's bad and at too high a volume to compensate (or whatever). Let alone with earplugs in. Of course, most people may be drunk and not care, but as a tinnitus sufferer, I know it's doing them no good either. It could really do with getting in less cheesy DJs on the weekends, people will definitely still come, it's not like there's a choice of late places in Tooting. There is a massive choice elsewhere of places that play cheese and really simple, boring house, though, so Antic / The Tram and Social ought to stay that good bit more distinguished, as is their remit elsewhere.
Fantastic setting, but service is so slow that it took at least 15mins each time to get served. Has the potential to be SO much better.
I went for a drink on a Saturday and was hugely disappointed, it was loud house music playing all night. Definitely not my cup of tea and no one was dancing. The venue is perfect and has potential to be amazing, they just need to sack the dj.
Terrible bar staff, incredibly slow and not very friendly. The cloak room was a joke. Full of idiots! never going back!
Utterly woeful music. The likes of Drop it like it's hot by Snoop and Gangsters Paradise by Coolio although great tunes in their own right are neither current or relevant in 2012. There was literally no current music played. It was all RnB bullshit from way back. Seriously wtf?!
More venues
Sponsored listings