Make the most of the City
If you want the breadth of choice and quality you get from West End shopping but can't face the crowds, head for the City
By Time Out in association with One New Change Tue Sep 24 2013
On weekdays the City of London – from Smithfield to Liverpool Street, Fleet Street to Blackfriars – bustles with business high flyers. But come the weekend, it's a fabulous space to explore and soak up some history and culture. Even better, you can fit in some great shopping without the long queues.
Whatever type of weekend shopper you are, there is something for everyone at the City's premiere shopping destination, One New Change, which sits just minutes from St Paul's Cathedral. So we've put together the perfect day out for you – from eating and sightseeing to shopping and pampering – whether you love luxury and design, you want to get ahead with your Christmas gift shopping, or you're spending a great day out with friends or someone special.
The City for...
---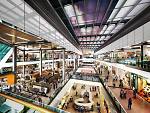 Why risk traffic and weather when your local shopping centre can provide all of your favourite outlets under one tidy roof? All the convenience of the high street with none of the buses, tourists or chuggers; London's shopping centres and malls are where retail therapy gets serious. Whether you're shopping for gifts or something a little more selfish, here are ten we'd wholly recommend.
See the best shopping centres in London
---