Just announced: the latest London gigs
Get 'em while they're hot: here's our weekly list of the capital's top tickets. Be sure to book now for the best live music in London
By Time Out editors Thu Sep 18 2014
Looking for live music in London? You've come to the right place. Day in, day out, we keep our eyes peeled and our ears to the ground for the latest gig announcements in the capital. Check out the newest shows to be anounced below, or if you're browsing for the best gigs month-by-month, see our ultimate London concert guide here.
This week's hottest ticket
On sale Fri Sep 19, 9am.
Having become a Muslim convert and changed his name to Yusuf Islam after a near-death experience in 1976, London-born singer-songwriter Cat Stevens took a two decade-long break from the music industry. Over the last fifteen years or so he's made sporadic returns to live performance and recording, and now turns up in London for a big show at which he's set to perform material from a new album, 'Tell 'Em I'm Gone', and raid his stunning back catalogue of sublime folk-pop songs such as 'Trouble', 'Wild World', 'Peace Train' and 'The First Cut is the Deepest'.
---
Gigs just announced
---
---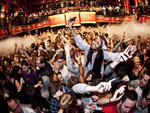 Check out our guide to gigs in London