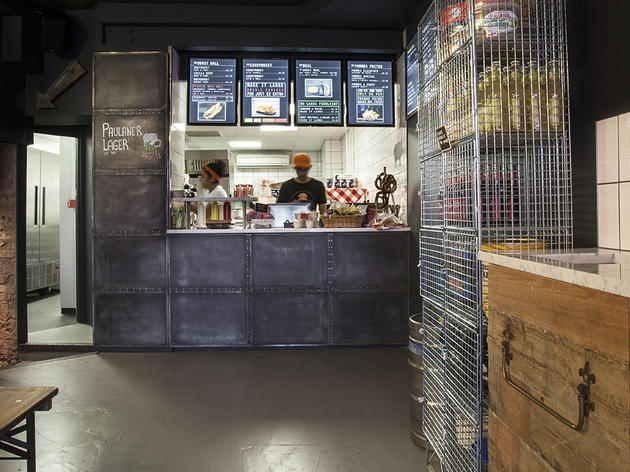 1/7
Rob Greig Time Out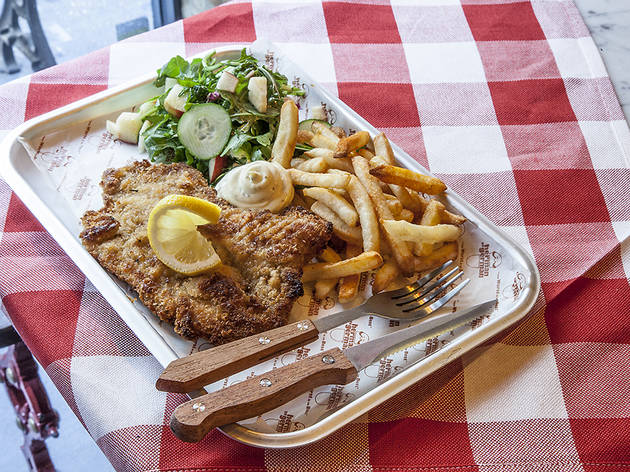 2/7
Rob Greig Time Out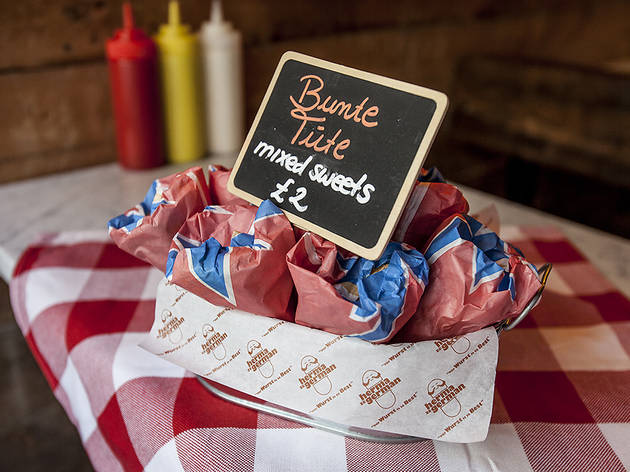 3/7
Rob Greig Time Out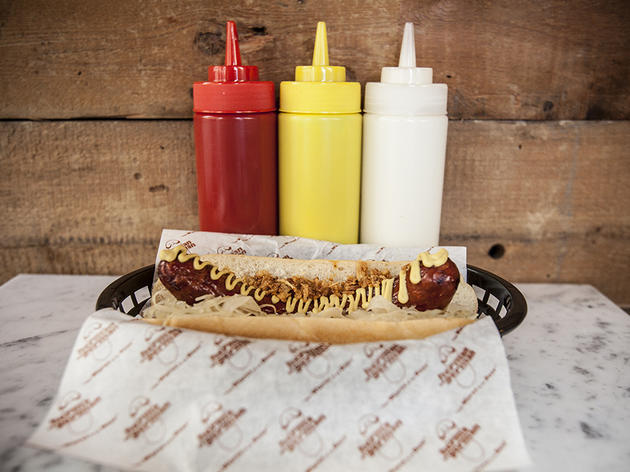 4/7
Rob Greig Time Out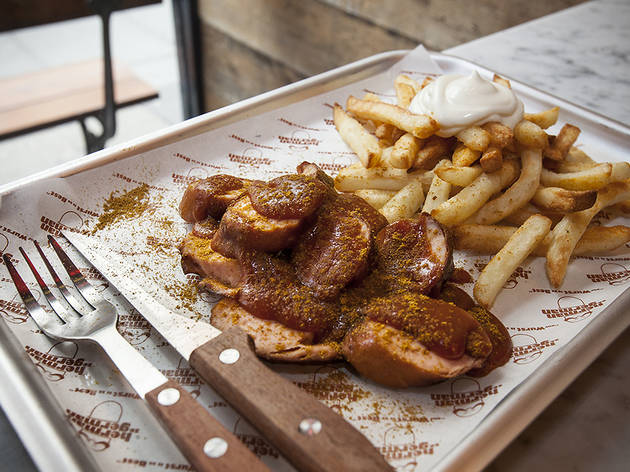 5/7
Rob Greig Time Out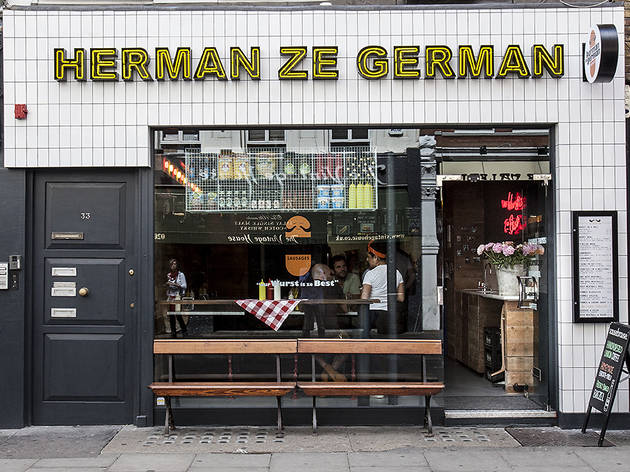 6/7
Rob Greig Time Out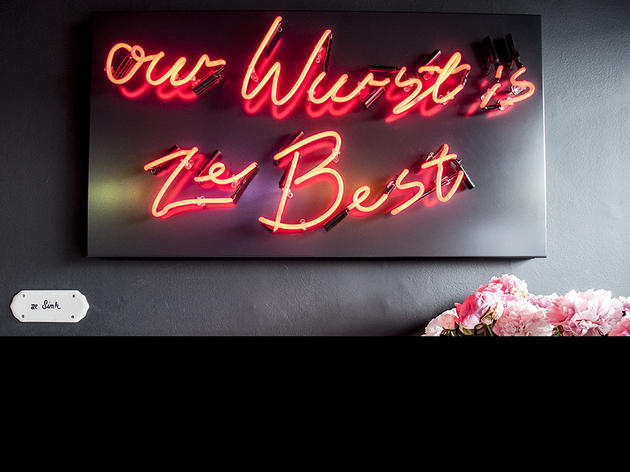 7/7
Rob Greig Time Out
Bow wow and woof woof for these delectable dogs – the best German tube-steaks in London.
The last 12 months have been the year of the dog. The hot dog, that is. Previously relegated to being a street food sidekick – the Robin to burger's Batman – the hot dog has had enough of prancing around in the background with its pants over its trousers, and has elbowed its way on to the menus of sit-down restaurants. First there was Bubbledogs in Fitzrovia – a fine concept (champagne served with interesting hot dogs in a gorgeous space), foiled only by the dogs themselves not living up to the hype. Meatmarket in Covent Garden did a better job – but the burgers are better there. Only the bar at Hawksmoor in Spitalfields, with its knock-your-socks off chilli dog, really impressed.
All the above porkers have one thing in common: the US of A. Yup, if any of these prime sausages appeared on an episode of 'Who Do You Think You Are', their great-great-granny would have been from New York's Coney Island. We've all been so caught up with the stars-and-stripes invasion, we forgot about the original wiener: the wurst. Until now.
Herman ze German, in case you hadn't guessed, is a purveyor of German sausages. Its outlet on Villiers Street is cherished by sausage fanciers and the late-night commuters of Charing Cross, but is no place to linger. This, its first 'restaurant', in the beating heart of Soho, is really a fast-food joint – but its larger size and playfully utilitarian interior (part log cabin, part wet room – with planks on the walls, a painted concrete floor and a butler sink for washing your hands) has made it a place that's comfortable enough to hang out in.
The sausages are imported from the Schwarzwald, and are sehr gut: high-quality pork (no 'mystery meat' here), juicy, springy middles and a proper 'knack' when you bite. More bonus points for serving them in proper bread rolls (as opposed to a US soft finger bun) – at HzG, you'll get chewy baguettes.
Our 'ze Wilde Bock' had a bouncy bockwurst (smoked pork sausage) layered with 'curry' sauce (spicy ketchup, preposterously popular in das Mutterland), squidgy fries and crisp onion shards: a sort of Teutonic chip-and-sausage butty. Straightforward sauerkraut with no embellishments proved a suitable digestif; only the sloppy potato salad (with a good taste, but not texture) disappointed. But for a hearty meal in central London that won't make you bleed through your wallet, it's time to consider a wiener. The burger is dead. Long live the dog.
More
Less
Herman ze German says
Born out of a love of our traditional German dish, Herman ze German first came to life upon realising there was a distinct lack of our beloved sausage here in the UK. Having grown up in the Black Forest with an abundance of great wurst, we began importing homemade sausages from our trusted family butcher to sell in our local pub in Brighton. Fast-forward six years and after countless festivals, events, a comedy takeover staring funny-man Alan Carr and ze World Cup victory, we now share our passions with two (soon to be three!) permanent homes in London.

Herman ze German Soho is our first restaurant-style home with seated areas throughout and ze basement which is a perfect rest-bite from the hustle and bustle of Old Compton Street.
More
Less
Venue name:
Herman ze German
Contact:
Address:
33 Old Compton Street
London
W1D 5JU

Opening hours:
MON - THURS: 7AM -11.30PM FRI: 7AM - Midnight SAT: 10AM - Midnight SUN: 10AM - 11.30PM
Transport:
Tube: Leicester Square/Piccadilly Circus
Price:
Main courses £3.25-£9.95
Menu:
View Menu
Do you own this business?
Average User Rating
4.1 / 5
Rating Breakdown
5 star:

12

4 star:

8

3 star:

5

2 star:

1

1 star:

1
Not the best food I've ever had but pretty tasty. The sausages were good and chips were great, but left feeling horrendously full and really greasy. The service wasn't amazing as it was busy and slow, also a little on the expensive side but an all round ok experience.

I really love the food here (admittedly I only ever get the veggie sausage), but every single time I have been there the staff were very dismissive/aloof. They weren't ever rude outright, but not courteous at all.
Great for a cheap lunch in Soho and fancy a treat. The currywurst is excellent and worth trying. Portion sizes are very generous especially if you upgrade for an extra cheeky sausage. Served with a unique brand of soft drink or beer it makes a nice change if you fancy something different. Service was welcoming and very friendly explaining what options you can have. Eat in or take away available. Sausages being freshly cooked in the background. You can take pride in walking through Soho with your Herman Ze German branded paper bag containing some great tasty food.

This is definitely in my Top 5 cheap eats options in London. Ze Wild Bock Roll is the best including crispybits and their chips are amazing. Crispy and delicious and you get just enough to feel full but not uncomfortable. It's also reasonably price. CHECK IT OUT NOW!
Even with the recent surge in restaurants specialising in hot dogs, this is still the best place for top quality sausages in buns. The Germans know what they're doing, right?
This place has a great selection of draft and bottled beer, and the currywurst is the best I have tasted outside Berlin.
Great German sausage with perfect Pommes. Thanks
The Best Sausage in Town !
Really good German food and beer, a rarity in London.
Straight forward menu, quick service and tasty dogs. Filled me up and left me happy on a number of occasions!
I really like this place and a good addition to Old Compton St. Has the no fuss self service of Mr Moaz but a little more relaxed and there is beer! Very good beer and at the same price and better quality than most of the bars in the vicinity. Mr Moaz might end the evening but this place is a good start with friends. Not a date place - you'll get dumped!
Expensive but quite tasty fast food. Good German lager. We had two chilly sausages with curry sauce, two small chips and two halves of a pint which cost over £18: in my view, a little on the expensive side given the small portions! Yet, this is a welcome addition to Old Compton Street' s fast food venues.
It's a hot dog - seriously - a hot dog. Don't expect some kind of Michelin star service and food for a tenner! BUT great quality wurst sausage, proper buns and an interesting mix of drinks. In and out in 10 minutes. Well worth a visit.
Had high expectations (after reading all the good reviews) dashed at the first sitting. - half a sausage portion (made me angry) - French Fries were cardboard taste/texture like McD's and again a tiny portion. - salad was tiny and lacked style and substance - felt like I got mugged - went for a great Korean meal immediately afterwards to cheer us uo (even though we are both of small-medium appetite) The only positive was the beer on tap was pretty tasty as was the Wurst (but I want a whole one not a few slices!) So two measly main courses and one Beer to share came to over £15. We could have super sized for £2 extra each. Sure that would've filled us up with the cardboard French Fries, but in retrospect we were glad to leave. Sure that Herman would work much better in a street market or pub context, however they need to try a lot harder in a sit down to eat context. Avoid... unless you are a flatulent, drunk, Tory voting ,white, male, middle class, yuppy.