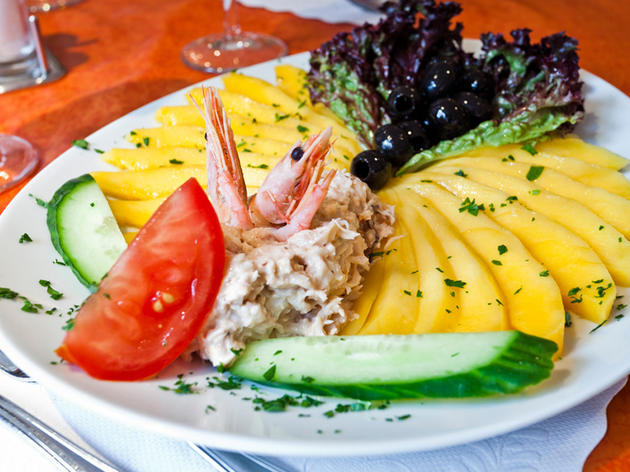 1/7
2/7
3/7
4/7
5/7
6/7
7/7
Straightforward but convivial Italian restaurant that wins over diners with its traditional dishes and old-fashioned charm.
Attracting Wapping residents as well as tourists over the years, Il Bordello often sees queues out of the door during the week. Despite its position at the bottom of one of Wapping's modernised brick wharfs, you could be taking a step back into the 1990s here – complete with tables covered in plastic cloths, and napkins carefully curled into wine glasses. The food, complemented by an all-Italian wine list, is similarly straightforward.
A starter of parma ham and melon was simple and delicious, the portion more than ample for the price, though the bread used for a bruschetta was a touch too dry. Gigantic pizzas topped with time-tested combinations are a strength; we enjoyed a mix of bresaola, rocket and parmigiana. Another highlight was a perfectly cooked veal chop slathered in a rich sage butter sauce and accompanied by roast potatoes.
This traditional style might not appeal to all modern sensibilities, but it's hard not to be won over by the convivial atmosphere and jovial team of waistcoated Italian gents. Il Bordello delivers what so many other restaurants lack: a touch of old-fashioned Italian charm.
Venue name:
Il Bordello
Contact:
Address:
81 Wapping High Street
London
E1W 2YN

Opening hours:
Lunch served noon-3pm Mon-Fri. Dinner served 6pm-11pm Mon-Sat. Meals served 1pm-10.30pm Sun.
Transport:
Tube: Wapping rail
Price:
Main courses £8.95-£21.95
Menu:
View Menu
Do you own this business?
Rating Breakdown
5 star:

6

4 star:

5

3 star:

0

2 star:

0

1 star:

2
Attended a friends party and ate at Bordello's last night .................. It was absolutely fantastic!!!! The food was colourful, very tasty and the service was excellent. Cant wait to go back.
We have been to Bordello's 4 times and it's wonderful. The food is fresh, the seafood risotto is amazing and the best squid I've ever tasted, melt in the mouth. They make the choux pastry fresh each day and the homemade profiteroles are truly wonderful.
been a couple of times, the staff are fantastic, food is great and porrion size is big. Hifhly recommended.
Il Bordello's is brilliant all round. It is always my first choice restaurant since first eating in there 4 years ago. Excellent food, very friendly and welcoming staff, quick service. Food is fresh and delicious and at fantastic prices. I have also visited the sister restaurant, La Figa in Limehouse, also great food. Service was professional but impersonal (is much bigger venue though). Much more warm and friendly in Wapping. Good for any occasion, I have been their for birthdays, dates with my partner, and taken family and friends there - I have visited on several occassions. Service, staff and food has never faltered! Top quality.
Family-run, with staff that span all generations, this restaurant knows how to do good old Italian home cooking! Il Bordello is ALWAYS busy - there is not one day in the week where the place isn't bustling, and there's good reason for this! Never fails to deliver!
Fantastic service, authentic, home made pasta and it's delicious beyond words. The salmone tagliatelle is heaven on a plate!!
Il Bordello is AMAZING. They remember you from the first time you go in. (When I was attending night school and it was my birthday they kept the kitchen open a little longer just for us.) The staff are so friendly and seem to work great as a team ...
...and The food - Wow, just wow! Delicious, fresh and flavoursome. Menu is not just Italian, quite varied.
The other reviews are right. the portions are very big (very rarely get a starter and have a side salad instead of the potatoes and veggies.)
I do not think it is overpriced as it not the kind of the place you go to every day. It's a real treat.

Il Bordello's is well known to anyone living anywhere near Wapping. The food is constantly good, and not overly priced if you stick to the fixed menu. Big shame this restaurant doesn't appear to recycle - not impressed about that! But otherwise a good restaurant.
We went there a few weeks back and I must say it's probably one of the best restaurants I have ever been in. We went as a table of four and only had to wait about 5 minutes (we booked in advance) before we were taken to our table. The starters tasted lovely (we had garlic bread and mozzarella starter) and the main course was just divine. The steak I had was cooked to perfection with very tasty vegetables. The only thing I was surprised about was their portion sizes. I managed to finish mine but I dont think I'll be getting a starter next time due to the portion size! Overall, a amazing restaurant with friendly staff and great atmosphere. Definably a restaurant to check out if you ever go to London.
I LOVE Ill Bordello! just came across this (rude) review when searching for their number to make a reservation. Its a lovely restaurant - warm, friendly, modest, and the food is amazing. Im not even a huge italian fan as its 'something you can make at home' but this restaurant is my favourite in London. I would recommend to book as there is always the regulars to go, and it is a 'regulars' environment - but thats what makes it even nicer. Chatting to the person next to you that youve never met is a breath of fresh air in unpersonal London. Highly recommended.
Not good at all, massive portions of tasteless food; table are so close that it feels like being in a school canteen. Prices are ridiculously high, especially for the poor quality wine (a screw cork bottle cannot cost more than 10 pounds!).
I have eaten at Il Bordello before and very much enjoyed the food. However I went back there for my birthday tonight and was shocked and surprised by my and my partners treatment by the head waiter. We unfortunately had not booked a table as we both work long hours in city jobs. We were told that it would be a 10-5 minute wait. We decided we would wait. As we waited we noticed that many of the head waiters friends were being treated in a far pleasanter manner. Firstly being asked if they wouldlike to go to the bar and then a table of three were seated before us. We decided to let this go as we were only a table of two. Then the couple next to us were seated first, who had not booked but were dressed as if they had just come out of the office. My partner asked why they had been sat and we were still waiting, completely civilly. The head waiter turned on him and asked if my partner wanted to 'do his job for him', then said that the couple in the suits had booked. When my partner objected, he said 'what do you want me to throw them out of their seats?' My partner said no and that he had not come out to argue. And so we left. I was really disappointed as it was my birthday and this man completely unnecessary spoilt it. It was made worse by the fact that it seemed we were being put to one side as we didn't look like we were going to spend as much money, as we had got changed out of our work clothes before we left. I will be writing to the owner and telling him about this experience, and suggesting he advise his staff not to judge books by their covers: as lawyers we probably would have spent quite a lot. However the dismissive behaviour of the staff was quite off putting.
More venues
Sponsored listings