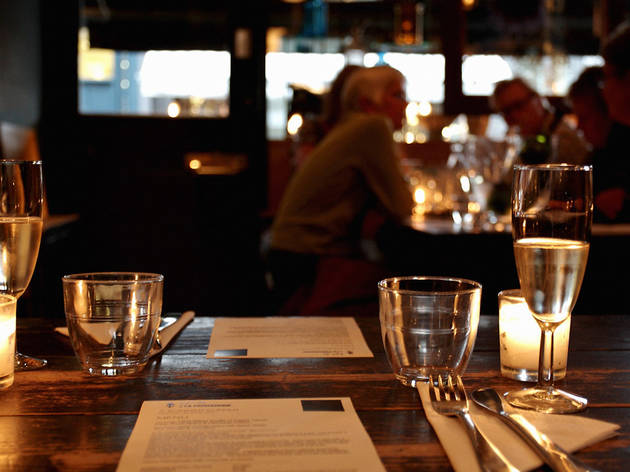 1/6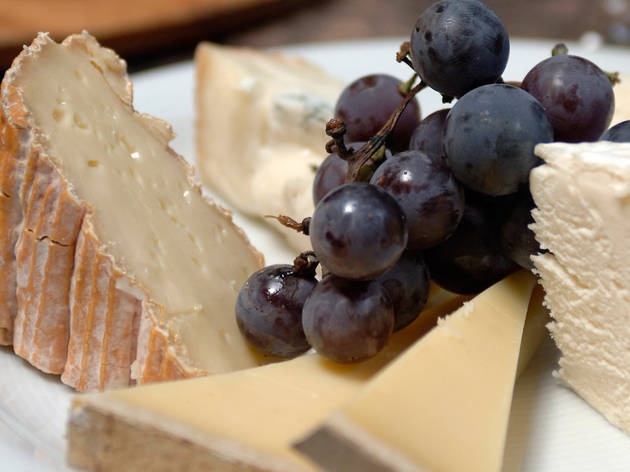 2/6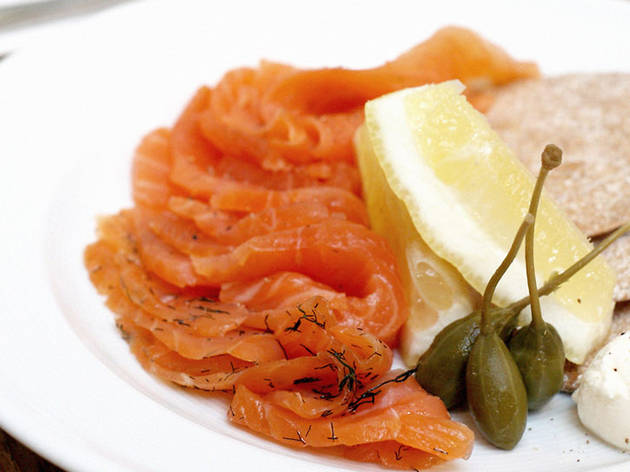 3/6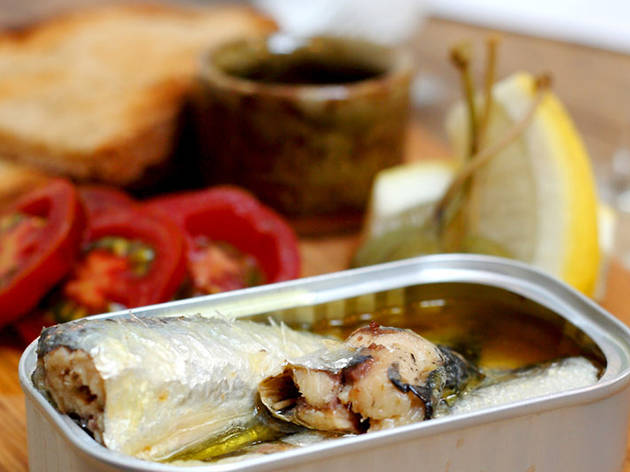 4/6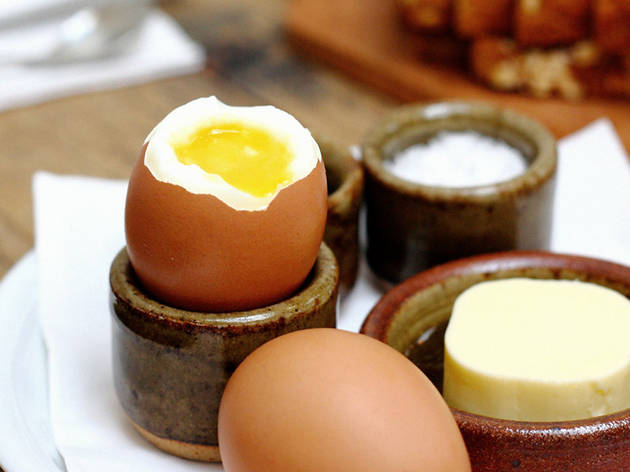 5/6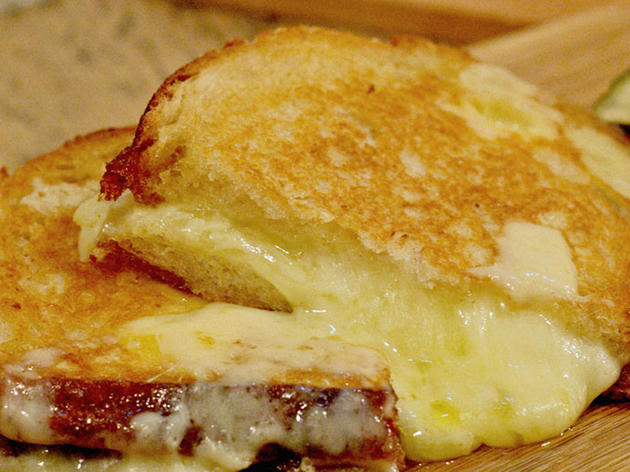 6/6
The best cheeseboard in Marylebone, and possibly in all of London, plus serious sandwiches, irresistible charcuterie, and fabulous baked goods.
There are cheeseboards and then there are La Fromagerie cheeseboards. We'd like to live in a world in which we were only ever served the latter – carefully sourced, themed by nation (with suggested wines to match) and prettily arranged on a wooden slab at the back of a shop filled with wonderful chutneys and handmade French tableware. Our Italian and British selections – best eaten from goat to blue, our waiter helpfully clarified – had not a dud between them. The Marylebone shop's popularity has only increased since it opened in 2002 (a decade after the original Highbury branch) and the café doesn't take bookings, so time your visit with care. Earlier in the day, you could stop by for breakfast (granola, bacon sandwiches, organic boiled eggs with Poilâne soldiers), while if you're lucky enough to secure a table for lunch, you'll find cut-above sandwiches and soups on the menu alongside charcuterie plates, smoked salmon and escargots. A late afternoon table (the cakes are as lovely as the cheese) with prime people-watching potential would be our preference. Choose a glass from the meticulously sourced wine list and watch glamorous locals stockpile dinner party nibbles as you plan your fantasy weekly shop from the shelves.
Venue name:
La Fromagerie
Contact:
Address:
2-6 Moxon Street
London
W1U 4EW

Opening hours:
Open 8am-7.30pm Mon-Fri; 9am-7pm Sat; 10am-6pm Sun
Transport:
Tube: Baker Street or Bond Street tube
Price:
Main courses £6-£15
Menu:
View Menu
Do you own this business?
Average User Rating
2.8 / 5
Rating Breakdown
5 star:

2

4 star:

2

3 star:

0

2 star:

0

1 star:

4
A great spot to spend a lazy Sunday afternoon. Love that you can put together your own cheese plate. Fantastic selection of cheese, you'll find yourself leaving with more than you intended to!
Still one of the best places in London for cheese. Love this place. Not sure what some of the reviews are on about below? I've never encountered bad service.
I am a local who was at first was wooed by the delightful selection of produce, brought over from the continent, and excited at spotting the odd TV appearance. However, the staff are miserable and the produce overpriced. With all that is on offer within a 1mile radius why would you bother...
I live in the neighborhood so pass quite often and get tempted to try various delicasies and cheeses. However I do get more and more disappointed by the quality-price ratio. The service is sometimes very nice but sometimes extremely rude, several times I was overcharged (i.e. 10£ for the bread that costs 5£ - no apology when i mentioned) or did not get correct change (to my disadvantage,surprisingly). Some cheeses are very nice there, and they have lots of choice. In particular roquefort is very nice, in my experience. However I am not very happy with the quality of some more ages hard cheeses like gruyere or aged gauda. The same cheese from selfridges or even waitrose has much more flavor, so I wonder if they are buying less aged and cheaper cheeses or is there anything wrong in they way its been kept? I wonder if other customers have similar observation? Couple times I was sold very poor quality items as if they were good (terrine that they somehow managed to put in a cling film as if it holds, but when unwrapped at home it disintegrated immediately, and flavor-wise it was extremely salty!). So, while the shop looks really attractive, its a bit of a tourist trap and I'm not particularly keen to spend my money there. Lots of items one can get cheaper elsewhere, and better quality too.
I came here for my birthday last week and what a disappointment the service was. I had queued up and secured three places in the big table and was waiting for my friends to arrive. Since one of them needed to come with her baby and there was no place there for the pram, we asked to be moved to another table as soon as there were three slots available (my friend suggested going for a short walk with her baby in the meantime). Then the waitress said that it was not possible and that we had to queue up all the way long again, despite having already secured three seats. I did try to convince her but she was so unreasonable and unhelpful. She kept on saying it was not possible. The other waiters seemed equally unhelpful. The food looked appealing, but since we left we did not have the chance to taste it. I have never in my life seen staff as rude as the one working in this place.
Never normally write anything but after such a great time at the Marylebone branch I wanted to thank them again in print! I chose my own cheese plate - and what a fun thing to do that was, and then couldn't decide on a wine or beer or cider, and they let me taste until I chose the Cider - really amazing Normandy dry with a light fizz and chilled too. Fresh mint tea and an incredible baked cheesecake. I'm going back for lunch on Sunday when I visit the Farmer's Market. This is such a unique shop and food destination. Nothing else like it in London.
We've been coming here regularly since this location first opened and I'd suggest that the 5 stars that TimeOut show herein are no longer accurate. The chef who was responsible for the admittedly great menu has left and the offering here now is very ordinary. The food is still 'okay,' the cheese still the best in London, but... such a disappointment to see this go the way it has. Really needs to rejuvenate itself.
More venues
Sponsored listings