1/8
© Paul Winch-Furness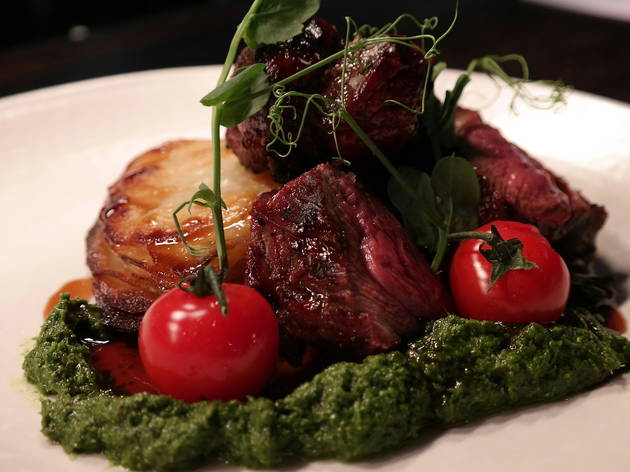 2/8
3/8
© Paul Winch-Furness
4/8
5/8
© Paul Winch-Furness
6/8
© Paul Winch-Furness
7/8
8/8
© Paul Winch-Furness
A Shoreditch restaurant and bar emphasising high-quality meat cooked in a charcoal oven.
Religious cults and steak restaurants are just two of the things that America does well, and it's hard to know which to expect from something called The Jones Family Project. Rest assured: Kool-Aid is off the menu at this impeccably upholstered Shoreditch eatery. Instead you'll find meat, plenty of it, sourced from upmarket butchers The Ginger Pig and cooked over charcoal in a similarly upmarket Josper grill. Juicy steak, attentive service and a luxurious dining room: this should be US-style dining at its finest, and it nearly is.
On our first visit when the Project had just opened, we weren't that impressed (two stars, 'slightly dysfunctional'). Either we caught the Jones family on an off night or they've pulled their socks up. A starter of deep-fried squid (£7.50) came crisp outside and firm within: a delicious little heap. Then it was time for the meat: a 350-gram rib-eye steak (£27), as juicy and smoky as you'd expect given its star billing. This was one big chunk of beef, cooked superbly with no messing around.
Not everything is up to that level, especially dishes without meat. A dry and crumbly starter of risotto cakes (£6.50) and a large and eclectic but pretty unexciting salad (£13.50) didn't get any juices flowing. The innovative 'Potato Menu' is well worth digging into, though: don't miss the Godminster cheddar croquettes (£3.50). Pudding was Eton mess semifreddo (£5), a good idea but only decently executed.
The most obvious thing about the Project's menu is that everything costs pretty dear. Premium meat commands premium prices, and you have to shell out between £1.50 and £3 for sauce or take your steak naked. With a total price of around £30, this is a fair whack out of the family budget. Fortunately, the drinks don't require heavy spending: the wine list starts at around £20 a bottle, with many available by the glass and the half-bottle. Cocktails start at £8.
Save your visit to the Joneses' for a special family occasion. The USA was built on aspiration, but £4.50 for a small plate of spinach might still be pushing it a little.
Venue name:
The Jones Family Project
Contact:
Address:
78 Great Eastern Street
London
EC2A 3JL

Opening hours:
Open noon-midnight Mon-Fri; 10am-midnight Sat; 10am-6pm Sun
Transport:
Tube: Old Street
Price:
Meal for two with drinks and service: around £100.
Menu:
View Menu
Do you own this business?
Average User Rating
4.2 / 5
Rating Breakdown
5 star:

9

4 star:

6

3 star:

2

2 star:

0

1 star:

1
I had a really good time at The Jones Family Project. The risotto was delicious, and the atmosphere was great, whether we were in a booth or at a table. Drinks were expensive, but the service was excellent. Definitely worth a visit.
Great surprise! Food was excellent and staff were very friendly. Atmosphere was not pretentious. I got a two-course meal deal with a glass of bubble from timeout for £17.4. It was well worth it. I ordered beef tartare, the presentation was so beautiful. The caper berries on top gave the dish very sharp flavours, it worked surprisingly well with the dish. I chose duck as my main, the meat was pink inside, just the way I like it, carrot puree was smooth but personally I would like it to be a little bit thicker. The crispy lotus root slices on top were very light. I would definitely go back there again to try other dishes.
I recently visited Jones Family Project for special occasion, the staff were super friendly and very attentive, making us feel so welcome. The food was amazing, we shared a couple of dishes so we could try a few different things. Would definitely go back, a must visit!. Book online to avoid disappointment.
I visited here recently for cocktails and the menu certainly offered a great selection of gin based cocktails. Could have possibly done with offering more vodka based for a wider selection. The free salted popcorn was also an added little extra. Cool bar overall, will visit again.
I have now been to Jones more times that I can count and it just gets better and better. The burger was perfectly cooked, the potato menu is divine, and the truffled macaroni is brilliant. We all ordered different things and shared, everything went down very well. The servings are generous and the staff are very sweet. An extra treat is board games available in the bar: perfect for pre supper cocktails while enjoying happy hour.
This place is fab, a real breath of fresh air. We've now had Sunday brunch, lunch and a birthday dinner party with 30 friends at JFP and I am mad about the place. My first experience was brunch, absolutely delicious, accompanied by one of JFP's amusingly named cocktails, we felt warmly welcomed, very relaxed and could have stayed a lot longer! The atmosphere is so comfortable with well trained, happy staff, innovative décor that has differing atmospheres depending on where you sit - in a booth, in the 'green room' or at one of the tables in the bar area, or at the bar. The food has been delicious on each occasion, meat, fish and puds alike (haven't tried the vegi options yet but they look good!) and they source their food responsibly. For the dinner party we were partially divided off from other diners, by Japanese style screens - enough to feel private and do our own thing but still part of the buzz of the restaurant (and good music!), the staff were excellent, attentive and aware without crowding us. A really great find, a delightfully refreshing find in fact - a fun atmosphere and as good for a cosy twosome as it is for a family brunch or a crowd of mates. Looking forward to going back.

First of all i never write a review for anything unless it has exceeded my expectations.
I found this little gem after extensive research and very glad i have come across this lovely restaurant, our company decided to host our NHS private dinner on the 15th May.
The communication with the staff was great they had helped with every little thing from start to finish, the tasting session was amazing the wine was superb, and the atmosphere and decor of the restaurant i cant fault.
The evening of the dinner staff were attentive on point smiling and always helpful, the downstairs dining area was laid out exactly how we wanted.
all on all our guest and sponsor and staff had such a great evening that they didn't want to leave and wanted to stay for more drinks.
All the feedback about the restaurant and the food has only been positive ones.
Everything about this restaurant was amazing!!!
I now have a restaurant where i can keep on going back to for our private dinner events.
A big Thank You to all the staff on the night.
Rani B
Have been back numerous times and thought it was time to write a review. The food was delicious each time, last time I ordered the burger which was genuinely incredible. The atmosphere in the evenings when there's people around is amazing. The service is friendly. It's certainly not your typical Shoreditch restaurant, and although, depending on what you order, can be expensive, its worth every penny.
The jones family project, a recently opened restaurant and bar in shoreditch is a great revelation and night out! The food is amazing and the atmosphere is warm, friendly and and very welcoming. The review got it completely wrong and I would hugely recommend the JFP to everyone who is looking for a good meal with a nice atmosphere!
I heartily disagree with the review above. I have been to Jones FP 3 times and the food gets better and better. I can only assume the reviewer arrived very early in the evening when the restaurant was empty and it was an off night. It looks like it was maybe shortly after the restaurant opened. Anyway which way the burger was literally the best burger I've ever had anywhere. Perfectly cooked and a taste that lodges in your memory. I will definitely be back.
Sad to say I agree with this reviewer. I had high hopes for this restaurant and while I can't fault the service, I can firmly say I won't be back. First off, the atmosphere was lacking. Empty bar, empty tables, but most unforgivingly, it was far too bright for a Saturday night dinner. Felt more like a pub lunch. The food was equally unimpressive. The salmon I ordered was badly overcooked, and sitting on a pile of green mush (aubergine?). It was completely flavourless, until I remembered that it cost £17 (!!) at which point it tasted pretty bitter. A meal for 2 (no dessert) cost £85. We left the restaurant feeling like we'd been had, which is never pleasant. In an area that has TONS of great places to eat, this one won't last. You can walk 30 seconds down the road to Merchants Tavern which has Michelin star quality food for similar prices. Don't waste your money here.
Just had dinner at JFP and I've got to say these guys know how to cook a steak! It really was perfect. We had two prime ribs to share between four, the whole potato menu and one of each sides...what a feast! As if I wasn't full enough, I thought I'd stretch my belly to it's limits and have the tiramisu. Also super tasty. Not your run of the mill Shoreditch haunt, it's not cheap. But the for the quality, service and vibe it's more than good value. They even have their own lager..I'm going to be back..a lot!
Perfect spot for a cheeky date! The downstairs restaurant is intimate and cosy. Steak was amazing, cocktails hit the spot and staff couldn't have been friendlier! I'll definitely be back..this is one to watch!
It's a shame that this review only gave The Jones Family Project (JFP) 2 stars. I have been on a number of occasions and the food gets better and better. I had the oxtail burger recently and it was the most delicious, moist burger I had ever eaten. I prefer medium rare but was willing to try something different and I am glad I did. I do agree that it might be trying to cater to too many tastes with so many different international cuisines but it's a new restaurant and I think it is still finding its feet. The lunches are great and what they can do with eggs on the weekend is not to be missed. The wine selection is strong, maybe a bit too long. The Picpoul de Pinet and the Secco valpolicella Valpantena were very nice. I would say bear with it.
More venues
Sponsored listings