The ten best London shopping centres
Why risk traffic and weather when your local shopping centre can provide all of your favourite outlets under one tidy roof?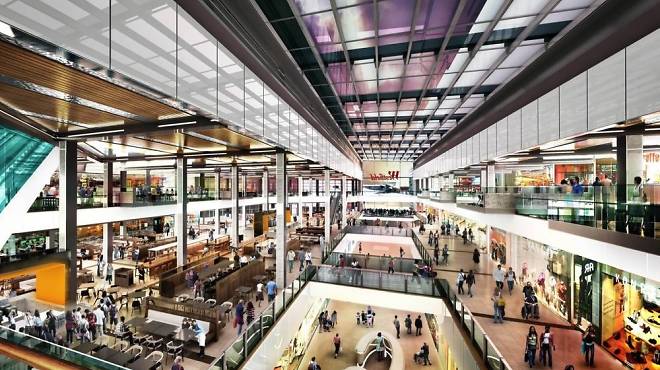 Westfield
All the convenience of the high street with none of the buses, tourists or chuggers; London's shopping centres and malls are where retail therapy gets serious. Whether you're shopping for gifts or something a little more selfish, here are ten we'd wholly recommend.
Refitted shipping containers plonked artfully underneath the elevated Shoreditch High Street Overground station make up this contemporary shopping and eating mall. Installed in late 2011, Boxpark is founded by Boxfresh entrepreneur Roger Wade who, with developers Hammerson and Ballymore, has filled the mall with labels like Dockers, Evisu and Nike, book publishers Phaidon and Scandinavian interiors brand Marimekko, and food and drink outfits Chop'd and Crussh – although the inclusion of Bukowski grill and café Foxcroft & Ginger promise a wider breadth of indie brands to come. Taking up a small corner of The Goodsyard, a 4.7 hectare site running alongside Bethnal Green Road, it seems Boxpark is the first of a series of developments on the former wasteland that could see up to 2000 new homes, office and retail space and leisure facilities.
When Brent Cross opened in 1976, people didn't believe the concept of the shopping mall would work but nearly 40 years on and Britain's first enclosed shopping centre is still thriving with plans underway for a massive redevelopment. With a mix of trusty department stores (Fenwick, John Lewis and M&S), all the high street brands you could ever wish for (from H&M to Whistles) and a few specialist shops in the mix including the Apple store, Haviana's flip flops and Kate Kuba shoes, you can see why North Londoners are ever-loyal to this shopping centre (the free parking helps).
Conceived as an experimental retail and social housing complex in the 1960s, the Brunswick was neglected throughout the 1980s and '90s. In 2006, however, the Grade II-listed centre was given a much-needed £24 million facelift by an architectural partnership that included the building's original designer, Patrick Hodgkinson. The concrete-heavy complex has retained its 1960s character but it is now brighter, whiter and considerably more popular. The retail outlets are largely of the high street chain variety (there's French Connection, Benetton, Joy, Space NK, Hobbs, Oasis), but on a summer evening the central walkway buzzes with shoppers and diners (at Apostrophe, Carluccio's, Yo! Sushi and Strada, among other eateries) creating a lively continental vibe. And the crowning glory is still here – the arthouse Renoir cinema.
Hunter Street, Bernard Street & Marchmont Street, WC1N 1BS
More info
Nestled elegantly between Sloane Ranger haven that is Peter Jones and the handsome Saatchi gallery, the Duke of York Square offers one of London's chicest open air shopping centre experiences. Here you can stock up on smart threads at one of Europe biggest Zara's, as well as Joseph or newly opened boutique Rtister. Feeling like you need a beauty boost? Have your hair blow-dried at Kate Middleton's favourite salon, Richard Ward or stock up on make-up at the Mary Quant cosmetics store and brilliant Taschen shop, where you'll find a range of glossy art and photography books. In the summer, eating al fresco here, surrounded by a sea of Tod's loafer-clad blondes, feels distinctly Chelsea.
Kingly Court has helped London's Carnaby Street to reclaim its 1960s reputation as the heart of swinging London (well, at least a vein of it, anyway). The three-tiered complex boasts a funky mix of established chains, independents, vintage and gift shops. The café-filled courtyard generates the most bustle, attracting custom to ground-level shops such as Marshmallow Mountain, which has a good selection of vintage shoes, clothes and bags, Lazy Oaf (trendy menswear), Henri Lloyd, Vans and Mnini (vintage-style gifts). There's more vintage clothing from Stromboli's Circus (formerly Twinkled), which goes the whole hog with vintage homewares as well as clothes. Also check out the women's boutique BirdCage. Crafts get a look in on the second floor at Buffy's Beads and All the Fun of the Fair (knitting supplies). There are also outposts of Triyoga and Walk-In Backrub, and decent beauty treatments (manicures, waxing, facials) can be had at the Beauty Lounge (no.1, 7734 6161, www.thebeautylounge.co.uk).
Carnaby Street, (opposite Broadwick Street), W1B 5PW
More info
A short stroll from St Paul's Cathedral, this flash-looking shopping centre features a warren of high street retailers, office buildings and restaurants. It's a great place to head for all the chain big hitters (H&M, Topshop, Reiss, All Saints, Next et al) without having to face the roaring crowds of Oxford Street. They're a touch small than their West End counterparts, but the centre's elegant good looks and sense of peaceful calm make up for the loss of square footage. A few more upmarket outlets (Hugo Boss, LK Bennett, Hobbs) as well as Hershesons Blow Dry Bar and a Strip waxing salon complete the picture.
Opening three years ago, St Martin's Courtyard, instantly improved the shopping experience in Covent Garden with its neat pedestrianised streets and smart shops such as Twenty8Twelve, Jaeger London and Cos. It also turned out to be a good place to meet friends for food – Bill's and modern Mexican Cachina Laredo are both worthy options. There are regular events and festival – this summer on Sat July 13 St Martin's Courtyard will play host to a flower and food festival and from Sept 15 it will be turning into an open-air cinema to coincide with London Fashion Week.
Occupying 46 acres and covering nine different postcodes, Westfield London took the crown of Europe's largest shopping centre when it opened in autumn 2008. The impressive site, which held the 1908 Olympics, cost around £1.6 billion to build, and houses some 265 shops. Popular labels that have never had stand-alone stores in the UK, such as Hollister and Ugg, have shops here; you'll also find luxury fashion houses, including Louis Vuitton and Burberry. Highlights from the boutique-like labels include Sienna Miller's Twenty8Twelve, Tabio, Myla lingerie and Cos. Michelin-starred chefs Pascal Aussignac and Vincent Labeyrie can soothe away any shopping-induced stress with their gastronomic creations at Croque Gascon. If they don't manage to tempt your taste buds, then one of the other 50 eateries (including branches of Balans, Square Pie and Wahaca) surely will.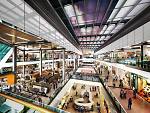 The 'city within a city', Westfield's £1.45 billion retail behemoth snakes through the Olympic site, with 300 retail units – the cornerstones of which are gigantic versions of High Street brands John Lewis, Marks & Spencer and Waitrose – 70 restaurants, bars and cafés, and a 17-screen digital cinema. While you will find the odd designer store – such as Mulberry and Prada – the core of the mall is flanked with high street giants including Primark, Topshop and Forever 21. A vast newish Victoria Secret's shop is strategically located near to Holister and Abercrombie and Fitch – all three of them are always packed with label-loving youngsters. Levi's are also opening up shop this summer as well as Square Pie.
When it was opened in 1911 Whiteleys department store was considered the height of luxury. Today's largely mainstream tenants are at odds with the refined Edwardian structure – its marble floors, huge glass atrium and impressive La Scala staircase mean the place sometimes gets used in film shoots (it features in both Love Actually and Closer). The mainly mid-range high street shops include Zara, Dune, Muji and E&A Moda, and there's also an eight-screen Odeon cinema and a branch of the upmarket bowling chain All Star Lanes.
---
Find a shopping centre near you on our map

Shop your heart out in these great places
---