Heads up! We're working hard to be accurate – but these are unusual times, so please always check before heading out.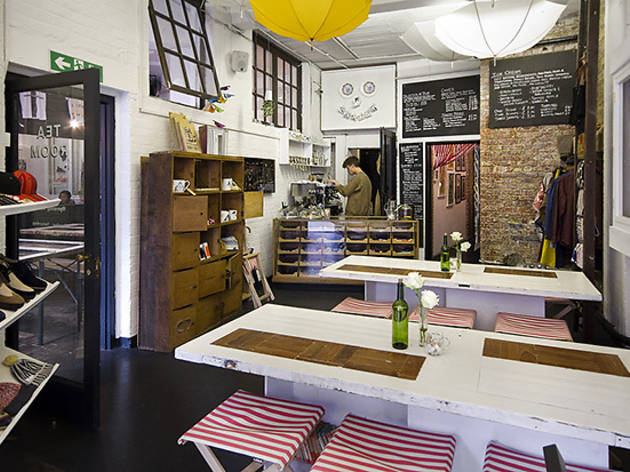 London's coolest shops
With unusual concepts, DIY wares, unique retail experiences, London's best boutiques always deliver something extra
Sometimes high-street stores don't quite scratch that shopping itch and when that happens, it means it's time for you to hit the capital's coolest stores. Whether you're taken in by how the products have been sourced, their bold designs or even the shop's decor, London's boutiques hold a special place in our hearts so that's why we've listed some of the very best ones to help you find that one-off piece or unique design you've been after.
True to its name, north-east London's Search and Rescue stocks its spacious store with sought-out home accessories and wares, offering ceramics, textiles and soft furnishings for customers to uncover. In this vintage maze, you'll find hand-chosen glassware, beauty products and even a fully-functioning 1960s pinball machine but be quick because these vintage bits and bobs will no doubt be snapped up quickly. So if flatpack furniture is not your thing, head up to this Stoke Newington boutique to get your hands on some unique pieces.
While The Old Cinema is no longer a spot for you to catch a flick, this former 1890s movie theatre is now an antiques haven. If you're looking for something retro, unique or vintage, this Chiswick boutique should be your first stop. Some of the Old Cinema's wide range of stock, which includes decadent French pieces, mid-twentieth century side-boards and upcycled items, have made it on the sets of Hollywood films. After some furniture fit for a movie star? Well, look no further.
A joint venture between two friends, architect Ben Pentreath and artist Bridie Hall came together in 2008 to sell elegant pieces from their rare find of a shop, Pentreath & Hall. In the heart of Bloomsbury, this tiny shop is home to a number of unusual decorative delights including Victorian maps, hand-embroidered pillows, classic French dinner candles and alphabet brush pots. As with all independent boutiques, you'll have to dig into your pocket a little bit but worth it for these items that boast quality, charm and craftsmanship.
If you're on the hunt for sustainable modern furniture with an edge, then Unto This Last should be right up your street. Pairing innovative software with beautiful designs, this east London furniture shop produces pieces tailored to customers' needs, from tealights to coffee tables to bed frames. If you're interested in the process, you can also head over to their workshop and showroom on Brick Lane to watch the furniture makers at work.
Right in the heart of Hackney Flea Market resides the DIY Art Shop, home to the works of the artists who exhibit at the DIY Art and Independent Ceramics Markets. Think beautifully crafted ceramics, colourful risograph prints and stunning hand-sewn items and on top of all that, they're also affordable. So if you feel like picking up some artwork that pushes the boundaries and also supports both emerging talents and established names in the art world, make your way over to the DIY Art Shop.
If you're into your tarot readings and never pass up the opportunity to get your hands on a new crystal, then stepping into The Astrology Shop will rock your cosmos. This little shop is filled to the brim with reasonably priced crystals, tarot cards, incense and books to help you figure it all out. And if your daily horoscope at the back of the paper isn't quite cutting it like it used to, you can also get a personalised horoscope on the spot which comes as a poster.
Venue says Established in 1989 The Astrology Shop offers everything to suit your esoteric needs! Books, crystals, tarot cards, personalised horoscopes!
Designer vintage brand Ragyard is all about sourcing unique clothing and accessories from around the world, upcycling them, injecting colour and character into them and selling them on. The Portobello Road store is packed with hand-picked vintage pieces that have been given a new lease of life through sequins, applique and lots of embroidery. Nothing soothes buyer's remorse quite like knowing that at least your new purchases have helped reduce waste.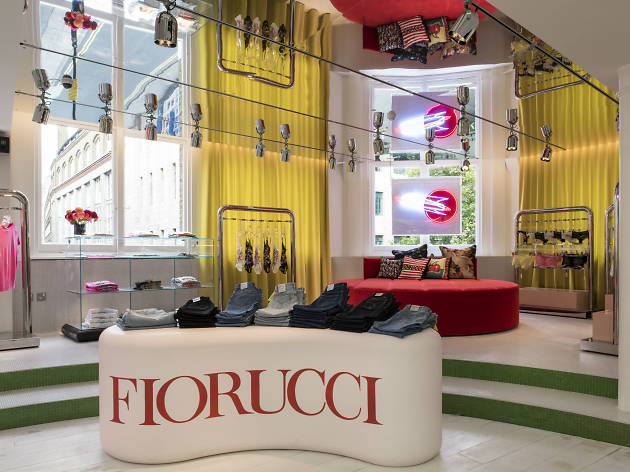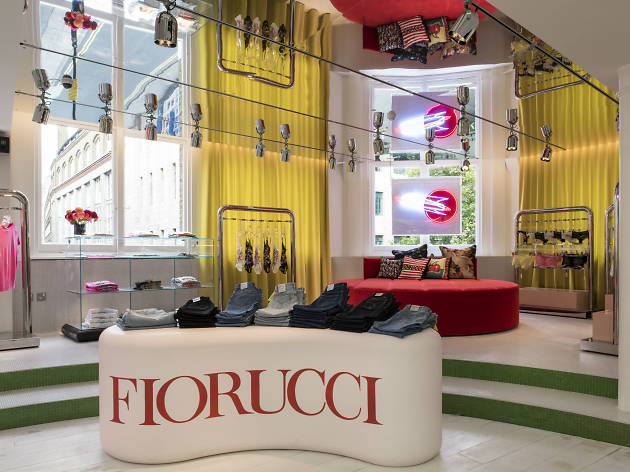 Italian superbrand Fiorucci has been cool pretty much since its inception. Launched in Milan in 1967, founder Elio Fiorucci was inspired after visiting London's Carnaby Street. After gaining fans like Madonna and Marc Jacobs, the label quickly because a pop-culture staple with its statement logos, creative denims and their latest distinctive vintage angels. Now based in the heart of Soho, the flagship store offers a neon galore, packed with an instore bar, a VIP shopping suit, a Fiorucci Cafe and more. Eat and drink while you shop, it doesn't get much cooler.
When it comes to retail experiences, it's hard to turn it into something innovative however, that's exactly what 50m London have managed to do. With a fashion concept that showcases emerging designers, the Belgravia retail space aims to create a new community for both designers and customers. Alongside shopping, the space also hosts a number of talks, workshops and performances, meaning that you can get a dose of creativity and culture alongside your new garms.
Dutch brand Ace & Tate is not your typical optical brand. With bright and spacious stores that make you feel like you've stepped into a designer boutique rather than somewhere to get your eyes tested, this eyewear startup is known for its minimalist and clean-cut style. So if you're in the market for some new frames but want to avoid a stuffy opticians, make sure you set your sights on Ace & Tate.
Something that we never seem to appreciate properly until we reach adulthood, candles are both a wonderful gift and key staple of most relaxing routines so if you're on the lookout for some scented goodness you need to look no further than Earl of East. Based in Coal Drops Yard, this lifestyle store is known for their wide array of candles and home fragrance, alongside ceramics, glassware and even skincare. So if you're looking to level up your self-care activities, Earl of East is your one-stop shop.
For some of us growing up, the best time of the year was the beginning of the new school year when you'd get decked out with all brand new stationery. If that's still you, Present & Correct is the novel design-led store that will make all of your stationery dreams come true. Head to this quaint Clerkenwell shop to revamp your workspace and top up on your journals, pen pots and desk trays.
The first of its kind in London (and actually, the whole of the UK), pam pam is the UK's first women-only trainer store. Found on Bethnal Green Road, this fashion-forward footwear boutique looks more like a gallery dedicated to sneakers than a shop however, it's not just footwear on offer. Savvy shoppers can also find edgy minimalist clothing alongside jewellery, home accessories and fanny packs in this trendy East London shop.