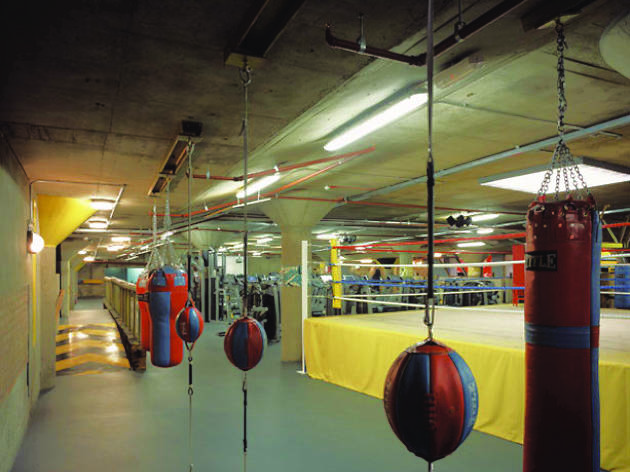 This centrally located gym offers some of London's wittiest workouts from its 'Tour de Holborn' spinning class to the 80s-flavoured 'Voga' class. Located underneath High Holborn, this compact space combines the atmosphere of a nightclub with state-of-the-art facilities. A full-size boxing ring dominates the main space, along with a large movie screen. There's also an impressive free weights area, spinning studio and two exercise studios. While the boxing theme might suggest a macho environment, more than 50 per cent of members are women. A newer branch in Covent Garden (at 42-49 St Martins Lane, WC2) boasts a vast studio and Olympic-sized boxing ring. Further branches in Bank, Farringdon and Westfield London.
Venue name:
Gymbox
Contact:
Address:
42 St Martin's Lane
London
WC2N 4EJ

Transport:
Tube: Leicester Sq
Do you own this business?
Average User Rating
2.3 / 5
Rating Breakdown
5 star:

2

4 star:

3

3 star:

0

2 star:

3

1 star:

8
Dishonest staff, money centric mindset.. They first promise something and then they charge your for your their faults. What happened is I was in a contract that will end as I would go abroad for a few months and I talked about this when I was starting my contract. Everything was fine till that day came and I wanted to cancel my membership. At first I went and signed a paper to cancel it and they said that it was possible to freeze for two months and I accepted. After a while they sent me an email (just an email no call) saying that it is not possible to freeze for two months. And then I changed my decision and wanted to cancel. What they said was sooo funny they charged me for the month that I would not be here. And the reason is I missed the notice period. I still have the paper I signed which is signed before the notice period. I sent them the paper I signed and talked about the faults they made and the misinformation. In stead of apologising for their fault they sent me a form to fill my details. Moreover I was abroad for a while and could not check my emails. And when I got back, I received an email saying that they are adding admission fee onto the payment that I have not made. Just an email? How can that happen? What they did was pretty annoying and still trying to charge me for it. I have introduced 3 friends there and now I am spreading the word, never ever in my life I will introduce anyone to Gymbox and I will never go. Do not believe what they say, so dishonest. Think five times before you become a member!!!!
It is a SCAM. They will charge you 3 months after the contract finishes. They store card details so even if you cancel it directly with your bank they continue charging. I had to cancel my card and get a new one. Lost £230 for a gym I was not using. Manager Holly is one of the worst manager's I have crossed with. It is a scam, they take your money and you will never see it again.
I 100% agree with everyones negative comments here, dishonest and money hungry company. Terrible communication. On the surface the do their best to be friendly, but beyond that there is nothing. After signing what I was made to believe was a 3 month contract, I received no confirmation... I had to go in and ask if I was a member, if I needed a card of some sort etc. My 3 month's came to an end but I was still being charged. They require over a months notice to cancel, compared to simply cancelling your direct debit as other, less money hungry gyms require. In fact if you cancel your direct debit they will find other ways of taking your money including passing the debt onto a debt collector which you must pay for. When I emailed about this I received absolutely no response. Also beware of their sales tactics, prices aren't available online for a reason - they are extremely high, and so attempt to lure you onto the premise and persuade you in person. Yes the classes are good and the music is good too, but this business needs be more fair with their customers.
I signed for a 3 months membership, when I asked confirmation that the contract will end at the end of the agreed period I have been told twice that it will end automatically but after a month I realised that money was still taken from my bank account, I tried to cancel the membership with immediate effect and asked a refund for the 2 months extra paid but they said it was my fault because I did not send an email to ask for cancellation after the 3 months period, dishonest staff. In addition the gym is small, no space for stretching, expensive cost.
As an actual gymnasium, this is a satisfactory gym with good equipment and facilities. However, with respect to customer service and membership satisfaction, this gym is very unsatisfactory. I would warn anyone thinking about joining this gym, to consider other gyms in the area who do not practice membership procedures like this gym. I belonged to the Fitness First gym across the street beforehand, and the service there was much better and appropriate (the only reason I moved from that gym to the Gymbox was our company subsidy program deal with the Gymbox)! To be hones, the Gymbox membership service practices border deceit! I joined the gym through my workplace subsidy program. I joined on July 1st, 2014 for a 1 year membership. In June of 2015, our company moved offices to an area with no Gymbox in vicinity, so it was appropriate for me to cancel my membership (i.e. not renew my membership after it expired on July 1st). I gave more notice in May (more than the required 1 month cancellation notice). I had written a letter stating my intentions of cancelling my membership on July 1st. However, the staff indicated they could not accept a letter, but I had to fill out their cancellation form. I completed this form, and signed it appropriately. What they failed to expressly indicate to me, is that they changed the date of my membership to complete on 31-July (not 01-July which is the 1 year contract date). They did NOT tell me this.
So they charged me an extra month fees and provided no alternative given the circumstance that they changed the date without expressly informing me. All they said is that I am bound to it because I signed it. There was also inconsistency with how they handled this with other of our members at work who had the same situation. I noted this to them, but they ignored this and demanded payment. When I gave them names which they requested of those who were treated differently, they ignored this, and then passed my account to a debt collector.
So I'm just writing this review to those who may be considering this gym - if you want good facilities, but decietful practices, then this gym will be fine for you. But if you want honest service, I suggest you go somewhere else.
Thanks,
Ralph
I very much agree with Esin, i took out a 6 month membership which should have expired on the 8th July 2015 however as they are money hungry they told me i had to pay for the whole of July as they are incapable of pro-rata the payment which is ridiculous as either the management there are as thick as two planks of wood or alternatively wanting to fleece me as much as possible. As this was in dispute i cancelled my direct debit before they could withdraw the whole £75 for July which simply was not due. However when you first register at Gymbox they swipe your debit card and tell you this is for identification which is a complete lie - this essentially allows them to take the money out as and when they feel like it even if the direct debit has been cancelled. I manage a big company and we are moving offices. I am moving to Holborn and was thinking of using Gymbox as an employee perk, this is now out of the question as they are highly dishonest and money hungry. I am very disappointed with this gym and would not recommend it - better off joining the Virgin Active down the road.
Really terrible gym. I joined on a 3 month contract and cancelled in person in Victoria and was told there was nothing more I needed to do. 6 months later I realised they're still taking money from my account and they won't refund me. Worse still, not realising this, I paid to rejoin and paid another monthly fee on top of my existing one and they won't even refund the months which I paid for twice!! The managers are really unhelpful, unfair and really put the customer as the very last thing they think about. They don't respond to calls and don't answer emails (they just respond with corporate blurb). Plus they just seem to make up the pricing structure so everyone pays something different. It's really terrible. Again like others have said, if I could, I would rate as a zero star. DO NOT JOIN.
I joined this gym in Victoria and asked for a 3 month membership ONLY. The lady helping me never mentioned to me that the membership was ongoing until I cancelled it myself. The lady instead kept on replying saying this was 3 month only.
6 Months after my membership was suppose to be over, I noticed I was still paying a monthly fee. I called gym box straight away and was surprised over the attitude I got.
They told me I had to pay for yet another month before they could cancel.
If you pay for 3 month only, you should expect to get 3 months only.
This is the WORST gym i have ever been a member off and to all the other people out there thinking to join, STAY away from these Thieves. MASSIVE SCAM. I lost over £400.
Agree with most all of the negative comments here - very money hungry company. Signed up for a six month contract, at the end of my contract I emailed to confirm that this was my last month and when the termination date was, they said I would have to formally cancel and pay an extra month. Citizens advice indicates that auto-renewal of fixed term contracts is an unfair term and condition and should be removed from all contracts. I highlighted this to them and they were not interested, only interested in the extra months fee. So ended up having to pay 7 months membership for a six month contract!! Threatening emails stating that if I did not pay then they would pass on to debt collectors and the costs would significantly increase. If I could give zero stars I would - stay well clear, better gyms with significantly better service elsewhere in the city!
Gymbox does indeed have a 'cool' vibe, with its best-selling point being their vast array of intense and super fun classes to ensure you'll never get bored.
Sadly, the ability to effectively supplement these with your own, tailored training on the rest of the gym floor is terribly limited by cardio and weight machines that completely dominates it. Other than a tiny bit of floor space for light stretching in the Covent Garden, Holborn and Old St branches I frequent, there's no further freedom of movement to do your own body weight, circuit-style training with free-weight equipment like plyo boxes, battle ropes, medicine balls, etc.
Fine if you're happy with your gym floor regime comprising solely of machines, but it's a terribly outdated training philosophy I'm surprised to still see perpetuated in a 'cool' and 'trendy' gym like Gymbox.
In a nutshell, if you're constantly looking for new and fun ways to work out, Gymbox classes do fit the bill. But to truly reap the fitness and aesthetic results you're after from any training regime, you must be able to supplement and tailor them to your own needs. A gym chain that only offers its members the opportunity to do this purely from machines is disappointingly outdated and far behind the times compared to the likes of Barry's Bootcamp, Frame and 1Rebel, to name but a few.
I have to confess I'm a Gymbox gym bunny – the classes, instructors and PTs are all consistently great, and the real plus is that they have over a 100 different classes/ week that are updated regularly… The live DJs, club style décor and central boxing rings all add to the buzzing atmosphere and inspire you to work up (even more) of a sweat. On the not so good front, the popular (and best) classes fill up quick, so you always need to remember to book ahead if you stand a chance of getting in… And it's a little pricey, so unless you go several times a week, it might make more money-sense to look elsewhere.
Gymbox has been the best gym I've ever been a member of. I've been a member for 6 months now and have no real complaints! The facilities in each of the branches are all really new, there is ample equipment/machines and the classes never feel too crowded. As someone who loves doing classes, I'm spoilt for choice and always find myself trying new ones. The staff have always been really helpful when I've needed them. The brand is all about having fun & working hard, and it really lives up to it!
Excellent experience, something completely different to keep you fit without exercise becoming tedious (we've all been there). There are multiple Gymbox venues across London, you can find your closest one at http://mylocalpitch.com/, and keep your eye out for their deals! Offering different sport in London to keep it fun! Again, really enjoyable, fun and different exercise!