Christmas theatre shows for toddlers
Festive entertainment with maximum fun at these delightful Christmas shows for toddlers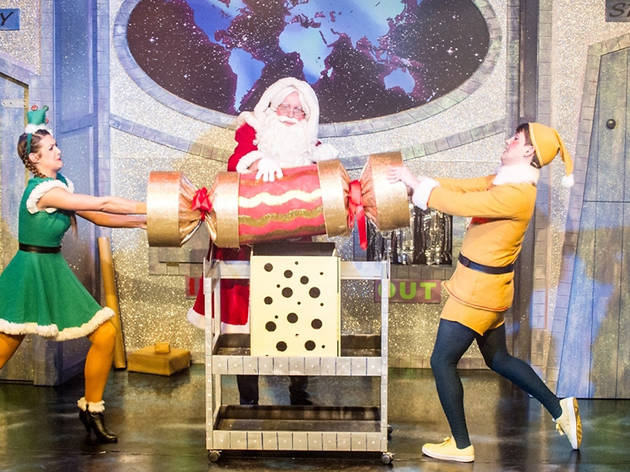 Turn those squirms of boredom into squeals of delight this Christmas at one of these charming theatre shows for very little ones. Full of song, dance and festive storytelling, there should be enough here to keep your wrigglers happy and in the festive mood.
RECOMMENDED: Find more Christmas shows in London
Christmas shows for toddlers (0-5 years)
Little kids will wriggle in excitement at this festive treat, based on Eric Carle's gorgeous watercolour picture books. As well as 'The Very Hungry Caterpillar', Jonathan Rockefeller's family-friendly stage show will adapt three lesser known stories: 'The Artist Who Painted A Blue Horse', 'Mister Seahorse', and 'The Very Lonely Firefly'.  The production started out in Australia before touring to New York's Broadway, where it scooped up plaudits for its agile cast of 75 puppets.  
Read more
This show for toddlers by Turned On Its Head is inspired by all things squishy, squashy and spongey. The company use a simple toolbox of homespun materials to create a tactile physical word for babies and small children to explore. Liz Clark and Oksana Tyminska will dance to an original '70s-inspired score by Tayo Akinbode that's perfect for under-fives.
Read more
Discover Children's Story Centre creates a magical, glittery, shiny winter haven for babies and toddlers. This 20-minute performance features glitterbug-themed stories, puppets and songs for children aged 0-3.
Read more
The Orange Tree's cosy-sounding Christmas show is the family-friendly story of a girl with a talent for knitting. Elinor Cook adapts Mac Barnett's tale of a girl who escapes her grey town by covering it in bright multicoloured knitwear, after she discovers a brightly-coloured box of wool. This warm-hearted yarn is aimed at families and children aged 3-plus.
Read more
Little Bulb have been delighting Battersea Arts Centre audiences with their characteristic blend of comedy, high whimsy and devised theatre for a few years now. Their Christmas show for children is a woodland story, starring a lively cast of forest animals. For kids aged three to seven.
Read more
This seasonal stadium spectacular is hoping to drag tots away from the TV with a host of CBeebies stars, including Andy Day, Katy Ashworth and Cat Sandion. Oh, and Dave Benson Phillips will be making an appearance too, for any grown-up 'Get Your Own Back' fans. They'll play the inhabitants of Christmastown, who have to save Christmas from the wicked clutches of Queen Glacia. Sophisticated theatre it ain't, but there should be enough song, dance and glitz to make it a lot of fun.
Read more
Acclaimed director Sally Cookson is the brains behind the National Theatre's 'Peter Pan' - and this long-running adaptation of Michael Rosen's story for younger kids, 'We're Going on a Bear Hunt', which calls in at ArtsDepot this Christmas. A brave troupe of adventurers set out to catch a grizzly, accompanied by their musical dog. There's real mud and interactive silliness in this quirky, hands on musical show. Ages three-plus. 
Read more
Families are treated to a banquet with a difference at this lip-smacking interactive show from A Line Art. Every guest will make their own make-believe meal, choosing from traditional Christmas meals with all the trimmings. The waiters will deliver colourful plates of imaginary ingredients, before launching into a musical journey that everyone can get involved in. Suitable for everyone aged 3-plus.
Read more
Christmas shows for the whole family
Make Christmas more magical with a trip to one of London's many family-friendly Christmas shows. There's theatre big and bright enough to keep little ones enthralled and performances sweet and subtle enough to entertain the whole family. Find the one that all of your lot will love and book tickets so you don't miss out.
Read more