Open-air theatre in London
Dig out the kagoul; London's open-air theatre is worth risking the rain for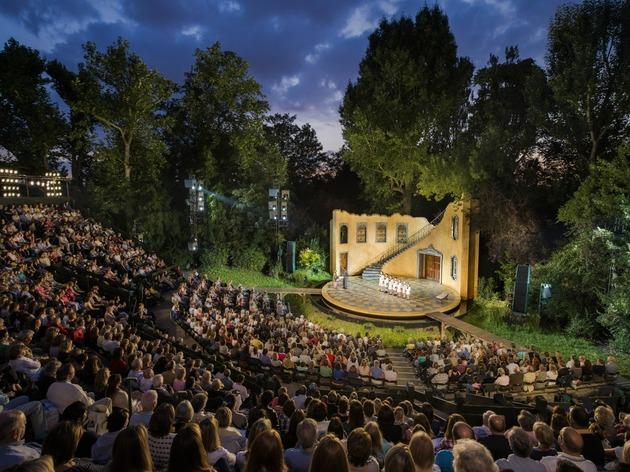 Read our round-up of open-air theatre events for the summer ahead. You'll find London's best outdoor productions at venues as world-famous as Shakespeare's Globe, in parks as pretty as Regent's Park or at festivals as vibrant as More London Free Festival. Not sure what you'll need for an open-air theatre trip? Then don't miss our guide to all the practical open-air theatre info you could need.
This month's open-air theatre shows
'In the dark times, will there also be singing?' A quote from German dramatist Bertolt Brecht is an unlikely start to a family show…
Read more
As a sprawling former Victorian town hall, Battersea Arts Centre isn't short of space…
Read more
'Did Emma Rice send you?' spits Lucy Thackeray's Tina Quince as Margaret Ann Bain's Philostrate tries to confiscate her tambourine. 'I'll have you know this was given to me by Mark Rylance'…
Read more
The National Theatre's River Stage returns to the South Bank for a month of live music, dance, performance, workshops and family fun…
Read more
Regent's Park Open Air Theatre
This is the review from the 2013 production. Pride & Prejudice returns to the Open Air Theatre in September 2016. There's only one sensible way to stage Jane Austen's seminal 1813 novel. And that is to make it very silly indeed.
Read more
See more on open-air theatre in London
Shakespeare's Globe
'Did Emma Rice send you?' spits Lucy Thackeray's Tina Quince as Margaret Ann Bain's Philostrate tries to confiscate her tambourine. 'I'll have you know this was given to me by Mark Rylance'…
Read more
'In the dark times, will there also be singing?' A quote from German dramatist Bertolt Brecht is an unlikely start to a family show…
Read more
Famously, the only Shakespeare play Emma Rice had directed prior to taking change of the Globe was an anarchic RSC 'Cymbeline' back in 2006. So it's interesting that the play has reappeared in her first season at the Globe, albeit under a different director – Matthew Dunster – and more interestingly, a different name…
Read more
'The Merchant of Venice' returns to the Globe for 2016, with Jonathan Pryce in the lead…
Read more
See more on open-air theatre in London
Other Open-Air Theatre Shows