Halloween in LA: Find events, costume stores and more
Don't freak out—use our guide to Halloween in LA to find the perfect costume, the best parties and spookiest places!
Getting ready for the most important holiday of the year—we're talking Halloween, of course—isn't so easy in sprawling Los Angeles. Our handy Halloween guide has you covered with the best candy treats, the most inspiring costume shops, the rockingest parties and the coolest haunted attractions. Still not in the spooky spirit? We've also rounded up our 13 favorite haunted spots where real ghosts still can rattle a few chains. Let the countdown to the thrills and chills begin!
You might also like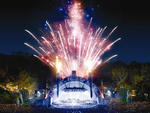 Share your thoughts
Time Out Los Angeles on Spotify