Best places to go trick or treating in Los Angeles
Make trick or treating plans with our guide to the top neighborhoods to visit for a fun Halloween with kids.
By Cindy Arora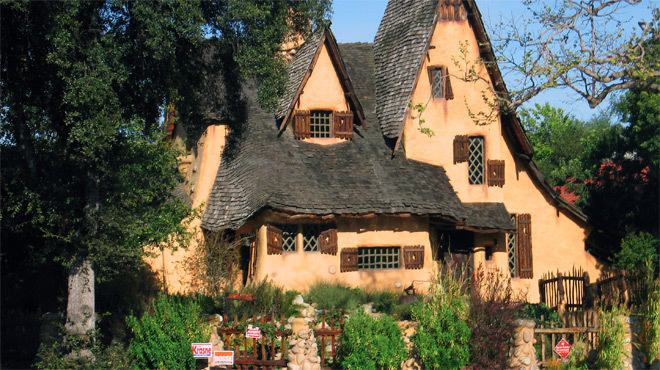 Spadena House, also known as the Witch's House. Photograph: Lori Branham
Looking for the best places for trick or treating? The best part of Halloween in Los Angeles is picking the neighborhood where kids (and let's be honest: parents) can score the best Halloween candy in town. Stroll through the posh streets of Brentwood, head over the hill to old-school Toluca Lake and there's always Venice Beach for seaside trick or treating—gondola rides included. Dress up in your best Halloween costumes and hit the streets. There's something for everyone this Halloween season: your biggest challenge is finding a pillowcase big enough for all your candy.

RECOMMENDED: More Halloween in LA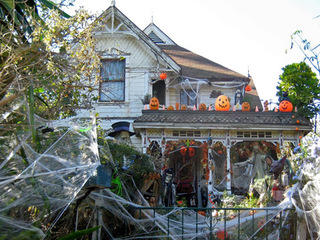 Halloween in Angelino Heights. Photograph: Patrick Cates
Angelino Heights: A Historian's Halloween
Vintage craftsman bungalows, towering Victorians and dark mysterious mansions are the ideal backdrop to a spooky Halloween night in Angelino Heights. Streets bend and fold around the leafy hillsides of one of LA's oldest neighborhoods, making for a great destination for the older and ambitious trick or treater who will get a side of LA history with their stash of Nerds and Kit Kats. Residents of the popular Carroll Avenue—also known as The Haunted District—have Halloween fun and don't skimp on the candy either.

Where: Carroll Avenue and Douglas Street

The loot: Pop Rocks, a classic with a lot of snap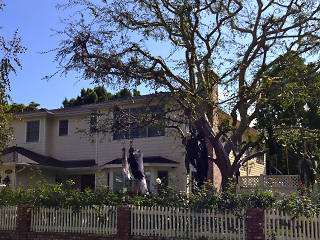 Photograph: Ramona Saviss
Brentwood: A Town and Country Halloween
The Westside little gem of Brentwood Glen is a slice of Americana in the bustle of city living. The walkable nabe, south of Sunset Blvd and west of the San Diego Freeway (405), is an ideal spot for little trick-or-treaters who are new to the tradition. Residents are generous with their candy as well as their Halloween spirit, evident in their decorated homes and glowing carved pumpkins. Bonus: If you're looking to grab dinner and maybe score more candy, you can head to the Brentwood Country Mart, where they host a Halloween night from 3pm to 6pm.

Where: Brentwood Glen, between Church and Beloit Streets
The loot: Crunch Bar—classic, stylish and tasty.
Halloween Party for Downtown LA Kids. Photograph: Courtesy Downtown Center Business Improvement District
A Halloween for Downtown Dwellers
While Downtown may not be the easiest place to go when it comes to trick-or-treating, the locals know how to throw a party. The 6th Annual Halloween Party for Downtown LA Kids at Grand Hope Park continues to thrive as parents celebrate the spookiest night of the year with bounce houses, caramel apples and "trick-or-treat-doors." The event will be held Thursday, October 31, from 5pm to 8pm and tickets cost $5.

Where: Grand Hope Park at the Fashion Institute of Design Merchandise
The loot: Sour Patch Kids, sweet, tart and a perfect crowd pleaser for the downtown set. 
---
---
Time Out Los Angeles on Spotify