Heads up! We're working hard to be accurate – but these are unusual times, so please always check before heading out.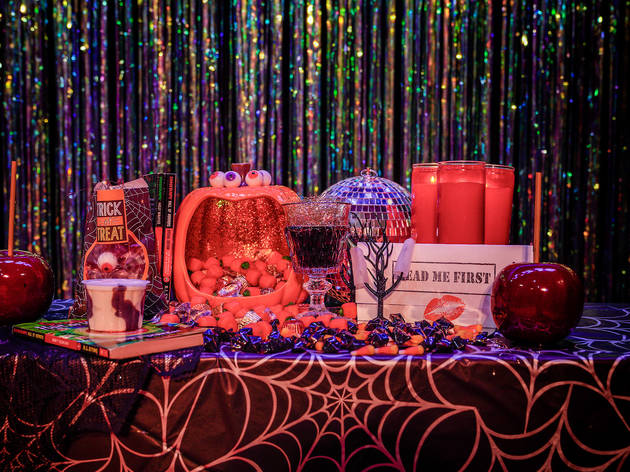 The best virtual and distanced Halloween parties in Los Angeles 2020
Looking for the best Halloween parties in Los Angeles? Check out our guide to these virtual and distanced events.
We'll cut right to it: There aren't any Halloween parties in L.A. this year—at least not in the traditional sense. That means no West Hollywood Halloween Carnaval, no soirees in Downtown theaters and no sweaty dance parties in Hollywood clubs. But we have found a couple of ways that you can still celebrate, including an evening at a spooky rooftop bar, streaming DJ sets and an off-kilter delivery experience. So add some excitement to your All Hallows' Eve with these virtual and socially distanced Halloween parties—or just use the extra time to plan a costume for next year's hopeful return to traditional parties.
RECOMMENDED: See more in our guide to Halloween in L.A.
The best virtual and distanced Halloween parties in 2020
So a blood-red disco ball, a bunch of booze and some puppets show up at your door. Nope, it's not the setup to a joke, it's just part of what you'll receive in this delightfully outlandish package from Of the Night. For its Dracula's Disco of the Night, the delivery entertainment service is dropping off party packs for two that include rosé, tequila and beer; non-dairy ice cream; fangs, body glitter and fake blood; a disco ball, a tinsel curtain and fake spiderwebs; and bat puppets. The whole thing is inspired by the Bob Baker Marionette Theater's Dracula performance (and 10% of the proceeds will benefit the Highland Park puppet theater), and there's even an add-on option for a puppet performance ($100). You'll find two delivery dates, October 23 and 30, with service available for most of Central L.A.
Before—or after—you fill up on Halloween candy this year, why not make sure you're well fed with a spooky diet? E.P./L.P. is getting in the spirit with ghoulish Halloween-themed decor and menu all day and night. Chef Sabel Braganza, along with culinary director Monty Koludrovic, will be serving affordable small plates, all the better paired with cocktails such as a Bloody Spritz (made with with blood orange juice, prosecco, Aperol and bitters). The fun runs on the L.P. rooftop from noon to 2am on Halloween, and walk-ins are welcome for parties of up to six.
As the dyslexia-inducing name implies, this London-based collective spins nothing other than the sweet tones of new edits and remixes of Fleetwood Mac tracks. The parties themselves are blindingly good fun and pretty much all the edits are superb, often full of ambient disco and dreamy electronic vibes which give a lovely lush dancefloor touch to FM's classics. The event has gone digital for the forseeable future, including this Halloween-themed stream. And even though nobody will be able to see them, extravagant costumes, Mac-related or otherwise, are very much welcome, so get your best Stevie Nicks bouffant on and prepare for unabashed Fleetwood fun.
Looking for more ways to celebrate Halloween?
Not all Halloween events are hell-bent on scaring you straight. Sure, we've stocked our list with some drive-through haunted houses, but you'll also find family-friendly screenings and trick-or-treating opportunities (all from your car, of course).