Best places to go trick or treating in Los Angeles
Make trick or treating plans with our guide to the top neighborhoods to visit for a fun Halloween with kids.
By Cindy Arora
Venice Canals at Halloween. Photograph: Michael Dorausch
Venice Beach: A Seaside Venetian Halloween
Venice Beach's canal community is known for going all out on Halloween. Grab your ghouls and come early to stroll around the bridges, take in the spooky decorations and twinkly lights and, most importantly, meet costume-clad homeowners who happily hand out treats. Prepare for parking difficulties but do plan on spending a few hours to enjoy the scenery and take in the decorations.
Where: Dell and Venice Boulevard
The loot:  It's an apples-and-raisins kinda town, but don't worry, they don't skimp on chocolate either.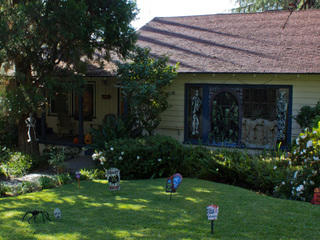 Alegria Avenue in Sierra Madre. Photograph: Michael Juliano
Sierra Madre: Small Town USA
For years, Alegria Street in charming Sierra Madre, a foothill community east of Pasadena, has become known for its Halloween-decorated craftsman homes and bungalows. Hundreds of families head to this community nestled in the San Gabriel Mountains to see the ghoulish decorations and the dozens of professionally carved pumpkins made by locals and, of course, scout out candy. It's always about the candy.
Where: Alegria Street, between Baldwin and Mountain Trail
The loot: Classic Hershey's Milk Chocolate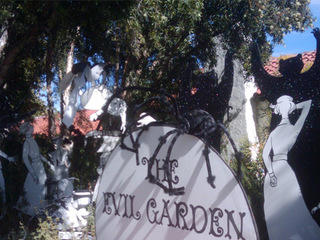 Halloween in Toluca Lake. Photograph: Courtesy Bunnicula
Toluca Lake: Hollywood Glam & Executive
Toluca Lake is known for its TV studios and movie executives that call this Valley jewel home. Come Halloween, it's also a highly sought-after neighborhood known as "the flats" by locals who head from their hillside homes to trick or treat amongst the sprawling ranch houses. Bob Hope's former house on Ledge Avenue and Moorpark Street is a great place to start your trek. Although he and Dolores Hope are no longer passing out full-size candy bars and kazoos, neighbors continue the tradition of a lively Halloween spirit.
Where: Ledge Ave and Moorpark St; Toluca Estates Drives and Valley Spring Lane
The loot: Snickers—it satisfies Tolucans.
---
---
Time Out Los Angeles on Spotify