Best places to go trick or treating in Los Angeles
Make trick or treating plans with our guide to the top neighborhoods to visit for a fun Halloween with kids.
By Cindy Arora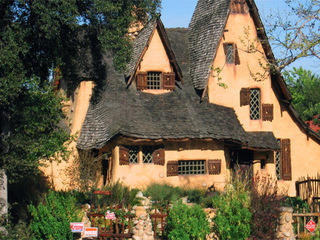 Spadena House, also known as the Witch's House. Photograph: Lori Branham
Beverly Hills: That's where I want to be...
Every year, trick or treaters from all over LA hit the streets of 90210 in search of the Halloween holy grail: full-size candy bars and envelopes of cash, natch. And while that's mostly the stuff of legends, people then discover trick-or-treating hot spot Walden Dr. Get there early (before local teens show up with shaving cream in hand for a little grown-up fun) and enjoy the manicured lawns and epic homes decorated to the nines in Halloween garb and ghoulish mischief. Meet up at the beloved "Beverly Hills Witches House" on Walden Dr, which looks like a haunted fairytale cottage with gnarled trees and a creaky fence.

Where: Walden Drive and Carmelita Avenue

The loot: Nerds—sweet, tart and addicting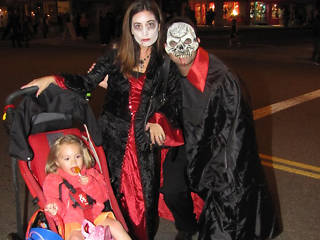 Photograph: Courtesy Riviera Village
Redondo Beach: The French Riviera Meets Halloween
Halloween at Redondo Beach's Riviera Village has become an annual city tradition for locals who come for the candy and stay for dinner and shopping. The six-blocks and 300 shops that make up the village host a safe and organized early night of trick or treating from 4 pm to 6 pm. The spot offers a not-so-spooky view of the Pacific Ocean for costume-clad kids that will have fun bopping along the lively village streets.
Where: 1799 S Catalina Ave, Redondo Beach
The loot: Twix, a perfect chocolate biscuit for this European-style village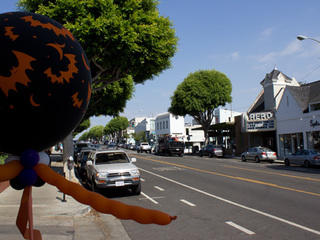 Montana Avenue in Santa Monica. Photograph: Michael Juliano
Santa Monica: A Chic Halloween Hop
With 150 boutiques, bistros and even a Bundt cake bakery, the ever-stylish and always chic Montana Ave is a great place for families to celebrate Halloween. The annual Halloween Hop, from 3-6pm, is a long-standing community tradition, continues to be a popular one for families who seek a fun and safe evening of trick or treating. Kiddos and their parents can meander down the 10-block shopping street and enjoy a sweet candy escape, then head to the surrounding residential neighborhood to end the night with more treats than tricks.

Where: Montana Avenue between 6th and 17th Streets

The loot: Kit Kat, a classic & chic wafer
---
---
Time Out Los Angeles on Spotify