Neighborhood bars for spring: The best local spots in NYC
If you don't feel like wandering far from your apartment, hit up one of these neighborhood bars.
By Carolyn Stanley Tue Mar 19 2013
Photograph: Virginia Rollison
Neighborhood bars for spring: The best local spots in NYC
Williamsburg: The Exley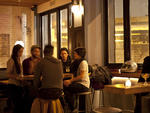 Williamsburg: The Exley
On an unassuming block a stone's throw from the BQE, this former garage houses a space that feels both fresh and familiar, with a bright, citrus-hued mural splashed behind the bar and big windows opening out to the street. Named for writer Frederick Exley, a notorious drinker and onetime New Yorker, the bar sports a come-one-come-all spirit reflected in the offerings, which include a weekly-rotating selection of craft beers (most $5–$8), wines by the glass ($7–$11), and house cocktails ($8–$11) like El Ojo Rojo, which melds tequila, joven mescal, grapefruit and fennel ($10). 347-599-2430, theexley.com
1 Jackson St between Meeker and Union Aves, Williamsburg, Brooklyn
Price band: 2/4
Critics choice
Despite its bar-saturated zip code, this spot has established itself as a go-to local. The minimally adorned interior has an ability to suit the mood: sultry and candlelit at night, bright and airy on a Sunday afternoon—especially if you nab a booth under the massive skylight. Approachably priced beers and wines are available, but you'll want to opt for one of 18 signature cocktails, including the breezy S.M. Jenkins (gin, cucumber, Pimm's, lime, velvet Falernum and ginger ale; $12) and the herbaceous Self Portrait (cilantro-infused tequila, habanero, agave and lemon; $12).
217 E 3rd St, (between Aves B and C)
More info
The nabe's bars aren't usually known for ample elbow room, but this supersized suds mecca boasts outer-borough breadth. Once a parking garage, the 5,000-square-foot space has been reoutfitted with exposed brick walls and crisscrossing wood rafters. Bring your crew and post up at one of the long communal tables, then sample the locally brewed drafts by Greenpoint Beer Works—the citrusy Marco's American Wheat and the smoky Scotch ale are among the choices. In beer-hall fashion, all brews come in a range of sizes, from 12 ounces ($5–$6.25) to a liter ($13–$17). Offset the booze with bar fare, including grilled-cheese sandwiches from roving vendor Milk Truck; try the Gruyère-cheddar-blue variety with Granny Smith apples on rosemary pullman bread ($9).
222 W Houston St, (between Bedford and Varick Sts), 10014
More info
L-train locals need not venture far for a low-key hangout; this neighborhood tavern has steadily gained popularity since opening last year. Salvaged-wood paneling lends a warm, rustic vibe, while 12 taps dispense mostly local craft brews, including Bronx pale ale ($5) and Single Cut Olympic Wheat ($6). If the weather's cooperating, head to the patio and kick back at one of the umbrella-shaded picnic tables. An extended happy hour—$4 drafts and $3 cans—lasts until 9pm, giving you all the more reason to enjoy the increasingly long days.
222 Bushwick Ave, (between Meserole St and Montrose Ave)
More info
Highbrow cocktails may go hand in hand with upscale surroundings (and appropriately civilized behavior), but this casual haunt serves them alongside beer-and-shot specials and a good-times attitude. A few strands of Christmas lights brighten the modest digs, though atmosphere is secondary to the real draw: an old-fashioned soda fountain that churns out house-made elixirs with whimsical ingredients. These enliven classic drinks, resulting in a whiskey-and-Coke riff with George Dickel and pistachio cola ($12) or a gin and lavender-hibiscus tonic ($13). Rounding out the ever-changing cocktail menu are concoctions such as the Way of the Gun (Scotch, Chartreuse, Cuarenta y Tres, lemon, almond and orange bitters; $13).
188 Suffolk St, (between E Houston and Stanton Sts), 10002
More info
Rated as: 3/5
Price band: 2/4
Critics choice
Though it's the downstairs counterpart to Red Rooster, Ginny's has had no trouble staying out of its sister restaurant's shadow, quickly becoming a vivacious uptown fixture. Ornate backlit screens and retro glass chandeliers help set a luxe, Jazz Age backdrop for nightly musical acts crooning from a central stage, but drinks are no afterthought. Sample one of the house cocktails, such as the Powell (peach and pecan bourbon, sloe gin, lemon; $14) and the Diablo (tequila, ginger beer, cassis; $13), both of which pair well with easy-to-share, eclectic plates like the fried yard bird and waffle with bourbon maple syrup ($16).
310 Malcolm X Blvd (Lenox Ave), (between 125 and 126th Sts), 10027
Book online
As welcoming and old-school as the bright-pink neon sign out front, this bar finds a way to fill three distinct roles: day-drinking locale, live-music venue and group-friendly hangout. A warm, dusky interior—retaining many original details from its 100-year-old history—holds a few dozen tables and serves as the floor for local bands four nights a week, while a spacious back garden offers a quieter roost for warm nights. Beers range from the cheap (Miller High Life, $3) to the craft (Anchor Steam, $5), with drafts available by the pitcher ($11–$17).
45-58 Vernon Blvd, (between 45th Rd and 46th Ave)
More info
Queens is in the midst of a beer renaissance, and this gastropub has led the charge with its friendly environment and commitment to all things local. It shares the country-tavern ambience of its Manhattan siblings (Wilfie & Nell, the Penrose), with leather banquettes, exposed brick and reclaimed wood, while a back patio beckons on sunnier days. Settle in with a pint from the Northeast-heavy brew list, which includes the 19-33 Lagrrr! from Queens' own SingleCut Beersmiths and the Imperial porter from Southampton Publick House (each $6). Don't skip the thoughtful pub grub: The fried-chicken sandwich on Texas toast ($9), beer-battered McClure's pickles ($5.50) and board of Murray's cheeses ($13) are all solid choices.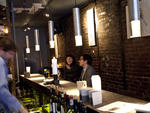 Soho: The Room
This hideaway is a welcome surprise for any passersby who stumble upon its wide front windows, but residents from the surrouding blocks comprise the bulk of the crowd. Leave behind the bustle outside in favor of low lighting, exposed brick and plush velvet couches, then choose from a thoughtfully curated beer-and-wine menu: Selections, which change often, are displayed on a chalkboard behind the bar. Beer fiends should look for imported favorites from Belgium (La Chouffe) and Germany (Weihanstephaner), as well as domestic craft breweries (Founders). Vinophiles will be equally satiated with 30 international wines by the glass. 212-477-2102, theotheroom.com
144 Sullivan St between W Houston and Prince Sts
This cavernous mixology den may draw in drinkers from all corners of the boroughs, but Chelsea denizens constitute the biggest contingent in the early evenings. Before the late-night crowds descend, the speakeasy-styled, 100-seat space affords plenty of room to catch up over a drink with friends—after a stroll on the High Line, perhaps. On the cocktail list you'll find a number of selections complementing the rising temps, such as the tropic-inflected Greenbelly (white and dark rums, demerara sugar, charred pineapple bitters; $13) or the effervescent Killa Beez Kneez (gin, honey syrup, lemon, champagne and lavender; $13).
Chelsea Market, 425 W 15th St, (between Ninth and Tenth Aves)
More info
---
You might also like
---