Concerts in NYC: The best spring shows
Ladycentric pop reigns this spring with performances from new artists and iconic singers alike
By Hank Shteamer Fri Feb 21 2014
Once spring rolls around, you've likely had your fill of winter's brooding, reflective tunes. Tune in to some concerts in NYC with this spring's concert calendar that is all about the communal dance party, with a soundtrack by an unstoppable lineup of pop-savvy females. Check out the first big NYC headlining shows by recent Grammy winner and 2013 breakout sensation Lorde; a two-night stand by blockbuster L.A. sister act Haim; a trio of area gigs by that risqué wrecking ball herself, Miley Cyrus; and even an appearance from iconic belter Cher. If all that wasn't cool enough, we've got a run of super-intimate xx gigs coming up too. We'll see you out and about!
---
You might also like
---
Read more music features
The composer talks about life after Lou Reed, her history in the record business—and her upcoming shows at the BAM.
The minimalist composer talks about the early days—and his new collaboration with Radiohead guitarist Jonny Greenwood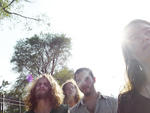 The polarizing local black-metal innovators reconvene, older and wiser, as a brutally effective quartet
See more in Music